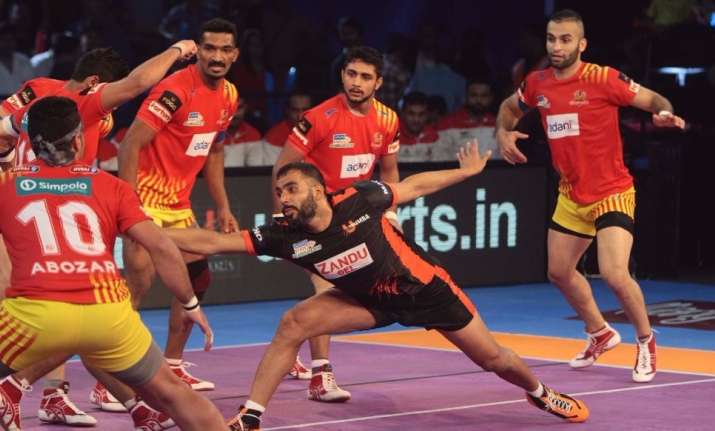 Gujarat raiders Sukesh Hegde, Rohit Gulla and Sachin chipped in with crucial raids as Fortunegiants outclassed U Mumba 39-21 in the fifth Pro Kabaddi League here today. 
For U Mumba, it was a disappointing performance as they crashed to their second defeat of the season. Their defence could score just five points as Gujarat raiders had a field day scoring points. 
Gujarat were quickly off the blocks as they led 2-0 after two minutes. They doubled their lead after five minutes as U Mumba struggled to come to grips with the match. 
It was 6-0 in favour of Gujarat as Sachin scored with a two-point raid. U Mumba suffered an all out as early as the sixth minute to trail 1-9. 
U Mumba's skipper Anup Kumar could score just one point in five raids as Gujarat led 10-2 after eight minutes. U Mumba defence scored their first tackle point in the 10th minute to trail 3-11. 
The Fortunegiants looked in control of the match, leading 12-5 after 12 minutes. Rohit Gulla and Sachin scored four points apiece in the first half for Gujarat. 
It was a dominant first half performance by the league debutants as they led 20-6 at the break. 
Anup Kumar then scored two raid points to reduce the margin to 8-22. But Sukesh Hegde responded with two points to give Gujarat 24-8 lead. Both team's defence scored a tickle point each as Gujarat led 26-13 after 28 minutes. 
After 30 minutes, Gujarat led 27-14 as U Mumba struggled to make a comeback. The hosts then inflicted two all outs in the second half. 
Rohit scored a two-point raid then to give a 33-17 lead to Gujarat as they soon wrapped the match without much ado.