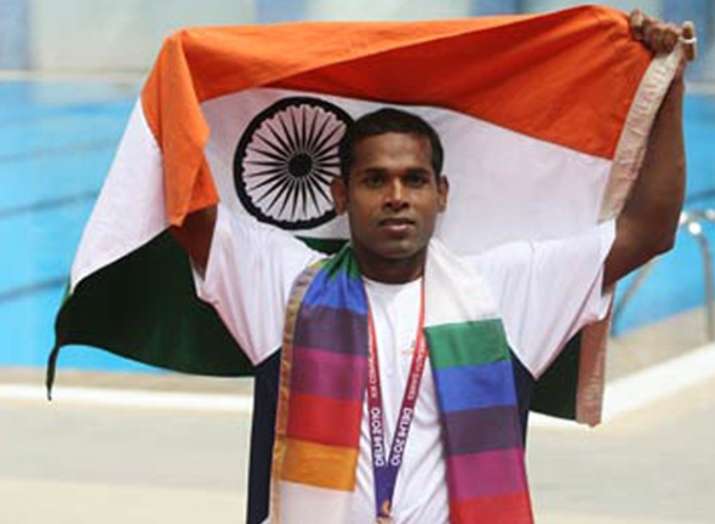 The Paralympic Committee of India has suspended decorated Para swimmer Prasanta Karmakar for three years for recording video of female swimmers. The renowned swimmer who has brought the nation many laurels with his performances in the pool has been suspended for his degenerate and perverted actions. 
Karmakar has been conferred with various prestigious accolades as he has been the recipient of an Arjuna Award in 2011, Major Dhyan Chand Award in 2015, Bheem Award in 2014, Swimmer of the Year award in 2009 and 2011. He is the first Indian paralympic swimmer to have received the Arjuna Award and was the coach of the 2016 Rio Paralympic games swimming team.
Paralympic Committee of India suspended Para swimmer Prasanta Karmakar for 3 years for recording video of female swimmers.

— ANI (@ANI) March 1, 2018
The Paralympic Committee revealed that the Arjuna awardee was suspended after a written complaint regarding acts of misconduct, misbehavior and manhandling by the the swimming team coach was reported.
"He (Karmakar) gave a camera to one of his associates and asked him to make video films of female swimmers during the event. When the parents of those swimmers objected, the person making videos on instance of Prasanta Karmakar was called by Dr. V. K. Dabas, Chairman, Para Swimming, PCI wherein he told that the camera was given to him by Karmakar under instructions to make said video films," the PCI said.
"The person was stopped but soon after that, similar complaint again received and this time, Prasanta Karmakar was himself making videos of female swimmers with camera on tripod despite objection from their parents," the statement added.
Even after Karmakar was asked to delete the video, he argued as to why his man was stopped from making a video before refusing to delete the same.
"Karmakar was called by Chairman wherein, he ,in full anger, asked the Chairman and other office bearers of PCI that why they were stopping his man from making the video on which he was told that the act is being objected to by parents of the swimmers but Karmakar asked the PCI office bearers to show written objections on which the objecting parents immediately submitted their written complaints. Karmakar argued with Dr. Dabas and Mahipal Singh Arya from Haryana saying that he was an Arjuna awardee and refused to delete the video recordings of said swimmers," the PCI said.
Meanwhile, Karmakar was also detained by police, though he was released later after he agreed to delete the videos and photos recorded by him and his associate.
The PCI further said that it has also directed the Haryana Sports department to take strict disciplinary action against Karamkar for his above `intentional wrongdoings, misbehavior` and indicipline"
"Having taken into consideration the act, conduct, behavior, response of Prasanta Karmakar and the gravity ofevents, Prasanta Karmakar, Swimmer, be suspended and is hereby suspended from participation and his being sponsored in any sports event by PCI for a period of three years w.e.f: 20.01.20I8 and recommendations be also made to his employer i.e. Haryana Sports department to take strict disciplinary action against him for his above intentional wrongdoings, misbehavior and indicipline," the PCI said.
The list of accolades the decorated swimmer has achieved has currently been wiped out by his perverse action. The Arjuna Awardee is the first disabled swimmer to represent India at the World Swimming Championship in Argentina and to win a medal.
Karmakar won four gold medals, two silver medals and a bronze at the 2009 International Wheelchair and Amputee Sports (IWAS) World Games in Bangalore. He is also the only Indian swimmer to have won a medal at the Commonwealth Games. Meanwhile, Karmakar has also bagged three Asian Games medals (2006, 2010, 2014).
Karmakar, who has won three Asian Games medals (2006, 2010, 2014), is the Paralympic swimming Asian record holder in 50m Butterfly, 50m Breaststroke and 50m Backstroke. He is also the Paralympic National Record holder in 50m Freestyle, 100m Freestyle, 100m Backstroke and 200m Individual Medley.