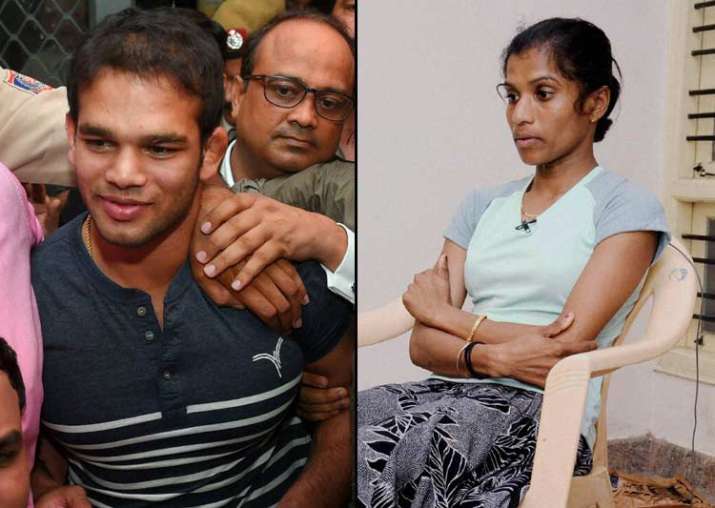 Four years after winning six medals at London Olympics, the highest so far for the country, India settled at two medals in Rio de Janeiro, despite sending its largest contingent in its Olympic history. 
Sakshi Malik, a wrestler from Haryana, and PV Sindhu, a Hyderabadi shuttler, emerged as true saviours of Indian pride in the Olympic arena with their spectacular performance. 
As the Olympics began, 125 crore Indians had high hopes of medals with likes of Abhinav Bindra, Sania Mirza, Saina Nehwal, Narsingh Yadav present in the contingent. 
As the games progressed and the medal hopes dimmed, what laid bare was the capability – or the lack thereof -- of Indian sports administration. Be it a warning by Olympics organisers to Sports Minister Vijay Goel for his entourage's "aggressive and rude" behaviour, or a high-pitched drama over wrestler Narsingh Yadav, or the blame game that has ensued following marathoner OP Jaisha's charge of official apathy, the shambles that India's sports administration lies in has been left out for the world to see. 
Sample the following: 
Narsingh Yadav doping scandal
Wrestler Narsingh Yadav, whose inclusion into the Indian Olympics contingent even reached the court, was found positive for banned substance metandienone. In two dope tests, conducted on June 25 and July 5, a substantial amount of drug was found in his blood. The wrestler, however, alleged sabotage by rival wrestler to ruin his chances to compete at the Olympics. 
The Wrestling Federation of India, headed by Brij Bhushan Sharan Singh, threw its weight behind Narsingh. National Anti-Doping Agency (NADA) gave a clean chit to Narsingh and stated that wrestler was a victim of sabotage and the one-time ingestion by him was not within his knowledge. 
This did clear Narsingh's participation in the Olympics temporarily, but NADA's clean-chit was rejected by the World Anti-Doping Agency (WADA) and appealed in the Court of Arbitration for Sports (CAS) against the decision. The CAS accepted the appeal by WADA and handed a four-year ban to Narsingh, shattering his dream of participating in the Olympic Games. 
While the decision was an embarrassment for India in itself, what caused further humiliation was the severe indictment at the hands of the international court. Thrashing NADA's claim that the wrestler was a "victim of sabotage" and the "one-time ingestion by him was not within his knowledge", CAS said that Narsingh had failed to produce any "real evidence" regarding the sabotage theory. It further said that Narsingh had, in all probability, intentionally consumed the banned substance in tablet form on more than one occasion.
CAS relied on expert evidence that Narsingh's dope offence was not due to one-time ingestion of the prohibited substance and its concentration in the first test result (of 25 June) was so high that it had to come from an oral ingestion of one or two tablets of methandienone, rather than from a drink where the powder had been mixed with water.
Over and above the humiliation that the episode caused to India, the entire episode has actually put a question mark on NADA's credibility to control substance abuse in Indian sports. The incident has possibly damaged NADA irreparably, and for reasons probably of its own doing. 
OP Jaisha controversy
India's record holding marathon runner OP Jaisha created a storm after she alleged that Indian officials present at the Rio Olympics did not provide her with refreshments and water during the 42.1 km race. As a result, she said, she collapsed at the end of the race and was unconscious for two hours. 
"Though there were officials from all other countries to provide refreshments to their runners at designated points - after every 2.5 km - there was no one from India and our desks were empty next to the country's name and flag," India's national record holder told the Times of India on her return. 
As per International Association of Athletics Federations (IAAF) rules, India was allowed to assign four officials at four points - apart from the official stations - to provide water and refreshments to the athletes. Athletes are not supposed to drink anything given by any other country. 
Minister of Sports Vijay Goel first called this a small incident and then said that his ministry was not responsible for all decisions pertaining to the arrangements for athletes at sports events. Ironically, minister was reportedly in Rio to "cheer for the Indian contingent besides monitoring their requirements at the Games Village".
Athletics Federation of India (AFI) issued a statement, rejecting Jaisha's claim of official apathy saying that it was the athlete and her coach who refused to avail the option of having energy drinks during the race at the recently concluded Rio Olympics.
Jaisha, however, rejected AFI's version and said, "Why would I say such a huge lie, when I have never complained even once in my entire sports career? I can't fight against the government or AFI, but God and I know the truth, and I owe that to sports." 
It is a matter of inquiry as to whose version bears the truth, but the manner in which the federation has come out all guns blazing to turn against one of its own suggests that the act is more inclined towards the officials trying to cover their own skin. While the jury is still out on the matter, the entire incident has only highlighted the arrogance and mismanagement of the Indian sports administration.  
Indian contingent's Chief Medical Officer
Indian contingent's chief medical officer (CMO) Pawandeep Singh was responsible for the health of 118 athletes who participated in Rio. But as it turned out, the health of players, who represented hopes of over a billion people, was on the shoulders of a radiologist and not a sports medicine doctor.
Indian Olympic Association (IOA) officials said that Pawandeep had the experience of being the chief medical officer of the South Asian Games. If that was not enough qualification, his relationship to IOA vice-president Tarlochan Singh definitely made him an eligible candidate for the position. Pawandeep happens to be the son of Tarlochan Singh. 
At least three athletes, OP Jaisha, Saina Nehwal and Vinesh Phogat needed medical attention during the course of the Games but, some alleged, Pwandeep was enjoying his time in Brazil on taxpayers' money. 
Some athletes and coaches say Pawandeep's standard response to most complaints of injuries has been a dose of Combiflam, reported the Indian Express. 
If the CMO is not qualified enough, at least those working under him should be. But incidentally, the second doctor with the Indian team in Rio, Col RS Negi, was also a radiologist. Negi has never attended any national championship, nor any National Games, and not even an inter-Services meet, the report by the Indian Express said. 
Negi is a distant cousin and close friend of IOA secretary general Rajeev Mehta.
Even if these doctors were qualified enough, the appointments clearly show conflict of interest. The sports administrators are posting their own kith and kin, in blatant disregard for the requirements of the sportspersons. 
Apart from these incidents, preferential treatment of officials over athletes only tells the tale of India's sports administration. 
While sprinter Dutee Chand had to travel economy class on a 36-hour flight, officials accompanying her enjoyed a business class facility. Sports Minister Vijay Goel's gaffe of misspelling names, confusing pictures of athletes only highlights how much attention is given to our sportspersons.