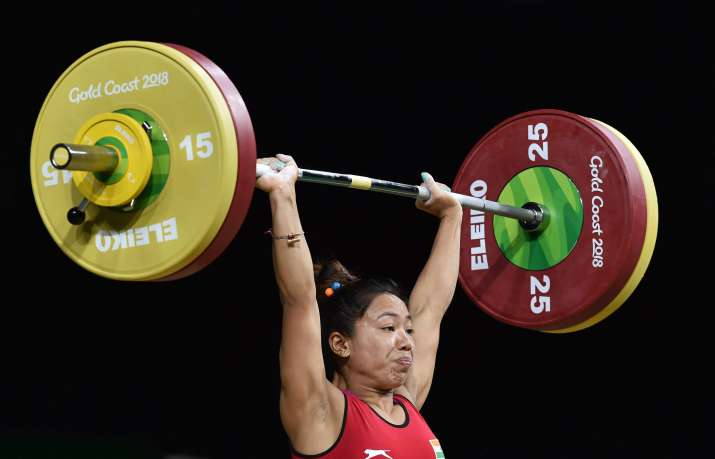 Mirabai Chanu's named is being etched all across India as the weightlifter won the coveted gold medal in the women's 48 kg category, elevating a total loft of 196 kg in the ongoing Commonwealth Games 2018 in Gold Coast, Australia. Not only did Chanu win gold, but also set a staggering new Commonwealth Games record. The Indian sports fraternity have sent their congratulatory messages on Twitter. 
The 23-year old from Manipur set six Commonwealth Games records in the snatch, clean and jerk as well and lifted 26 kg more than her nearest competitor, Marie Hanitra Roliya Ranaivosoa of Mauritius who settled for silver. Sri Lanka's Dinusha Gomes won the bronze medal. 
She then lifted more than double her body weight (103kg, 107kg and 110kg) in three successful attempts to claim the clean and jerk as well as the overall Games record. The showing helped her better the silver she had won in the 2014 Glasgow CWG.
"I was not expecting to break records but I certainly wanted to break them when I came here. I can't put in words, how it feels right now," an exhausted but jubilant Chanu told PTI.
"I can only say that I have worked really hard to achieve this. I am very happy. This is my second CWG medal, it is such a good feeling," she added.
Earlier, P Gururaja claimed a silver medal in the men's 56kg event to open India's medal account in the quadrennial extravaganza.
The sports fraternity of India including Virender Sehwag, Suresh Raina, Mohammed Kaif, Mary Kom and Abhinav Bindra took to Twitter to congratulate Chanu. 
Every lift from her broke a CWG record. Nari Shakti at its best. Super proud of #MirabaiChanu for winning the first Gold for India. #CommonwealthGames2018 pic.twitter.com/C6NavwLfQ0

— Virender Sehwag (@virendersehwag) April 5, 2018
The medals where an athlete is "Expected" to win are generally the toughest internally for the athlete. Many congratulations to #MirabaiChanu on a spectacular performance at @GC2018

— Abhinav Bindra OLY (@Abhinav_Bindra) April 5, 2018
Congratulations #MirabaiChanu for #Gold! #CWG2018 #GoldCoast #ProudMoment pic.twitter.com/EgiFTDXywf

— Mary Kom (@MangteC) April 5, 2018
Woke up to the news of 🇮🇳 winning its first medal at #GC2018 ! Excellent work by #Gururaja. Congratulations, #MirabaiChanu for giving India it's first gold medal in #GC2018. I am sure this is just the beginning for many more to come. My best wishes to everyone participating. pic.twitter.com/Ac0XWlI4GZ

— Suresh Raina🇮🇳 (@ImRaina) April 5, 2018
Congratulations👏🏻👏🏻🏋️‍♀️ #MirabaiChanu for winning 1st Gold 🥇medal for 1.3 Billion Indians. Well Done 👏🏻👏🏻🇮🇳Looking for more golden moment #CommonwealthGames2018 pic.twitter.com/cBFyE4BNOr

— geeta phogat (@geeta_phogat) April 5, 2018
Congratulations to the Golden Girl #MirabaiChanu, It was indeed a super human effort which should applauded by the nation. More power to you! pic.twitter.com/KCBuy6B53b

— R P Singh (@rpsingh) April 5, 2018
Congratulations to #MirabaiChanu for the gold and #Gururaja for the silver at the #CWG2018 . Great start for India. Wish more success and recognition for our talent in the coming days. pic.twitter.com/OR33sFskeK

— Mohammad Kaif (@MohammadKaif) April 5, 2018
TRICOLOUR is flying high in #GoldCoastCommonwealthGames 🇮🇳 Gold & Silver on DAY 1 - Doesn't get any better - Lets get behind our athletes #GOFORGOLD #CWG2018 Congratulations to both #MirabaiChanu & #GururajaPoojary

— Vijay Shankar (@vijayshankar260) April 5, 2018