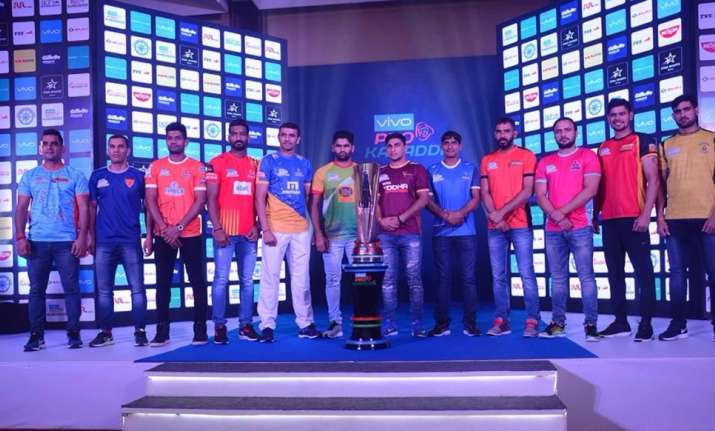 In the opening match of Pro Kabaddi League 2017, home side Telugu Titans defeated Tamil Thalaivas by 32-27 in the Southern derby in Hyderabad. Telugu skipper Rahul Chaudhari gets the 'Perfect Raider' award for earning 10 points in the match. Whereas, Titans player - Vishal Bhardwaj gets the 'Player of the Match' award for showing great defensive skills on the mat. Vishal gets 5 points for his franchise Telugu Titans. 
HIGHLIGHTS FROM TELUGU TITANS vs TAMIL THALAIVAS, PRO KABADDI LEAGUE 2017
21.01 IST: Thalaivas get one point in defence but Telugu Titans beat Tamil Thalaivas by 32-27
21.00 IST: One point for Thalaivas, 26-32
20.59 IST: Another point for Thalaivas in raid, they trail by 25-32
20.58 IST: One point in raid for Thalaivas, they are closing in the gap. Thalaivas 24-32
20.56 IST: Ajay Thakur once again dashed from the court for Thalaivas. Telugu 32-21
20.54 IST: Another point for Titans, they are leading by 11 points now. Telugu 31-20
20.53 IST: Raider out for Titans, Thalaivas 20-30
20.52 IST: Dash from Rakesh Kumar, Titans lead 30-19
Final five-minutes remaining in the opening match.
20.49 IST: Mighty work from Titans in defence,  they lead 29-19
20.48 IST: Smart work from Prabanjan, Thalaivas get one point 19-28
20.46 IST: Titans take the Review, Unsuccessful one this time. Tamil Thalaivas 18-27
20.44 IST: Good defence from Titans once again. Titans 27-16
20.43 IST: Another point for Titans, 26-16 vs Thalaivas
20.40 IST: Thalaivas takes the review once more. Tamil gets the point, Rahul out for Titans, they trail by eight points 17-25
20.38 IST: Thakur gets one point for Thalaivas, 16-25
20.37 IST: Chaudhari gets a point for Titans, they lead 25-15
20.35 IST: Ajay Thakur asks for a review. Thalaivas get the point, 15-24
20.34 IST: Salunkhe gets one point back for Titans, they lead 24-14
20.33 IST: Raider out, Tamil Thalaivas score important one point 14-23 against Titans
20.32 IST: Rahul Chaudhari out of the court, Tamil Thalaivas 21-13
20.29 IST: Tamil raider out, Telugu lead 21-12
20.28 IST: Tamil picks up a point in defence, 12-20
20.28 IST: Successful defence from Titans, they lead  20-11
20.27 IST: Chaudhari picks up first point after break. Telugu 19-11 over Tamil
20.23 IST: Bonus for Telugu to close out the firt hald. It's 18-11 to the Titans at the end of the first half.
20.22 IST: Error from Titans gives away a point to Thalaivas, they trail by 6 points, 11-17
20.21 IST: Bonus point for Thalaivas, 10-17
20.21 IST: Two points for Telugu, lead by 17-9 over Tamil Thalaivas.
20.20 IST: One point for Tamil Thalaivas. They trail by six points 9-15 against Telugu Titans 
20.17 IST: First all-out of PKL 2017, Rahul Chaudhari completes the formality for Telugu Titans, they lead by 14-8 over Tamil Thalaivas
20.16 IST: Nilesh gets two points for Telugu Titans. Telugu leads 10-8
20.14 IST: First Super tackle of the match, Tamil Thalaivas get Telugu skipper Rahul Chaudhari. Tamil Thjalaivas 7-8 Telugu Titans
20.13 IST: Do or die for Tamil Thalaivas, Vineet Kumar gets the bonus. 5-7
20.12 IST: Telugu increase their lead over Tamil Thalaivas. 7-4
20.09 IST: Ajay Thakur gives it back, he takes out Telugu skipper Rahul Chaudhari. Tamil Thalaivas 4-6
20.08 IST: Back-to-back success for Telugu Titans, they lead by 6-3
20.07 IST: Telugu Titans lead Tamil Thalaivas 4-3
20.04 IST: Rahul Chaudhari gets the point back. 
20.02 IST: Rakesh Kumar picks up the first point for home team Telugu Titans. 
20.00 IST: Akshay Kumar kicks off the fifth season of Pro Kabaddi League 2017 with the National Anthem.