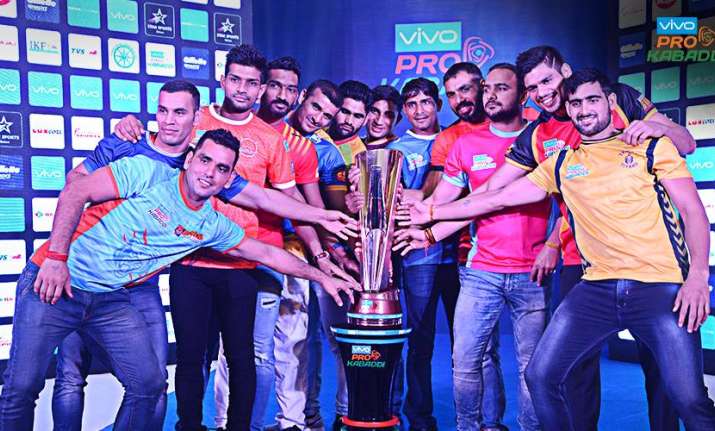 Captain Pardeep Narwal once again showed why he is the most valuable player of Pro Kabaddi as he single-handedly helps Patna Pirates beat Puneri Paltan in Eliminator 3 of the Pro Kabaddi League 2017 at the DOME@NSCI SVP Stadium in Mumbai.  Pardeep picked up 19 raid points for the men in green to take them to Qualifier 2 where they will take on Bengal Warriors on Thursday. For his incredible raiding effort, Pardeep was adjuged the 'Perfect Raider of the Match'. Whereas, despite a solid show from Deepak Hooda, Pune's campaign in season 5 of PKL have come to an end.
HIGHLIGHTS FROM PUNERI PALTAN vs PATNA PIRATES, PRO KABADDI LEAGUE 2017
22.27 IST: Patna Pirates beat Puneri Paltan 42-32 in Eliminator 3 of PKL 2017
22.25 IST: Puneri Paltan suffer another all-out in the match, Patna Pirates take a nine point lead 41-32 Paltan
22.24 IST: Rajesh Mondal fails in his raid for Pune, one more point in defence for Pirates. Patna 36-32 Puneri
22.23 IST: Pardep Narwal extends the lead for Patna, he picks up one more raid point. Pirates 35-32 Paltan 
22.21 IST: Another tackle point for Pirates, Deepak Hooda goes out for Paltan. Patna 33-31 Puneri
22.18 IST: One Puneri defender self-out himself, Girish Ernak steps out from the court. Patna 32-31 Puneri 
22.15 IST: Puneri Paltan suffer an all-out, three points to Patna Pirates. Patna Pirates back in the lead 31-30 Puneri Paltan
22.14 IST: Pardeep Narwal once again shows his masterclass in raiding, he picks up FOUR RAID points for Pirates. Patna 28-29 Puneri
22.13 IST: Super Tackle from Patna defender Jaideep, two points for Pirates. Patna 24-29 Puneri
22.11 IST: Review unsuccessful, point awarded to Puneri Paltan. Paltan 29-22 Pirates
22.10 IST: Monu Goyat asks for a TV Review, Patna claims two points. 
22.07 IST: Monu Goyat picks up two raid points for Patna, Pirates 22-28 Paltan
22.04 IST: Review Successful for Patna, two points for Pirates. Patna 20-28 Puneri
22.03 IST: Deepak Hooda claims a touch point, whereas, Patna defender denies one. TV Review taken by Patna!
21.59 IST: Timeout taken by Umpires!
21.57 IST: Another strong tackle from Girish Ernak who picks up yet another point for Paltan, Puneri 28-18 Patna
21.56 IST: Deepak Hooda picks up another brilliant raid point for Paltan, Puneri 27-18 Patna
21.55 IST: Pune is making a statement in defence here, one more point for the men in orange. Paltan 25-18 Pirates
21.54 IST: Pardeep Narwal shines in raiding once again, he picks up two raid points for Patna. Pirates 18-24 Paltan
21.53 IST: Rajesh Mondal picks up a brilliant point with a running hand touch for Paltan, Puneri 24-16 Patna
21.52 IST: Suresh Kumar picks up two raid points for Pune, brilliant stuff from the young raider. Paltan 23-15 Pirates
21.51 IST: Deepak Hooda makes a mistake in defence to give Patna a point in raiding. Pirates 15-21 Puneri Paltan
21.49 IST: Rajesh Mondal goes out, he fails to pick up a point in his raid for Paltan. Pirates 14-21 Paltan
21.48 IST: Once again Pune's defence get the better of raid-machine Pardeep Narwal, point for Pune. Puneri Paltan 21-13 Patna Pirates
21.40 IST: Puneri Paltan lead 20-13 vs Patna Pirates at half-time!
21.39 IST: Deepak Hooda is in sublime raiding form here for Puneri, one more point for the Paltan. Pune 19-13 Patna
21.38 IST: Patna Pirates suffer their first all-out of the match. Puneri Paltan take a six-point lead 18-12 against Patna Pirates
21.37 IST: Dharamraj Cherlathan shows his class in defence for Puneri, they add one more point to their total. Paltan 14-12 Pirates
21.36 IST: Strong dash from Pune defender Ravi Kumar, Pardeep Narwal thrown off the mat. Paltan 13-12 Pirates
21.35 IST: Rajesh Mondal picks up a raid point for Pune, it's 12-12
21.34 IST: Tough tackle from Pune defenders, Monu Goyat goes out for Pirates. Puneri 11-12 Patna
21.32 IST: Deepak Hooda picks up two raid points for Puneri with a brilliant dive near the mid-line, Paltan 9-11 Pirates
21.31 IST: Masterclass from Patna captain Pardeep Narwal, he is simply carrying on his splendid form from yesterday's match. Pirates 11-7 Paltan
21.30 IST: Deepak Hooda picks up another  raid point for Paltan, Puneri 7-10 Patna
21.29 IST: Pardeep Narwal inflicts an all-out on Puneri Paltan, Patna Pirates lead 10-6 vs Puneri Paltan
21.28 IST: Pardeep adds one more raid point to his tally, Patna 7-5 Puneri
21.27 IST: Deepak Hooda picks up an easy raid point for Pune, Paltan 4-5 Pirates
21.26 IST: Pardeep once again picks up a brace, he is slowly coming into his groove. Patna 5-3 Puneri
21.24 IST: Pardeep Narwal gets off the mark in style for Patna, he picks up two raid points for his team. It's 3-3
21.23 IST: Vishal Mane shows his strength in defence for Pirates, first points of the night for the Men in Green. Patna 1-3 Puneri
21.21 IST: Captain Deepak Hooda picks up a brilliant touch point for Paltan, Puneri 2-0 Patna
21.20 IST: Pardeep Narwal gets tackled in his first raid of the night, point for Paltan in defence. Puneri 1-0 Patna
21.15 IST: 
🕺
✅🏃
✅✅🏃
✅✅✅🏃
✅✅✅✅🏃
✅✅✅✅✅🏃 🏃 🏃

Running up the ladder of points & success like it's a piece of cake - that's Pardeep!#PirateHamla pic.twitter.com/41H1UnwLQQ

— Patna Pirates (@PatnaPirates) October 24, 2017
21.12 IST: 
.@PatnaPirates' Pardeep has come a long way! Can @PuneriPaltan's Deepak cut his trip short? #VivoProKabaddi pic.twitter.com/NkC6VkvZop

— ProKabaddi (@ProKabaddi) October 24, 2017
21.09 IST: 
.@PatnaPirates want to lift the cup for the 3rd time as @PuneriPaltan's chase a maiden title. Watch, LIVE on Star Sports. #VivoProKabaddi pic.twitter.com/VlLa9vIuQx

— ProKabaddi (@ProKabaddi) October 24, 2017