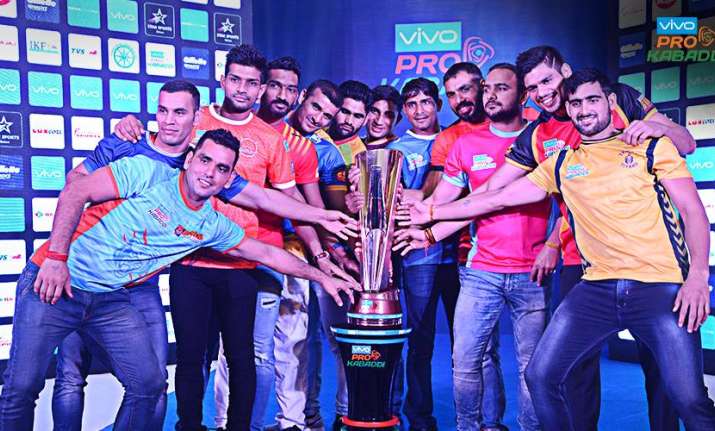 Haryana Steelers blanked home team Jaipur Pink Panthers 37-26 in the match no. 120 of the Pro Kabaddi League 2017at the Sawai Mansingh Stadium, Jaipur. Raider Wazir Singh who picked up 16 raid points for Steelers was adjudged the 'Perfect Raider of the Match'. Whereas, Haryana captain Surender Nada bagged the 'Player of the Match' award, he scored eight brilliant tackle points for his team. With this win, Haryana have consolidated their second position in Group A, they have already qualified for the Super Playoffs of season 5 of PKL.
HIGHLIGHTS FROM JAIPUR PINK PANTHERS vs HARYANA STEELERS, PRO KABADDI LEAGUE 2017
22.25 IST: Point in defence for Steelers this time, great work by the defenders. Haryana 36-26 vs Jaipur
22.23 IST: Tushar Patil picks up two points in his raid for Jaipur, Pink Panthers 26-35 vs Steelets
22.17 IST: Jaipur face another all-out, Haryana Steelers stretch their lead 33-21 against Pink Panthers
22.15 IST: Brilliant stuff from Steelers defence, one more point for Haryana. Haryana 29-21 vs Jaipur
22.09 IST: Super Tackle from Haryana defenders, two more points for the visitors. Steelers 27-21 vs Pink Panthers
22.06 IST: One more point in defence for Jaipur, Pink Panthers 21-25 vs Steelers
22.04 IST: Strong tackle point from Jaipur defenders, one more point to them. Pink Panthers 19-23 vs Steelers
22.02 IST: Prashant Rai picks up a brilliant raid point for Steelers, Haryana 23-17 vs Jaipur
22.00 IST: Nitin Rawal picks up an easy raid point for Jaipur, Pink Panthers 15-20 vs Steelers
21.56 IST: Tushar Patil picks up two raid points for Pink Panthers, Jaipur 14-19 vs Haryana 
21.55 IST: Wazir Singh picks up three raid points for Steelers, Super Raid from him. Haryana 19-12 vs Jaipur
21.49 IST: Haryana Steelers lead 16-12 against Jaipur Pink Panthers at half-time!
21.48 IST: Jaipur Pink Panthers suffer their first all-out of the match, Haryana Steelers 16-12 vs Pink Panthers
21.44 IST: Prashant Rai picks up a touch point for Haryana, Manjeet Chhillar goes out for Jaipur. Steelers 12-10 vs Pink Panthers
21.40 IST: Deepak Dahiya picks up three raid points, first Super Raid of the match for Steelers. Haryana 11-9 vs Jaipur
21.38 IST: Prashant Rai picks up a raid point for Steelers, Haryana 7-8 vs Jaipur
21.37 IST: This time Raider Pawan Kumar picks up a brilliant touch point for Pink Panthers, Jaipur 8-6 vs Haryana
21.35 IST: Another solid defence from Jaipur defenders, one more point to the home side. Pink Panthers 6-5 vs Steelers
21.33 IST: Silly error from Steelers defence, point in raiding for Panthers once again. Jaipur 5-4 vs Haryana
21.32 IST: One more point in raiding for the home side, Jaipur 4-2 vs Haryana
21.28 IST: Another strong tackle point for the hosts, Wazir Singh goes out for Steelers. Jaipur lead 3-1 vs Haryana
21.27 IST: Prashant Rai level things up for the visitors, he picks up a raid point for Haryana. It's 1-1
21.25 IST: Strong tackle from Panthers defence, point for Jaipur. Pink Panthers 1-0 vs Steelers
21.20 IST: 
The One-Man Army, Manjeet Chhillar vs. the High-5 specialist, Surender Nada - now that's one lip-smacking Panga! Who'll triumph? pic.twitter.com/eCXx4RtP2o

— ProKabaddi (@ProKabaddi) October 11, 2017
21.15 IST: 
.@JaipurPanthers are leading @HaryanaSteelers fans at this moment in the Matchday Panga! Tweet with #LePanga to support your team NOW! pic.twitter.com/iEEir4mV0B

— ProKabaddi (@ProKabaddi) October 11, 2017