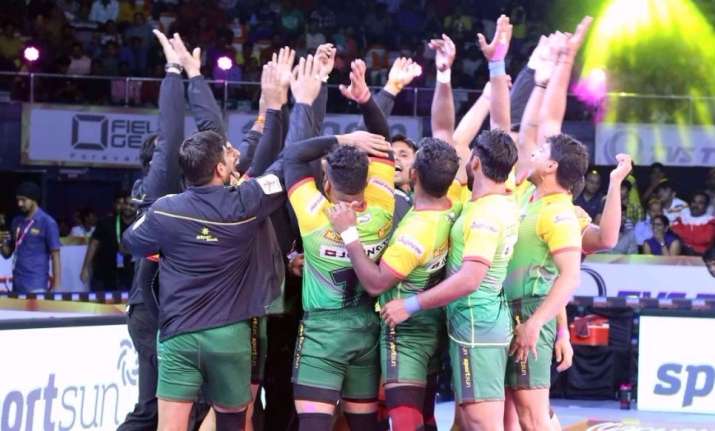 Strong display in defence help Gujarat Fortunegiants beat two-time champions Patna Pirates 30-29 in the match no. 101 of the Pro Kabaddi League 2017 at the Jawaharlal Nehru Stadium, Chennai. With this win, Gujarat have replaced Haryana at the top slot in Zone A. Chandran Ranjit picked up 7 raid points for Fortunegiants, he bagged the 'Perfect Raider of the Match' award. Defender Jaideep of Patna was adjudged the 'Player of the Match', he picked up six tackled points for the losing side. Whereas, raider Rohit Gulia of Gujarat was given the 'Do-or-die Player of the Match' award. 
HIGHLIGHTS FROM GUJARAT FORTUNEGIANTS vs PATNA PIRATES, PRO KABADDI LEAGUE 2017
22.20 IST: Guajrat Fortunegiants beat Patna Pirates 30-29
22.19 IST: Captain Pardeep picks up a crucial raid point for Pirates, brilliant work from him. Patna 28-30 vs Gujarat
22.15 IST: Timeout taken by Gujarat Fortunegiants!
22.14 IST: Patna defenders come up with one more Super Tackle, two more points for them. Pirates 27-30 vs Fortunegiants
22.12 IST: Abozar picks up another tackle point for Gujarat, Fortunegiants 30-24 vs Pirates
22.10 IST: Timeout taken by Umpire! 
22.09 IST: Another Super Tackle from Patna defenders, Pirates 24-29 vs Fortunegiants
22.08 IST: Super Tackle from Pirates defenders once again, two more points for the men in green. Patna 21-28 vs Gujarat
22.07 IST: Fortunegiants get their man, Monu Goyat goes out for Patna. Gujarat 28-19 vs Patna
22.04 IST: Super Tackle from Patna defence, two points for them. Pirates 19-27 vs Fortunegiants
22.03 IST: Chandran once again picks up a raid point, this time with a vicious kick on opposition captain Pardeep. Gujarat 27-17 vs Patna
21.59 IST: Pardeep Narwal finally gets going for Patna, he picks up two raid points. Patna 16-26 vs Gujarat
21.58 IST: Chandran Ranjit come up with a brilliant Super Raid for Guajrat, three points for them. Fortunegiants 26-14 vs Pirates
21.57 IST: Excellent work this time from Pirates defence this time, Sachin goes out for Fortunegiants. Patna 14-23 vs Gujarat
21.56 IST: Once again Gujarat defence shows off their strength against Patna, one more point for them. Fortunegiants 23-13 vs Pirates
21.55 IST: Pardeep Narwal goes out for Patna once again, point in defence for Gujarat. Fortunegiants 21-12 vs Pirates
21.54 IST: Chandran picks up an easy bonus point for Gujarat, Fortunegiants 20-12 vs Pirates
21.53 IST: Patna Pirates suffer their first all-out of the match, Gujarat lead 18-12 vs Patna
21.52 IST: Super-sub Rohit is once again shows off his raiding prowess for Fortunegiants, Gujarat 15-11 vs Patna
21.51 IST: Gulia continues his good work of the first half, he once again picks up an easy touch point for Gujarat. Fortunegiants 14-11 vs Pirates
21.43 IST: Gujarat pick up one more point in the last raid of the first half, Fortunegiants lead 13-11 vs Patna Pirates at half-time!
21.42 IST: Rohit once again uses his speed and picked up a point in raid for Gujarat, Fortunegiants 12-11 vs Pirates
21.41 IST: Another strong tackle from Gujarat defence this time, one more point to them. Pardeep goes out for Pirates. It's 11-11
21.40 IST: Super Tackle from Fortunegiants' defenders this time, brilliant work from them. Gujarat 10-11 vs Patna
21.38 IST: Pardeep Narwal once again picks up point in his raid, Pirates 11-8 vs Fortunegiants
21.36 IST: Rohit Gulia picks up two raid points for Gujarat, he narrows the gap for them. Fortunegiants 8-9 vs Pirates
21.35 IST: Monu picks up a point for Patna in the do-or-die raid, great work from the raider. Pirates 9-6 vs Fortunegiants 
21.33 IST: Chandran Ranjit picks up raid point for Fortunegiants, he's working brilliantly in absence of regular captain Sukesh. Gujarat 6-8 vs Patna
21.32 IST: Pardeep Narwal picks up a raid point for Patna, brilliant work from the captain. Pirates 8-5 vs Fortunegiants
21.31 IST: Mahendra Rajput picks up a raid point for Gujarat, brilliant work from the raider. Fortunegiants 5-7 vs Pirates
21.30 IST: Monu once again picks up a raid point for Patna, Pirates 7-4 vs Fortunegiants
21.28 IST: Monu Goyat picks up his first raid point of the night for Pirates, Patna 5-3 vs Gujarat
21.27 IST: Abozahr once again picks up a brilliant tackle point for Gujarat. It's 3-3
21.26 IST: Another strong tackle from Patna defenders, Pirates 3-2 vs Fortunegiants 
21.24 IST: Abozhar shows his strength in defence for Fortunegiants this time, point for Gujarat. It's 2-2
21.23 IST: Jaideep scores first point for Pirates, good strong tackle from him. Patna 1-0 vs Gujarat
21.18 IST: 
Our boys are eager to run over the Giants tonight.#PirateHamla pic.twitter.com/ds4a1ksOSh

— Patna Pirates (@PatnaPirates) September 29, 2017
21.15 IST: 
It's the #PirateHamla that runs away with this Matchday Panga! Who will raid riot in the #GUJvPAT #PowerPanga? Find out shortly! pic.twitter.com/4Cd49GR9SF

— ProKabaddi (@ProKabaddi) September 29, 2017
21.12 IST: 
It's been near-smooth sailing for @Fortunegiants, but may soon hit choppy waters when they take on @PatnaPirates! Who'll stay afloat? pic.twitter.com/26Iaoq1Usb

— ProKabaddi (@ProKabaddi) September 29, 2017