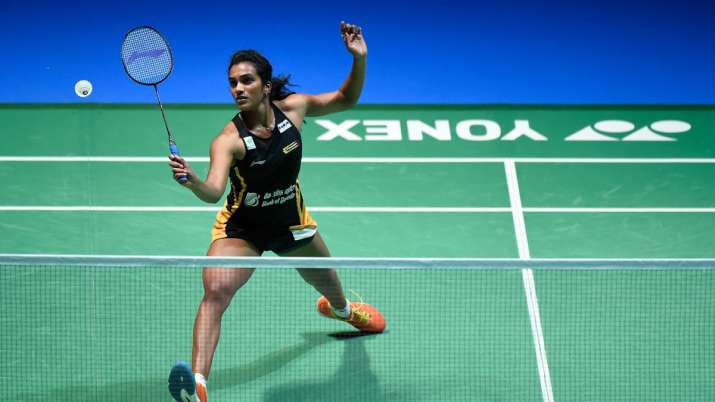 PV Sindhu vs Nozomi Okuhara, BWF World Championships final: Hello and welcome to our coverage of PV Sindhu vs Nozomi Okuhara BWF World Championships final match from Basel. PV Sindhu stood one win away from an elusive World Championships gold after entering a third successive final but B Sai Praneeth settled for bronze following his defeat to Kento Momota on Saturday. Sindhu, who had claimed successive silver in the last two editions of the prestigious tournament beside two bronze, was a picture of perfection as she outclassed World No. 3 and All England Champion Chen Yu Fei of China 21-7 21-14 in a 40-minute semifinal. The 24-year-old Olympic silver medallist will take on Japan's World No. 4 Nozomi Okuhara in the summit showdown on Sunday. Two years ago, Okuhara had robbed off the Indian the title after an epic battle that went down as one of the greatest contests in badminton history. 
 PV Sindhu vs Nozomi Okuhara, BWF World Championships final: Okuhara 7, 7 Sindhu 21, 21
18.08 IST: It's over PV Sindhu becomes first Indian World Champion with 21-7, 21-7 win over Okuhara
18.05 IST: Okuhara snatches two points but it's still Sindhu's game from here. Sindhu 17  Okuhara 6
18.02 IST: 14-4 and Sindhu is dominating show while Okuhara embarrassment continues.
17.59 IST: Smashing her way towards maiden World Championship gold Sindhu leads 11-4 in the second set in mid-break.
17.54 IST: Excellent drop shot from Sindhu and Okuhara couldn't reach to the shuttle. Sindhu 4 Okuhara 2
17.51 IST: Sindhu continues his glorious run in the second set with two easy points upfront.
17.49 IST: Okuhara tried her best to make a comeback but PV Sindhu is just too good for her in the first set. Sindhu 21 Okuhara 7
17.44 IST: Okuhara is clueless against PV Sindhu aggressive gameplay as the Hyderabad born is right now ahead with a massive 18-4 lead.
17.40 IST: Sindhu starts the second of on a high with a drop shot against Okuhara. Sindhu 12 Okuhara 2
17.38 IST: PV Sindhu on fire, wins the first half of the first set with a clean 11-2 lead.
17.36 IST: SMAAASHHH! Sindhu continues her dominating show. Sindhu 6 Okuhara 1
17.35 IST: Excellent drop shot by PV Sindhu as she earns 5th consecutive point.
17.34 IST: Back to back four points for PV Sindhu with some attacking show right away.
17.32 IST: Okuhara snatches the first point with her cheeky drop.
17.30 IST: PV Sindhu wins the toss and will serve first against Nozomi Okuhara. 
17.28 IST: The match between PV Sindhu and Nozomi Okuhara is about to kick-off
It's time for the #GRANDFINALE!💥🔥@Pvsindhu1 will take on @nozomi_o11 in the finals of #BWFWorldChampionships2019 .
What do you think will prevail ? Vote and tell us in the comment section👇.

Let's win this Girl!💪#IndiaontheRise #BWFWC2019

— BAI Media (@BAI_Media) August 25, 2019
17.05 IST: 
Tanisha/Aditi ka DOUBLE DHAMAL!💥

GD pair #TanishC & #AditiB continued their winning streak as they clinched the title at #YonexSunrise All India Junior Ranking Tournament after beating Treesa.J & Varshini 21-15,21-23,21-17.

Kudos Girls!👏#IndiaontheRise pic.twitter.com/eONNznPISf

— BAI Media (@BAI_Media) August 25, 2019
16.15 IST: Will Sindhu finally able to break the finals jinx in BWF World Championships final?
🥉2013, 2014
🥈2017, 2018
Another medal now guaranteed in 2019

What a woman for the 🌍s 🇮🇳PV Sindhu is! pic.twitter.com/Lvz77yMNvF

— Yonex All England (@YonexAllEngland) August 23, 2019
15.30 IST: The battle is on between PV Sindhu and Nozomi Okuhara
Good morning people!🌞

It's a FINAL packed Sunday!⚡️

While @Pvsindhu1 will clash against @nozomi_o11 of 🇯🇵in the FINAL of #BWFWC2019, our Junior champs will battle for the glory in the #YonexSunrise All Indian Junior Ranking Tournament, B'lore.

GOOD LUCK!#IndiaontheRise pic.twitter.com/3lY6LokReE

— BAI Media (@BAI_Media) August 25, 2019