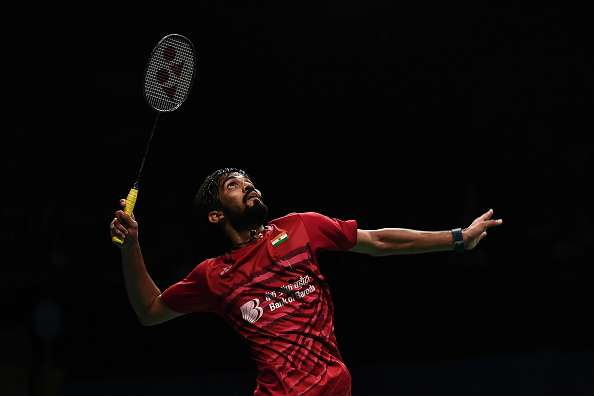 Hello and welcome to our live coverage of the men's singles final between Kidambi Srikanth and Lee Hyun II from Odense, Denmark. Indian shuttler Kidambi Srikanth will have the chance to win his third Superseries title of the season when he steps on the court against South Korea's Lee Hyun II. Eighth seed Srikanth overcame Hong Kong's Vincent Ki Wing Wong 21-18, 21-17 in 37 minutes in the semi-finals on Saturday. With this win, Srikanth has taken a 3-2 lead in head-to-head records against Vincent. Earlier stunned World No. 1 and local boy Viktor Axelsen to reach the semi-finals in Denmark. Srikanth is the only remaining Indian in the competition after HS Prannoy and Saina Nehwal lost their respective quarterfinals on Friday.
Old warhorse Lee Hyun stunned South Korean top seed Son Wan Ho 25-23, 18-21, 21-17 in another semi-final that lasted for an hour and 32 minutes. It will be Srikanth's fourth final this Superseries badminton season. He won the titles in the Australian Open and Indonesian Open. He finished runner-up to compatriot B. Sai Praneeth in the Singapore Open final. Stay tuned for all the live action here!
HIGHLIGHTS KIDAMBI SRIKANTH vs LEE HYUN II, DENMARK OPEN
21.45 IST: 
5th Superseries title for Srikanth Kidambi.

His third Superseries title this year. His astounding run of form continues. #DenmarkSSP pic.twitter.com/0ujd58Nto7

— BAI Media (@BAI_Media) October 22, 2017
​
21.44 IST: Kidambi Srikanth wins his third Super Series Premier title of the year as he outclasses Lee Hyun II 21-10 21-5 in men's singles final
21.43 IST: Another strong cross court smash gives Srikanth his first match point, Kidambi 20-5 Lee Hyun II
21.42 IST: Kidambi is toying with Lee Hyun at the moment, another brilliant smash from him. Srikanth 18-5 Lee Hyun
21.41 IST: Srikanth is back to his best once again, another solid return from the Indian ace. Kidambi 15-4 Hyun II
21.40 IST: This time a point for Hyun II as Srikanth falters at the net play. Lee Hyun 3-12 Kidambi
21.38 IST: Kidambi Srikanth has taken a massive 10-point lead vs Lee Hyun II. Srikanth 11-1 vs Hyun II
21.37 IST: Another forced error from Hyun II, on more point to the Indian. Srikanth 9-1 Lee Hyun
21.36 IST: Korean has no answer to Srikanth's power at the moment. Kidambi 6-1 Lee Hyun II
21.35 IST: Strong cross-court smash from Srikanth to level scores 1-1 in the Game 2 vs Lee Hyun II
21.32 IST: That's too easy for Srikanth at the moment, the 24-year old wins the first game against Lee Hyun II 21-10 in just 12 minutes.
21.30 IST: Costly error from Lee Hyun, Srikanth stretches his lead against the veteran shuttler. Kidambi 17-8 Lee Hyun
21.28 IST: Srikanth's crosscourt forehand goes wide this time, point for Lee Hyun. Hyun II 8-13 Kidambi
21.27 IST: Kidambi Srikanth has started brilliantly here, he has taken a five-point lead at the mid-game interval against Lee Hyun II. Srikanth 11-6 Hyun II
21.25 IST: Solid smash from the young Indian, Lee has no answer to this one. Kidambi 9-5 Lee Hyun
21.23 IST: Srikanth takes the lead for the first time in the match with a brilliant drop shot, Kidambi 5-4 Hyun II
21.22 IST: Good comeback from Kidambi to level the scores at 3-3 vs Lee Hyun II
21.20 IST: First point to Lee Hyun as Srikanth misses the backhand cross the net. Hyun II 1-0 Srikanth
21.15 IST: Kidambi Srikanth takes the court against Lee Hyun. All eyes on the Indian ace as he gets ready to lift his third Super Series title this season.
21.10 IST: Lie Cheng, Zhang Nan defeat Marcus Fernaldi, Kevin Sanjaya in men's doubles to lift the title.
20.56 IST:  Here are the winners of all the categories that have played so far. Lee So Hee, Shin Seung Chang lift the women's doubles Denmark Open title after beating Shiho Tanaka, Koharu Yonemoto 21-13, 21-16 in the final. Whereas, Tang Chun Man, Tse Ying Suet defeat Zheng Siwei, Chen Quingchen 24-22, 19-21, 23-21 in mixed doubles. 
20.55 IST: Ratchanok Intanon beat Akane Yamaguchi to lift women's singles title. Yamaguchi had earlier beaten Sania Mirza in the quarterfinals.
20.15 IST: 
4th Superseries Final of 2017 for Srikanth Kidambi. He beats Wong Wing Ki Vincent 21-18, 21-17 & moves one step closer to #DenmarkSSP title! pic.twitter.com/Cl7T3kjbxK

— PBL India (@PBLIndiaLive) October 21, 2017
19.55 IST: 
Good straight sets win today and very happy with my performance. Excited to get back on court tomorrow. #denmarkopen #believe #achieve pic.twitter.com/U7CdxnTg0v

— Kidambi Srikanth (@srikidambi) October 21, 2017
19.45 IST: 
After not a great start really happy to turn things in 2nd and continue it all the way. Excited to get back on court tomorrow. #believe pic.twitter.com/PVtDHCoM1C

— Kidambi Srikanth (@srikidambi) October 20, 2017
Brief Preview - India's Kidambi Srikanth stands one step away from his third Super Series Premier title after he dished out a superlative display to outwit Hong Kong's Wong Wing Ki Vincent in straight games to reach the men's singles final of the USD 750,000 Denmark Open. The 25-year-old Indian, who clinched the Indonesia Open and Australian Open this year besides reaching the final of the Singapore Open, defeated Wong 21-18 21-17 at the Odense Sports Park. 
A 2-2 head-to-head record in career meetings - all of which had gone to the decider - meant nothing as Srikanth towered over Wong, showing better control and anticipation in the 39-minute semifinal duel. "I feel great. I really wanted to do well. Our game is similar but I was more patient and though I made some errors initially I learnt quickly. Next is Lee whom I have not played and I think he will be a tricky player to beat," Srikanth told PTI. (Read Full Report Here)