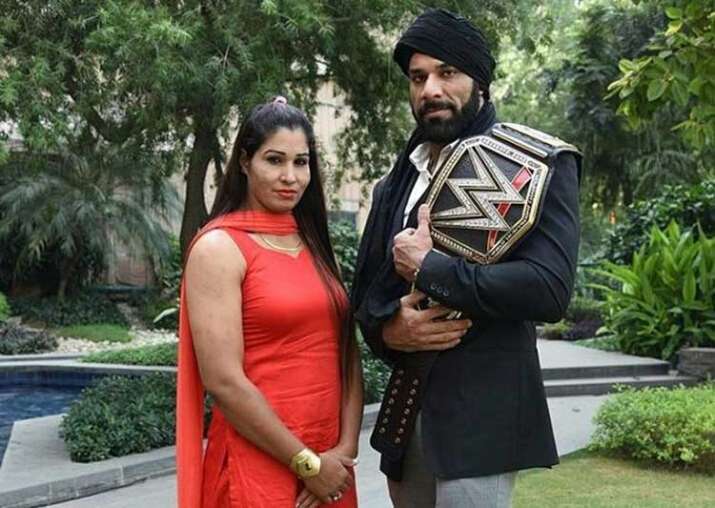 Kavita Devi, a wrestler hailing from Haryana, has become the first Indian woman to be signed by the World Wrestling Entertainment (WWE). The announcement was made by none other than current WWE champion Jinder Mahal during his recent visit to New Delhi.
Kavita, a former Haryana Police cop, was part of the WWE's Mae Young classic tournament, and has now been awarded a WWE developmental contract.
"It was a privilege to be the first Indian woman to compete in WWE," said Devi. "Participating in the Mae Young Classic with some of the best female performers in the world was a great learning experience. Now I am looking forward to pursuing my dream of becoming the first WWE Women's Champion from India."
Sending a huge congratulations to @KavitaDeviWWE and also @WWE for making history today. Kavita is the first Indian woman to sign with WWE.

— The Maharaja (@JinderMahal) October 15, 2017
Kavita, who is also a power-lifter, won gold at the 2016 South Asian Games and is also the first Indian woman to compete in a WWE ring. 
She learned her wrestling skills from former WWE World Heavyweight Champion The Great Khali (Dalip Singh Rana). Kavita is expected to start her training at the WWE Performance Center in Orlando, Florida next year.
"I'm extremely proud to welcome Kavita to WWE where she now has a great opportunity to become India's first female WWE Superstar. She is an inspiration to the youth of India and I wish nothing but success for her," said Mahal.
Kavita will join a roster of international talent at the WWE Performance Center who hail from a variety of countries, including Australia, Brazil, Canada, China, Germany, India, Mexico and the United Kingdom.
"Recruiting Kavita and Shadia to join our developmental system underscores WWE's ongoing commitment to building a talent roster as diverse as our fan base," said Paul "Triple H" Levesque, WWE Executive Vice President, Talent, Live Events & Creative. 
"We're confident Kavita and Shadia will inspire future WWE Superstars as we continue to recruit the most talented athletes and entertainers from around the world."