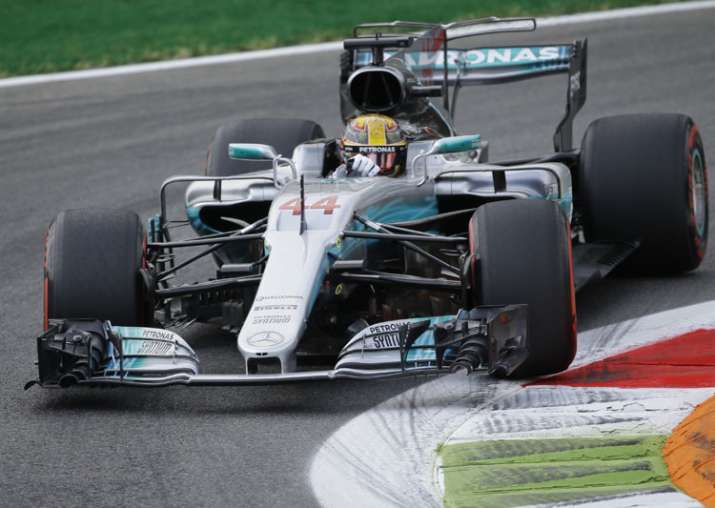 Lewis Hamilton is on course to break Michael Schumacher's pole position record after leading Friday's opening practice session for the Italian Grand Prix in rainy conditions. Despite apparent struggles with his grip — even before the track was slickened by rain — Hamilton finished nearly half a second ahead of teammate Valtteri Bottas as both Mercedes drivers positioned comfortably in front of their rival Ferraris.
Ferrari driver Sebastian Vettel, who holds a seven-point lead over Hamilton, came third, 1.115 seconds behind, and teammate Kimi Raikkonen was fourth, 1.152 behind.
Hamilton enters the weekend tied for the Formula One pole position record with Schumacher, with 68 each.
Ferrari, meanwhile, is looking to celebrate its 70th anniversary with a victory at its home race.
Conditions were difficult, with rain falling on some parts of the circuit while other areas were bathed in sunshine. More serious rain fell throughout for the final 15 minutes.
Carlos Sainz spun his Toro Rosso at the 180-degree Parabolica turn but managed to continue without problems. Also, several drivers missed the first chicane and had to slalom their way through the barriers in the runoff area.
Daniel Ricciardo and Max Verstappen placed their Red Bulls fifth and sixth, respectively, and Sergio Perez and Esteban Ocon came next in their Force India cars.
Grid penalties are likely for both Red Bull drivers, Sainz and Fernando Alonso at McLaren Honda after engine replacements.

A second practice session was scheduled for later.
More rain is scheduled for qualifying on Saturday but the forecast is better for the race on Sunday.