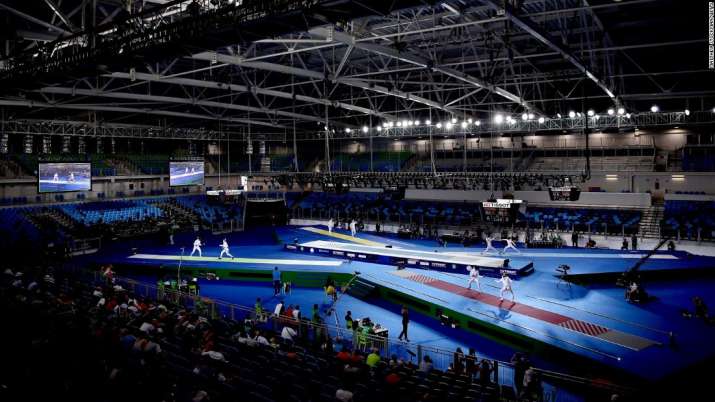 The Ministry of Youth Affairs and Sports in collaboration with the Indian Embassy in Brazil arranged a  reception for the athletes participating in the Rio Olympics on account of India's 70th Independence Day.
However, it couldn't much impress the athletes much as they expected good food to be served at the late afternoon reception, or at least decent Indian snacks, since most of them were missing home food.
What they got was tea, coffee and a juice -- and peanuts galore. There were also some cookies and chocolates, but the fare left the thirty athletes who turned up in a foul mood. 
"Did they call us all the way from the Athletes Village for this?" asked one angrily, declining to be named. The total time it took them to come and return was over four hours.
Invitations to the reception were sent out by the Embassy in the name of Rajiv Yadav, Secretary (Sports) in the ministry. Indian Ambassador Sunil Lal was present at the reception where some 200 invitees turned up. There is a consular assistance office in Rio, while the Embassy is located in Brasilia, the capital.
The athletes and officials were brought to the Olympians Reunion Centre in the Lagoa area near the central lagoon in Rio in two buses. Also present at the reception were Indians settled in Rio or visiting for other purposes.
"They could have arranged some good food, as athletes are always feeling hungry. Even good snacks would have been welcome as they need to keep their bodies fed," said Pawandeep Singh Kohli, the Chief Medical Officer for the Indian contingent present at the reception.
Almost all the athletes had this one topic to discuss, showing their disappointment to their group leaders. And they left quickly. Later, in the bus, men's hockey team captain P.R. Sreejesh, with his tongue firmly in his cheek and a large smile on his face said that he had enjoyed the "filling food" at the reception so much that he had cancelled his dinner at the Village. His remarks lightened the somewhat unhappy mood.
(With PTI inputs)