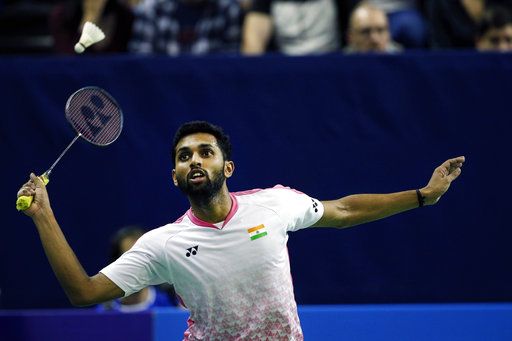 Under the guidance of Pullela Gopichand, the Indian male shuttlers have seen a dramatic uprise in the past one year. Star badminton player HS Prannoy, who is currently ranked World No. 13, has credited Gopichand for the success of his fellow team-mates and said that Kidambi Srikanth, who won four Super Series Tour titles in 2017 and climbed up to the career-best second position in the WBF rankings, has set a standard for every aspiring and competing male shuttler in the country.
"The bar that Srikanth has set after he won four Super Series Tour titles last year has really changed the mindset of the players. That has brought a good difference in our training sessions. We have good six-seven men who can play well and bring laurels to the country," Prannoy told IndiaTVNews.com in an exclusive chat.
2017 has been a stellar year for the Indian badminton as a male and a female shuttler from the nation entered the top-five of Badminton World Federation (BWF) rankings for the first time. Concluding the illustrious year on a high, Srikanth and Rio Olympics Silver medallist PV Sindhu ranked third in their respective BWF rankings' charts.
In top-10 of men's and women's rankings, Prannoy and Saina Nehwal also got their names placed 10th in respective categories by the end of the year. Other male shuttlers from the country – B Sai Praneeth, Sameer Verma and Ajay Jayaram also improved their rankings in 2017, having placed 16th, 30th and 38th in men's singles rankings.
Commenting on the men's impressive run, Prannoy said everyone is in a good shape and upbeat for tough challenges ahead. He also heaped praises on Parupalli Kashyap and Sameer Verma, who recently won titles in Austria and Switzerland, respectively.
"We're really good. Because we have almost eight of them in top 50s. With Sameer (Verma) having won the Swiss Open last week and Kashyap (Parupalli) also winning in Austria yesterday, I see a lot of hope.
"Everyone has been doing exceptionally well. The competition has been good, and everyone knows that he needs to win a title to be in the race. That competition, among us, is very good. You can see the intensity in the training session since last year, which has gone really high for us," Prannoy added.
In 2017, the 25-year-old clinched US Open title, the third BWF Grand Prix Gold crown of his career.
When asked who has played the major role in men's recent rise in badminton, Prannoy credited coach Gopichand without giving second thoughts on it.
"The entire credit goes to him. Because to manage these many players in one academy and to produce results on a continuous basis, it's not easy at all and that too, with all the other players. And to give each one that kind of attention at each point of time, only he can do it.
"He has the dedication to come in and spend time and energy on each person. So, he makes sure that one goes on there and play better. Probably, the badminton has grown so much just because of him. As a head coach, I wish he continues like this for next couple of years," he said.
For 2018, Prannoy has his eyes firmly set on a bigger goal that is a medal in the Commonwealth Games, to be played from April 4 to 15 at Gold Coast, Australia.
On the route to Gold Coast, Prannoy might skip YONEX All England Open, which will begin on March 14. The Kerala-based shuttler has appeared in the prestigious All England Championships for the past three years, reaching the second round in 2015 and 2017, though he suffered a first-round exit in 2016.
Recently, Prannoy's momentum was hampered by a minor foot surgery that kept him out of action for several weeks before he suffered a shocking first-round exit at the India Open in January.
"All England Championships is looking a bit dicey to me. There is a couple of weeks for me before I leave but I am happy that I have started playing after surgery. Probably, in couple of weeks, I become better and match-fit.
"I am not really looking forward to All England because it's really a short-term thing and probably looking forward to Commonwealth Games, which is three weeks after All England Championships. I think, I should be 100 per cent fit before that," Prannoy continued.
The Indian shuttler explained how important is to take rest before the big events. "It's very good for me that I have a very hectic schedule ahead and I think, it's important that I am hung up for playing games right now. Sometimes it really helps before the big events as you want to win."
While many complain about the cramped schedule, Prannoy believes a players needs to pick tournaments with keeping his goals in perspective. "There is a lot of tournament this year. But, that is a part of the game because the Commonwealth Games and Asian Games are coming. I am fine with it because we, Indians, are planned accordingly."
Even though he is constantly pushing his limits to reach perfection, Prannoy doesn't have much expectations from the tournaments ahead.
"Expectations always let you down. These days, I don't put targets and work for it. I do the everyday stuff with 100 per cent of whatever I can. Sometimes you try hard and get nothing, then you get disappointed and the rest of time goes bad for you. Because you don't have that drive to work hard."
"It's important that sometimes you lose the track of playing matches. Sometimes, it takes you a while to return. But then you must manage, especially when you are going for such a big event. It is important to have some match practice before the big tournaments," he added.
Prannoy, keeping All England Championships in perspective, shed light on what goes through a sportsman's mind when he struggles to perform in big events.
"All England Championships is a big event and you really have that pressure to perform. That's a big stage. If you're not 100 per cent fit, then mentally you get to feel so many things around you. You see the crowd dissatisfied and all those things happening. But it is important for me to play one event before Commonwealth Games," Pronny concluded.