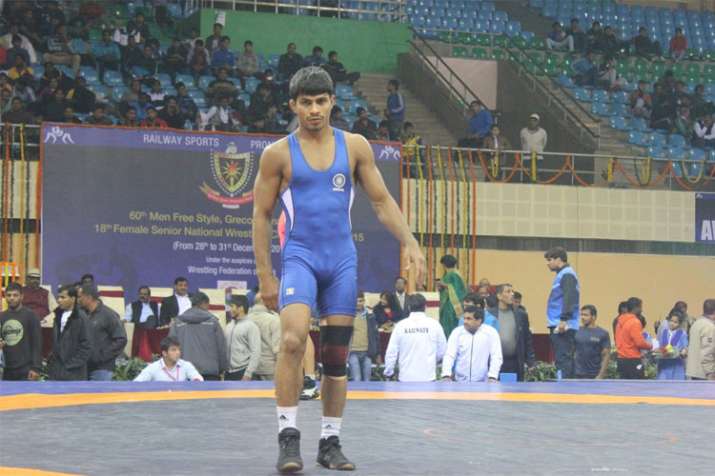 India's Rahul Aware on Thursday won the gold medal in Men's Freestyle 57kg wrestling by defeating Canada's Steven Takahashi in the final bout at the ongoing Commonwealth Games 2018 in Gold Coast, Australia. India have now won 14 gold medals at the 21st CWG and 29 medals overall, including 6 silver and 9 bronze. (Also Read: Babita Kumari settles for silver in women's freestyle 53kg nordic wrestling)
Aware was dominant right from the start, pulling off three two-points moves in the first round. Although the Canadian showed excellent technical prowess with a four-point move, it was enough to prevent Aware from taking a two-point lead into the break.
The Maharashtra wrestler showed his true class in the second round. He had increased his lead by one point in the initial stages before the Canadian scored three points to reduce the gap.
Aware however, made an ankle hold to execute the classic 'fitlay' move which saw rack up eight consecutive points.
That gave him a virtually insurmountable eight-point lead which proved too much for Steven to surmount.
"I have been waiting for this medal for the last 10 years. I can't describe how it feels to claim it. I missed out on 2010, even in 2014, the team was sent without trials. So, I am very happy that I could finally fulfil this dream," said the 26-year-old Aware, who is also the reigning Commonwealth championships gold-medallist.
"I dedicate this to my guru who passed away in 2012, I am happy that all the efforts I put in got the result I wanted," he added.
Earlier, Aware won his bouts in comprehensive fashion, overpowering George Ramm of England and Australia's Thomas Cichhini by technical superiority.
Aware then defeated Pakistan's Muhammad Bilal in the semi-finals.
Aware had also won the gold medal in 2011 Commonwealth Championships, held in Melbourne, Australia....