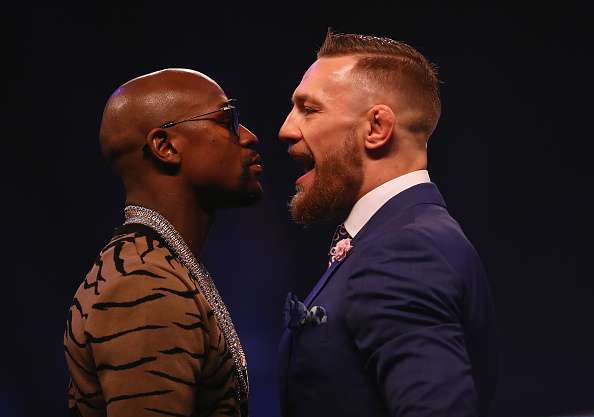 One of the biggest sporting events in history would happen at the T-Mobile Arena in Las Vegas, Nevada when an unbeaten Boxing Champion Floyd Mayweather would take on the 'Notorious' UFC Lightweight division champion Connor McGregor in a mega fight the world has ever witnessed. A speculation that the fight was never bound to happen was eradicated when the boxer and the MMA star came to a conclusion to make this unbelievable match happen. The match would be a classic 12 round match. 
Mayweather has set a record of 49-0 and retired from boxing, but it was only the brogue Irishman that brought him out of retirement to make a mega money deal happen. At the end of the day, both the superstars will walk out with more than 200 Million US Dollars. 
Leaving all the athletes gobsmacked, this fight will happen. Contracts have been signed and the press tours finished, all we wait now is for both the superstars to lay their hands on each other as they have been waiting for long enough for someone to be knocked out. The press tours happened in Las Vegas, Toronto, New York and London. There was enough trash talk to get the fans and themselves riled on. On August 26, the only form of communication would be their hands against each other. 
Mayweather has a huge advantage as McGregor has never faced or been in a boxing ring before. The Irishman has been limited to a few moves which he can pull off only using his fists. No elbows, no kicks, no TKO, no grappling, no take downs and no submissions. The UFC champion will have to pull something extra ordinary out of his pocket to knock out the boxer. 
The Irish brogue can hit, but having never faced a boxer before, Connor is against all odds in this super fight. Floyd 'Money' Mayweather has a recognition of a 5-division champion and is undefeated in his career. Floyd last faced the Filipino boxer Manny Pacquiao and won by unanimous decision after completing all 12 rounds. Mayweather is quick, fast and certainly focused. The Irishman, on the other hand, wants a classic brawl. Connor set a record in UFC history to defeat an unbeaten former UFC Champion Jose Aldo in 13 seconds of the first round of the main event. The chances that the notorious one can pull that stint again is very slim as this is a professional boxing match that the Irishman is dealing with. 
With all the deals set and contracts signed, the two superstars will have to wait till August where one of the two fighters can put one down to sleep. Can Floyd make it 50-0 and retire knowing that he won against a UFC fighter or will the notorious one flabbergast the entire world by defeating the 40-year-old boxing champion. The two superstars will go one-on-one in a sold-out T-Mobile Arena in Las Vegas, Nevada on August 26.