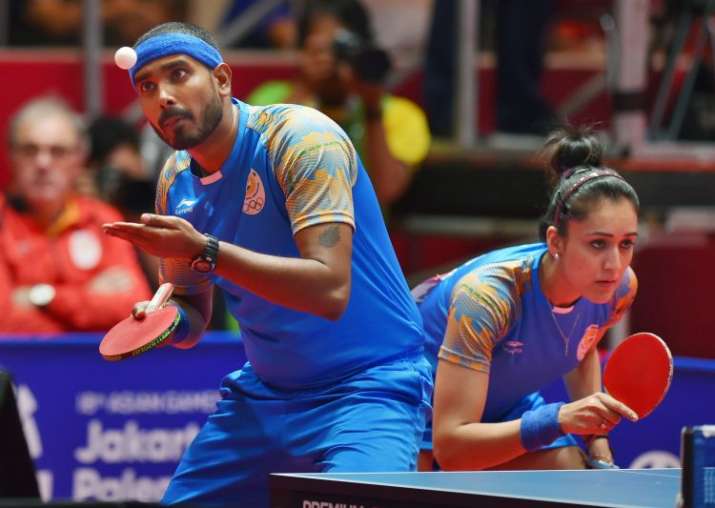 India's pair of Sharath Kamal and Manika Batra settled for a bronze medal after they lost the Mixed Doubles Table Tennis semi-final 4-1 to China's Wang Chuqin and Sun Yingsha on the 11th day of the Asian Games 2018 on Wednesday.
The Chinese pair outclassed India by 11-9, 11-5, 11-13, 11-4, 11-8 in a 39-minute long semi-final match.
Sharath-Manika defeated the North Korean pair of An Ji Song and Cha Hyo Sim 3-2 (4-11, 12-10, 6-11, 11-6, 11-8) in 38 minutes in the quater-finals.
With the losing pairs in the semi-finals set to get a bronze, Sharath and Manika won India's first doubles medal at Asiad in the sport.
Another Indian pair, Anthony Amalraj and Madhurika Patkar, lost 1-3 (11-6, 7-11, 5-11, 4-11) to Hong Kong's Ho Kwan Kit and Lee Ho Ching in the pre-quarter-finals.
Earlier in the Round of 32 affair, India's Sharath Kamal Achanta and Manika Batra hammered Malaysia's Javen Choong and Karen Dick 3-0.
The Indian pair thrashed the Malaysians 11-2, 11-5, 11-8 to enter the pre-quarters.
Recently, warhorse Kamal said in an interview that now India can beat anyone barring China. "On our day, we can beat anyone except China," Kamal told PTI.
It is quite a statement considering Indian players were not taken seriously at the world level as recent as five years ago.
And it may seem the medal has come out of nowhere but that it is not the case. More government funding for the junior programme, a table tennis league and most players plying their trade in Europe for the last five to six years has led to this "unthinkable feat".
At the start of the year, India had as many as six top-100 players in the ITTF rankings.
(With agencies inputs)