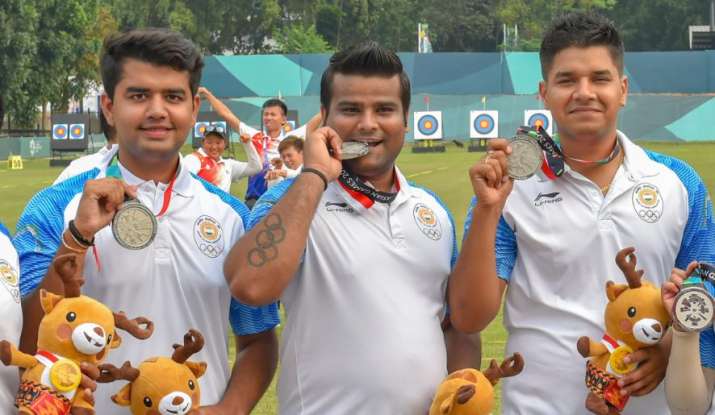 The Indian men's archery team on Tuesday lost a nail-biting final against Republic of Korea to settle for a silver medal in the Compound Archery team event.
The Indian team, comprising of Rajat Chauhan, Aman Saini and Abhishek Verma lost the shoot-off against Korea's Yonghee Choi, Ho Sung Hong and Jongho Kim to settle for silver.
It was a dramatic men's final in which the Indian team was a point ahead of the Koreans at the end of the regulation four sets.
But the celebrating defending champion side was in for a surprise when Korea managed to log a point on review.
One of the Korean team's 9s in final set was deemed a 10 on revision leaving the two teams tied at 229-229.
In the shoot-off, the Koreans managed one inner 10 (closest to bull's eye), a 10 and 9, compared to the two 10s and a 9 by the Indians, to walk away with the top honours.
Earlier, the Indian women's team comprising Muskan Kirar, Madhumita Kumari and Jyothi Surekha Vennam, lost 228-231 to Korea in a contest that went down to the wire till the final set of arrows.
India were leading 59-57 after the first set before Korea won the second set 58-56.
The two teams were on even keel in the third set scoring 58 points each but India wilted under pressure losing 55-58 to end up second best.