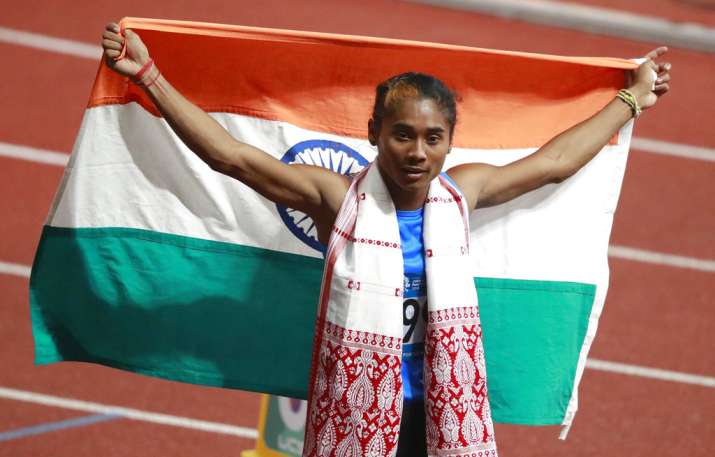 Indian sprinter Hima Das won silver in the Women's 400m event on Day 8 of the Asian Games at Jakarta, clocking a time of 50.79 seconds. 
#TeamIndia at the #AsianGames2018
It's a Silver for #HimaDas! 400m Indian sprint sensation clocks 50.79 in her Women's 400m Finals, to finish 2nd and pick up Silver No. 8 for India! #Congratulations @HimaDas8 🥈👏🇮🇳#IAmTeamIndia pic.twitter.com/cBWUWCRfqY

— Team India (@ioaindia) August 26, 2018
Bahrain's Salwa Naser clinched the gold and also set a new Asian Games record of 50.9 seconds. Kazakhstan's Elina Mikhina won the bronze. 
Falling short of the medal was India's Nirmla, who finished fourth in the event. 
In the Men's 400m race, Muhammed Anas won silver as well and compatriot Arokiarajiv fell short of the bronze as well.
#TeamIndia at the #AsianGames2018#MuhammedAnasYahiya wins Silver No. 9 for India as he finishes 2nd in the Men's 400m Finals clocking 45.69 while #ArokiaRajiv finished 4th with a timing of 45.84. #WellDone @muhammedanasyah 🥈🇮🇳👏 & Arokia for your efforts!#IAmTeamIndia pic.twitter.com/kTmJe2KiHX

— Team India (@ioaindia) August 26, 2018
Qatar's Abdalelah Hassan secured the gold medal in 44.89 seconds, whereas Bahrain's Ali Khamis settled from bronze.
The two other Indian competitors in the races, Rajiv Arokia and Nirmala finished fourth. While Rajiv timed 45.84 seconds to complete the men's 400m race, Nirmala finished the race in 52.96 seconds.
The men's title went to Qatar's Abdalelah Hassan, who completed the race in 44.89 seconds as he fended off Anas, who has a personal best of 45.31 seconds. Anas' personal best mark had given him a fourth-place finish in the 2018 Commonwealth Games.
Ali Khamis of Bahrain picked the bronze medal with a timing of 45.70 as he finished ahead of 2014 edition bronze medallist Rajiv. 
In the women's race, Bahrain's Salwa Naser produced a Games record timing of 50.09 seconds to finish ahead of 18-year-old Hima, who had renewed the Indian record of 51.00 seconds on Saturday in the semi-finals.
Assam girl Hima, the Under-20 world champion, was a sureshot medal contender but in the final, Naser, who had won a silver medal at the IAAF World Championships with a national record of 50.06 seconds, proved to be superior to the Indian.
The bronze medal went to Kazakhstan Elina Milkhina, who clocked 52.63 seconds to finish ahead of Nirmala.
(With IANS inputs)