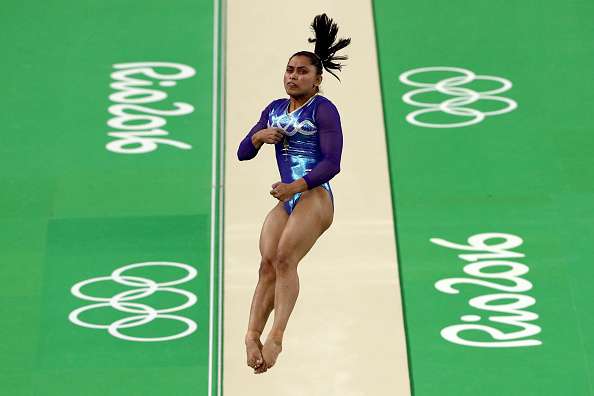 Despite having narrowly missed a medal at the ongoing Rio Olympics, Indian gymnast Dipa Karmakar has left a mark with her stellar performance. The 23-year-old gymnast scripted history by becoming first Indian gymnast to qualify for the final of the women's final vault in her debut Olympic games.
Though she did not win any medals, her performance did win a million hearts back home and abroad.
Reports now suggest that the pioneer may be in for some honour. According to reports, the Sports Authority of India has recommended Dipa for the Khel Ratna award which is presented by the President on National Sports Day on August 29.
Dipa's resplendent smile after missing out on what would have been a path-breaking medal in Indian sport belied the storm brewing up in her mind.
Amid an outpouring of emotions, Dipa and her coach spent a quiet evening at the Games Village consoling each other and talking in "ifs and buts".
"Yes everyone was happy but to us we lost a world, and by the narrowest of margins. It's the worst Independence Day that we could have had. I'm the saddest coach of earth. This regret will be hard to forget."
In the women's vault final, Dipa's average score was 15.066 from her two vaults of Tsukahara-720 and Prudonova where she logged 14.866 and 15.266 respectively to finish fourth behind Switzerland's Giulia Steingruber who logged 15.216.
Her effort was a big improvement especially in the 'death-vault' of Prudonova which has the maximum difficulty level of 7.000 and Dipa would score about 15.100 out of a perfect 17.
"It was the best jump in her career, she was so perfect but judges were not convinced may be by the landing as she went a bit low."
Despite failing to win a bronze medal in the vault final of the Rio Olympics by a whisker, path-breaking Indian gymnast Dipa Karmakar said that she is not disappointed and instead is aiming for a gold in the next edition of the Summer Games in Tokyo.
"I never expected a medal from this Olympics but to have come fourth is very creditable. In boxing, wrestling you get a bronze even when you finish fourth but not for me. It was very close to medal. After four years, my target would be gold," Dipa said brimming with confidence after her brilliant effort on Sunday.
"For me this is my first Olympics. But I don't need to be disappointed I will give my best in Tokyo 2020," she said.