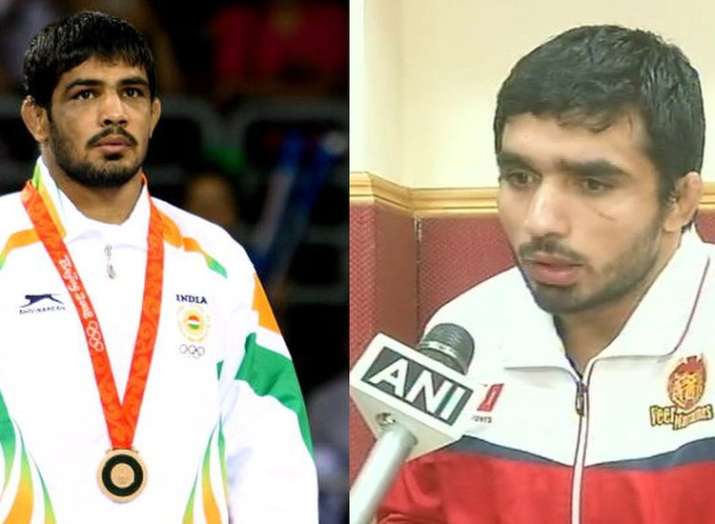 Indian wrestler Parveen Rana, who recently filed an FIR against rival Sushil Kumar, accusing him of inciting violence that led to a brawl between supporters of the two wrestlers at the Indira Gandhi Indoor Stadium in New Delhi on Saturday, has decided to hurt the two-time Olympic medallist more when they take on each other in the next meet.
Accusing Sushil of cheating in the trail bout for 2018 Commonwealth Games, Rana said that he will take the revenge of his defeat in the next face-off.
"I played a good bout yesterday (against Sushil Kumar), but there was a lot of cheating there and due to that I was made to lose," Rana said as quoted by ANI.
"Now I am waiting for our next bout in the pro wrestling league where I will perform even better. I have forgotten the thing that happened and now focusing on upcoming matches. I will answer him by defeating him in our next clash," he added.
The selection trials in New Delhi took an ugly turn when a scuffle broke out between the supporters of Sushil and Rana.
The incident took place minutes after Sushil qualified for the 2018 Games, which is to be held in April next year, following his 7-3 victory over Parveen in the semi-final bout.
Rana has alleged that Sushil' supporters beat him and his elder brother post the match for daring to take the mat against the former.
Incidentally, Rana was among the three wrestlers who gave a walkover to India's most decorated wrestler, Sushil, in the National Championships last month, owing to the "parampara" of Indian wrestling of respecting the senior players.
Rana clarified, "In senior nationals, I was badly injured. I reached the finals but then thought of avoiding the bout due to injury risks. I reached the finals after playing four bouts while Sushil qualified after getting all four walkovers. So I was tired and gave a walkover to him".
"I was selected for the 2014 Glasgow Commonwealth Games also. I defeated Narsingh Yadav in the trials. But I was junior at that time so was replaced by Sushil, without any trial. I did not object at that time and extended support as he was a senior player and had more experience than me", he added.
Earlier, Sushil expressed his disappointment over the incident and pointed out that he too got injuries during the match but he didn't complaint like Praveen.
Meanwhile, Sushil and supporters have been booked by the Delhi Police in connection with the brawl.
(With ANI inputs)