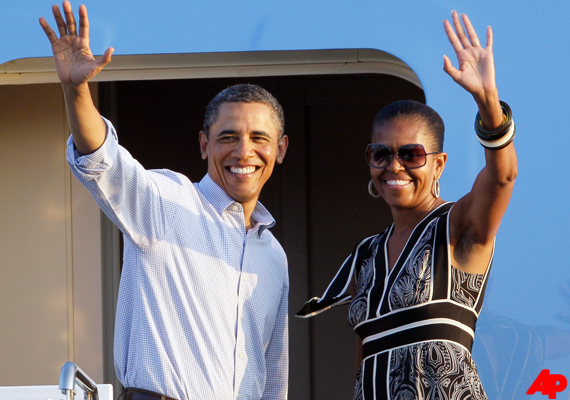 Honolulu, Jan 3: With an eye on the 2012 campaign, President Barack Obama wrapped up a low-key Hawaiian vacation Monday and planned to quickly get back in front of voters as he ratchets up his bid for re-election.

The president and his family left the island of Oahu late Monday, ending their 10-day vacation.

Air Force One will touch down in Washington on Tuesday morning, just hours before Republican presidential candidates square off in the Iowa caucuses, the first nominating contest of the 2012 campaign.

After more than a week out of the spotlight, Obama plans to make his presence in the campaign quickly known.

The president will host a live web chat with supporters in Iowa Tuesday night as the caucuses are unfolding.

The following day, Obama will travel to Cleveland for an event focused on the economy.

Obama aides said the president will seek to draw a contrast with his Republican challengers during Wednesday's trip to Ohio, a state sure to factor prominently in the presidential campaign.

Obama also returns to Washington facing further debate on extending payroll tax cuts, the same issue that consumed Washington for the final days of December.

Congress broke through a stalemate just days before Christmas, agreeing to extend the cuts for two months.

Lawmakers will get back to work later this month to negotiate a full-year extension, a proposal Obama supports.

White House officials say the tax cut extension is the last "must-do" legislative item on Obama's agenda this year.

His strategy for his fourth year in office will focus largely on taking executive actions that do not need approval from lawmakers as he seeks to break away from a deeply unpopular Congress.

The payroll tax cut debate almost prevented Obama from taking his annual Christmas trip to Hawaii.

He delayed the trip nearly a week, finally departing on Dec. 23, just hours after Congress finalized the two-month extension.

The president, wife Michelle Obama and daughters Malia and Sasha stayed largely out of the public eye during their trip to Oahu, the island where Obama was born and mostly raised.

The Obamas stayed in a multimillion-dollar oceanfront rental on Kailua Beach, near Honolulu, and surrounded themselves with a close-knit group of family and friends.

That included Obama's sister, Maya Soetoro-Ng, who lives on Oahu, and several of the president's childhood friends.

Obama's outing consisted largely of trips to the gym and golf course at Marine Corps Base Hawaii, a military base near his vacation rental.

The first family also made a few outings around the island, including a snorkeling trip to popular Hanauma Bay and a stop for shave ice, a Hawaiian snow cone.

The president also took his family to the East-West Center, a research and exhibition center that is displaying the anthropological work of his late mother.

Aides say Obama spent a bit of time on vacation brainstorming ideas for his Jan. 24 State of the Union address, where he will lay out an agenda that will also serve as the basis for his campaign message.

He was also briefed by a small cadre of traveling advisers on some of the international issues looming in 2012, including renewed threats from Iran and a request from Yemen's outgoing, autocratic president to come to the U.S. for medical treatment.