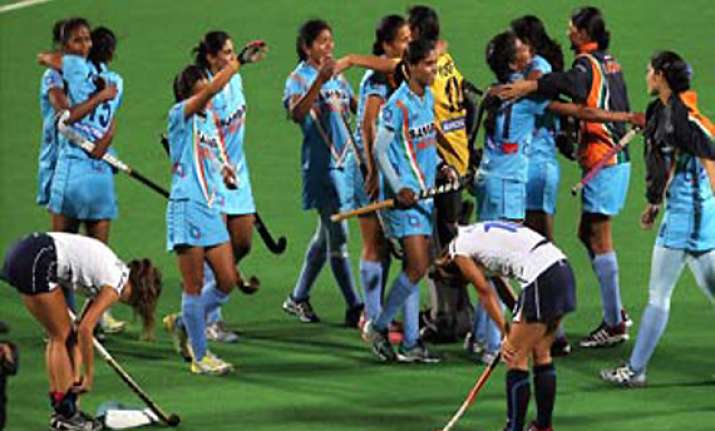 New Delhi, Feb 23: India women's three-match winning streak in Hero World League Round 2 ended with a 2-3 (2-2) loss via the penalty shoot-out to higher-ranked Japan at the Major Dhyan Chand National Stadium here Friday.
India performed miserably in the penalty shoot-out despite making a brilliant comeback from two goals down in the last 10 minutes of the regulation time to equalize through Soundarya Yendala (62nd) and Anupa Barla (65th).
Chanchan Devi, Ritu Rani and Vandana Kataria also messed up the shoot-out while Soundarya Yendala and Rani Rampal were on target in the last two attempts.
Japan also led in the shoot-out with Mazuki Arai and Yuri Nagai sounding the board from the first two attempts. India goalkeeper Yogita Bali made a brilliant attempt to thwart Akiko Ota's attempt while Akiko Kato's goal was disallowed but skipper Rika Komazawa completed the score-line.
Both India and Japan are now on 10 points, but the hosts are ahead in the first place on the basis of better goal difference.
India's hopes to qualify for the next round will depend on Sunday's tie between Japan and Malaysia, who are third with nine points.
If Japan wins, India are through but in case of Malaysia's win, India will need an outright win against Russia in their last match. The two top teams will qualify for the next round of the World League, which is a qualifying tournament for the 2014 World Cup in Hague.
After a string of three big wins, India, who are World No.12, faced some serious challenge in the tournament against Japan.
The Japanese girls maintained their domination in the game for more than an hour but slackened in the last 10 minutes to allow India to come back in the match.
Japan went ahead in the fourth minute through Shiho Sakai's low flick and doubled it in the 31st minute with Akiko Ota converting a penalty corner. They controlled the proceeding in most part of the game before India made a stunning comeback.
India coach Neil Hawgood admitted that his girls made some silly errors in the match.
"We made two silly errors that helped them to score goals. When we exerted pressure in the second half they crumbled. We have to win our next match against Russia," he said.