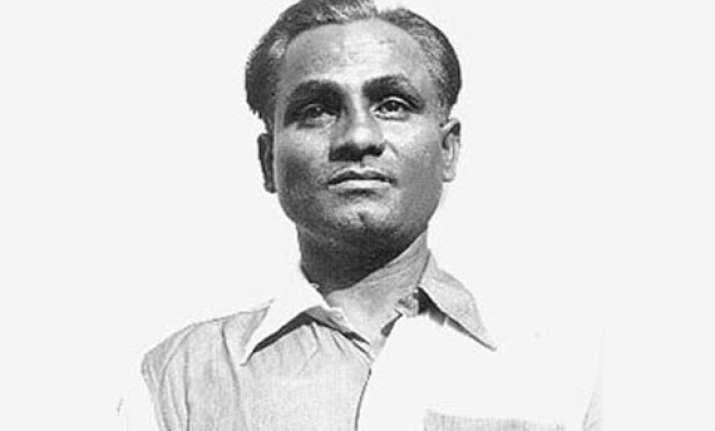 New Delhi: There was a time when hockey players of rival countries used to complain that Major Dhyan Chand had some glue on his hockey stick with which he used to control the ball while dribbling. Indians believed he was a wizard wielding the hockey stick.
Major Dhyan Chand's fame proved to be a collosus on world hockey, putting India on the highest pedestal. A grateful nation declared hockey to be its national sport, but no more.
Born to a Rajput family in Allahabad on 29th August 1905, Dhyan Chand was youngest son of the family. His father was in army and because of this he had to terminate his education after six years of schooling due to his father's numerous transfers to different cities. Finally the family got settled in Jhansi.

There is a very interesting fact behind the name Dhyan Chand. Actually his name was Dhyan Singh but when he started practicing Hockey, he usually practice at night and because of no flood lights in the field he had to wait for the moon for better visibility. Chand stands for Moon in Hindi so his name became Dhyan Chand.
When Dhyan Chand was young he had no interest towards hockey. In his autobiography "Goal", he was quoted as saying ,"I did not remember whether I played any hockey before I joined the Army, though I occasionally indulged in casual games in Jhansi with my friends".

Dhyan Chand joined Indian Army at the age of 16. He started playing Hockey for army in regimental games and Hockey tournaments during the period 1922-1926.
He performed well in all the games he played and Ultimately got selected in the Indian Army Hockey team which was to tour New Zealand. In the tournament, Indian Army won 18 of the 21 matches played drew 2 and lost only 1 match. He performed really well and after his return he got promoted to the rank of 'Lance Naik'.

In 1925, the newly formed IHF (Indian Hockey Federation) started assembling the best team to send for 1928 Amsterdam Olympics.

So they organized an Inter-Provincial Tournament, Dhyan Chand participated in the tournament and with his clever work he won the hearts of selectors and won the ticket to Amsterdam Olympics. He got selected as centre-forward in the Indian hockey team.

On May 17 1928, Indian hockey team debuted in International Hockey against Austria. The team won by 6-0 and in that 3 goals were shot from Dhyan Chand's stick. Indian team won its first Olympic gold medal and Dhyan Chand won the award of top goal scorer with his 14 goals from 5 matches.

A newspaper reported that, "This is not a game of hockey, but magic. Dhyan Chand is, in fact, the magician of hockey".
In December 1934, IHF sent Indian Team to New Zealand for a tournament and Dhyan Chand was made the captain of the team.

The team played 48 matches out of which they played 28 in New Zealand and remaining in India, Australia and Ceylon (Sri Lanka). In the whole tournament Dhyan Chand played 43 matches scoring 201 goals.
During a match in Berlin Olympics in 1936, impressed by Chand's game, the German Fuhrer Adolf Hitler offered him a German citizenship and promotion to the rank of colonel (from major in British Indian army) but Dhyan Chand refused the offer.
When in Australia, after watching Dhyan Chand's game, cricket's legend Don Bradman was so amazed by his game, that he said ,"He scores goals like runs in cricket".
In 1948,"The Wizard" as he was known for his outstanding ball control, Major Dhyan Chand played his final international match, scoring more than 400 goals in his career.

In 1956, Dhyan Chand Singh retired from Indian Army from the rank of Major and in the same year he was honored with Padma Bhushan by the Government of India. He then started coaching in hockey camps in Mount Abu in Rajasthan.

He developed liver cancer and was admitted to AIIMS. He took his last breath on 3rd December 1979 and was cremated in his hometown Jhansi with full military honor.
During the NDA rule, the then Sports Minister Uma Bharti named the National Stadium as Major Dhyan Chand Stadium, and declared his birthday (Aug 29) as National Sports Day.

Following are some legacies of Major Dhyan Chand Singh:
1. Major Chand's Birthday is marked as National Sports Day of India.

2. India's highest award for lifetime achievement in sports is named after him.

3. National Stadium for Hockey in Delhi was named as 'Dhyan Chand National Stadium' in 2002.

4. In London there is a Tube Station named after Major Dhyan Chand.

5. In Vienna, residents placed a statue of him carrying 4 sticks in four hands.