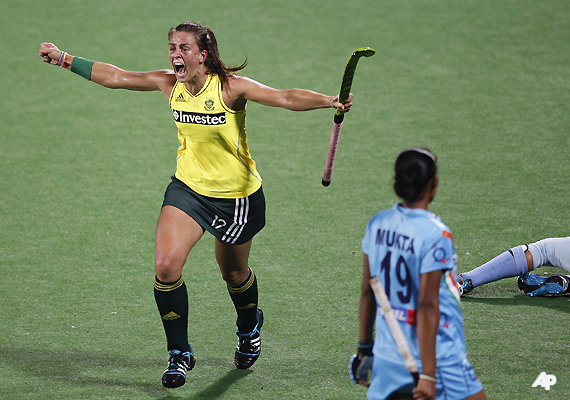 New Delhi, Feb 22: Indian eves suffered their first defeat in the tournament when they went down fighting to top-ranked South Africa 2-5 in their fourth encounter of the women's qualifiers for the London Olympics, at the Dhyan Chand Stadium, here today.

South Africa clearly looked a better team today as they showed better co-ordination as they released the ball quickly and their defenders didn't give the Indians much space to operate.

The highest ranked in the tournament, scored through Dirkie Chamberlain (12th minute, 32nd, 58th) and Sulette Damons (53rd, 67th), while for India skipper Asunta Lakra (23rd) and Soundarya Yendala (52nd) reduced the margin.

South Africa played a very fast-paced game and attacked the Indian citadel and kept the ball in their half for most part of the match. However, it was India who earned the first chance to score when they earned a penalty corner as early as in the 3rd minute but they failed to materialise it.

Immediately, South Africa, on a counter-attack, earned their first PC but they too failed to make use of the chance.

Unperturbed the proteas girls kept pressing for a goal and earned another PC in the ninth minute but once again, they returned empty handed in front of an alert Indian defence.

Dirkie Chamberlain finally put South Africa in the lead when she scored from close range after their first penalty corner strike from Kate Woods was blocked by the Indian goalie Savita.

Eleven minutes later, India earned their second penalty corner which culminated into another PC but this time, skipper Asunta Lakra didn't make any mistake and scored on the direct hit as the defenders were found napping.