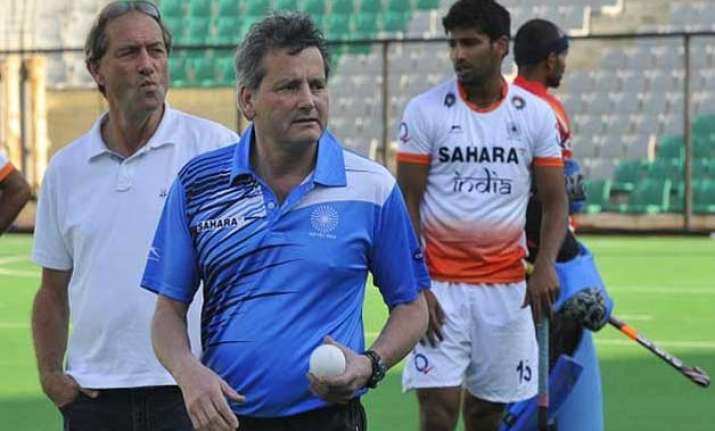 Ipoh (Malaysia): Aware that India will not get too many scoring chances against world champions Australia in Azlan Shah Cup hockey tournament here on Saturday, chief coach Paul van Ass on Friday emphasized on penalty corner conversion drills during the team's short practice session here.
Penalty corner is considered as India's strong point especially in the presence of two high quality drag-flickers in V R Raghunath and Rupinder Pal Singh, but they cut a sorry figure yesterday against Canada, converting just two out of the eight short corners that came their way.
In fact in the tournament so far, the duo of Raghunath (2) and Rupinder (3) made use of just five out of the numerous short corners they earned in the last four matches.
And Van Ass very well knows the importance of converting any chance that comes before them against Australia, who are defending their title here.
"We have to fight tomorrow. We won't get eight corners. So, if we get any we definitely don't want to throw it away," the Dutchman told PTI after the training session at the Azlan Shah Stadium.
During India's one hour practice session today, Van Ass was seen giving special attention to short corner conversions and he even tried some variations from skipper Sardar Singh.
It was an intense training session and Van Ass individually supervised all the drills and looked completely engrossed and involved.
"It was just to wake them up. It was all about waking them up, getting their heart rates up. It was about getting their body working again to let them realize 'hey it's not over yet' and the hardest match is still to come," the coach said when asked about the drills.
India are already out of Sunday's summit clash and will take on Australia in their final league match on Saturday.
Australia are so far unbeaten in the tournament and have assured their place in the title clash.