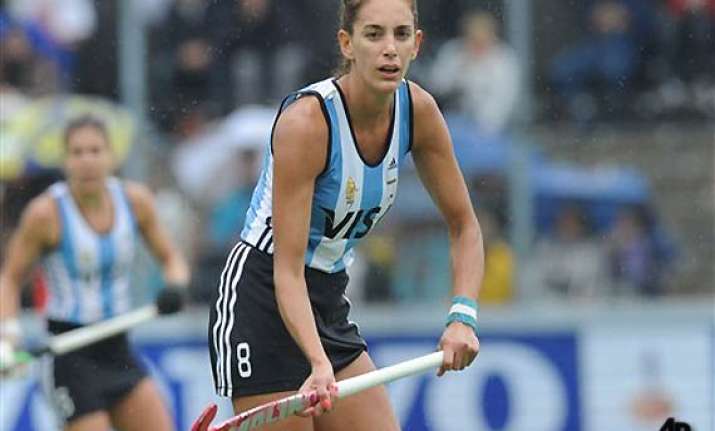 Amsterdam, June 26: Argentina and Germany squeezed past England and New Zealand respectively by a single goal, Netherlands demolished Australia 3-0 and China drew 2-2 with South Korea on the first day of the women's Champions Trophy field hockey here Saturday.

It took the magic of Luciana Aymar to secure Argentina's win.

Aymar, seven-time international player of the year in her record-making 13th Champions Trophy appearance, burst through England's defence and drove a backstick shot from the left into the right of goal.

Carlos Retegui, Argentina coach, was enraptured by Aymar's return to the team after a 6-month layoff on vacation away from hockey.

"She is to hockey what Ayton Senna, Tiger Woods and Maradona are to their sports except that she is better because she always plays well," Retegui said.

England coach Danny Kerry acknowledged Aymar's brilliance but drew a different conclusion.

"Argentina is a very different team without Aymar as her absence brings Argentina back to the rest of the top teams," Kerry said.

Netherlands outplayed Australia in all departments to seal a decisive 3-0 win.

Australia's best chance came in the first minute as Ashleigh Nelson drove a shot just wide of goal.

Netherlands captain Maartje Paumen converted Netherlands first penalty corner, high into the right of goal followed by a field goal to Lidewij Welten in the first half.

Wieke Dijkstra scored with a backstick drive late in the match.

Max Caldas, Argentina born coach of Netherlands, thought his team played a perfect match.

"It was a great performance, a 10 out of 10 performance today," Caldas said.

Australia coach Adam Commens agreed.

"We have played most of the teams here during this year and today we were against the most skilled team we have come across," Commens said.

Germany squeezed past New Zealand with a single penalty corner conversion by Julia Mueller late in the first half.

New Zealand built momentum from a slow start, peppering Germany's goal late in the first and second halves without result.

Michael Behrmann, Germany coach, was satisfied with the performance, albeit without a full-strength squad.

"Our aim here is to finish in the top four in the tournament to ensure we qualify for the next Champions Trophy, but our focus is very much on the European Championships in August where we have to qualify for the London Olympics and we will have a full-strength team," Behrmann said.

Mark Hager, New Zealand coach, was disappointed with the loss.

"It is very disappointing to lose when we played really well although we still have to do work on our execution skills in front of goal," Hager said.

China and South Korea drew 2-2 after a scoreless first half followed by Korea taking a 2-0 lead with field goals by Cheon Eun-bi and Kim Jong-hee.

China equalized late in the match with two penalty corner deflection goals to Zhao Yudiao and Mao Weilin.

Kim Sang-ruyl, Korea coach, was critical of the skills of his defenders.

"We have three new players in defence and they have to learn to be confident and to use the skills I have taught them," Kim said.

Korea coach is mainly concerned that his captain Lee Seon-ok is injured and unable to play.

On Sunday in Pool A, England play South Korea and Argentina meet China.

In Pool B, Australia play New Zealand and Germany meet Netherlands.