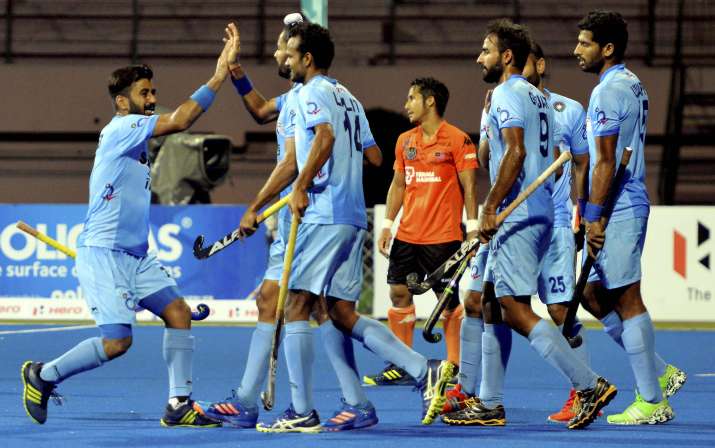 India defeated Malaysia to lift the Hockey Asia Cup 2017 as the score reads 2-1. Lalit scored immediately in three minutes of the match to give India the lead. The men in blue sat back and defended well in the first quarter till Ramandeep added his name to the scoresheet in the second quarter to lead two nil. India have won their third Asia Cup. Take a look at some of the highlights of the match between India and Malaysia.
HIGHLIGHTS, HOCKEY ASIA CUP 2017 FINAL: INDIA vs MALAYSIA AT DHAKA
Akashdeep Singh is awarded the Hero Man of the Match.
18.40 IST: FULL TIME!! India are Asia's champions!! A well fought battle by Malaysia but it will be India who will lift the Hockey Asia Cup 2017 title.
Q4 1'min: A beatiful cross set up by the Malaysian midfielders but misses the post. 
Q4 1'min: Manpreet clears the ball away to deny the Malaysian team a chance to score. 
Q4 1'min: India lose their referral and Malaysia are given a free hit. A final opportunity with a minute left.
Q4 2'min: Malaysia's goalkeeper comes in to attack.
Q4 3'min: Wasted chance by Malaysia and it is India who start the counter attack immediately.
Q4 4'min: Penalty corner given to Malaysia. A golden opportunity presented to the men in orange to make the most out of it.
Q4 5'min: A save by the Malaysian goalkeeper. India apply pressure this time. 
Q4 7'min: Malaysia dominate possession and start the counter-attack against India as the clock runs down.
Q4 11'min: GOAL!! Malaysia bring back one in!! Shahril Saabah nets in on a rebound from a save made by India's goalkeeper.
Q4 13'min: Malaysia given a penalty corner and the shot taken is knicked completely wide. 
The third quarter comes to an end and only 15 minutes left for India to clinch the title if Malaysia allow them to.
Q3 4'min: An open shot missed by Lalit to nearly add another number to their lead. 
Q3 6'min: Satbir nearly adds another goal but loses control for the Malaysian defenders to clear the ball.
Q3 7'min:    Malaysia players build up a slow attack but no successful shots on target so far.
Q3 11'min: India start the counter-attack immediately as Malaysia lose the possession.
Q3 12'min: Brilliant defending by the Indian defenders to deny the Malaysian attackers any shot on sight.
Q3 13'min: India continue to attack. Ramandeep gets hit in the knee by a long shot by the Indian defence.
18.00 IST: The second half gets underway and India almost have their fingers on the title. Can Malaysia change the scoreline?. Stay Tuned.
17.50 IST: Half Time!! India lead by 2 goals as Lalit and Ramandeep add their names to the scoreboard. The second half can be a game changer for sure. Stay Tuned as we bring exciting action from the final in the Hockey Asia Cup 2017.
Q2 1'min: GOAL!! Lalit nets in a cross by Akashdeep to double up India's lead. India 2-0 Malaysia
Q2' 4'min: The Malaysian defence keep out Chinglensana's shot and even manage to clear out Sardar Singh's shot on the rebound.
Q2 4'min: A great save by the Malaysian goalkeeper to keep Akashdeep's shot out of bounds and it is a penalty corner for India.
Q2 5'min: Chinglensana's shot deflected and India lose the chance to add another goal to their tally.
Q2 6'min: Penalty corner awarded to India, a chance to double up.
Q2 8'min: India's defence on point as they intercept the long shots sent in by the Malaysian players with ease.
Q2 11'min: Malaysia nearly net in a shot and the attackers miss an open goal from a beautifully timed pass.
Q2 12'min: India build up a slow counter attack as the passes reach with precision.
Q2 14'min: India looking to change the tactics as they play on a wider role.
17.30 IST: The first quarter comes to an end. India grab hold of an early lead against Malaysia.
Q1 2'min: Penalty corner given to Malaysia and an opportunity to equalise.
Q1 3'min: Free hit given to Malaysia near the goalpost and nearly crept in a shot till the Indian defenders cleared the area.
Q1 5'min: Chinglensana smashes in a shot only to skid past the crossbar. Malaysia nearly conceded another goal.
Q1 6'min: Malaysia dominate the ball possession so far as India are made to sit back and defend.
3' GOAL!!!🇮🇳1⃣-0⃣🇲🇾

Off to flyer as @SVSunil24 and @ramandeep_31 combine to give India the lead.#HeroAsiaCup #INDvMAS pic.twitter.com/4xX015Ddsi

— Hockey India (@TheHockeyIndia) October 22, 2017
Q1 8'min: Great save by Chikte as the Malaysian players seek to net in a fitting reply.
Q1 10'min: India lose their referral as they ask for a penalty corner. Malaysia given a free hit.
Q1 12' min: GOAL!! India score!! A great cross by Sunil for Ramandeep Singh to score. India 1-0 Malaysia.
Q1 13'min: Ramandeep nearly opened the scoring but lost possession easily.
Q1 15'min: We begin with the first quarter and India start the match with an all-out attack.
The Starting XI for India.
Here's Team India's XI for the grand finale vs Malaysia in the #HeroAsiaCup 2017 (Men) on 22nd Oct. #INDvMAS

📺: Star Sports & Hotstar pic.twitter.com/TFfMwjc6as

— Hockey India (@TheHockeyIndia) October 22, 2017
17.07 IST: The two teams enter the Maulana Bhashani National Hockey Stadium and stand for their respective national anthems.
17.05 IST: In 12 encounters between the two nations, India have won 9 and Malaysia have taken 3.
17.02 IST: Malaysia have beaten all the other nations except India who handed them a 6-2 defeat. 
17.01 IST: The last match at the Hockey Asia Cup 2017, an unbeaten nation against a team who search for redemption.
India will look to clinch GOLD at the FINAL on Oct 22 when they take on Malaysia.
📺: Star Sports First/2/HD2 & Hotstar#INDvMAS #HeroAsiaCup pic.twitter.com/iRVcv5Vvlr

— Hockey India (@TheHockeyIndia) October 22, 2017
Brief Preview: The Indian men's hockey team will aim to clinch the 2017 Asia Cup title when they take on Malaysia in the finals of the championship here at the Maulana Bhashani National Hockey Stadium on Sunday. Yesterday, India continued their unbeaten run in the tournament as they registered a convincing 4-0 victory over arch-rivals Pakistan in the Super 4s match to book their berth in the summit showdown. (Read Full Preview here).