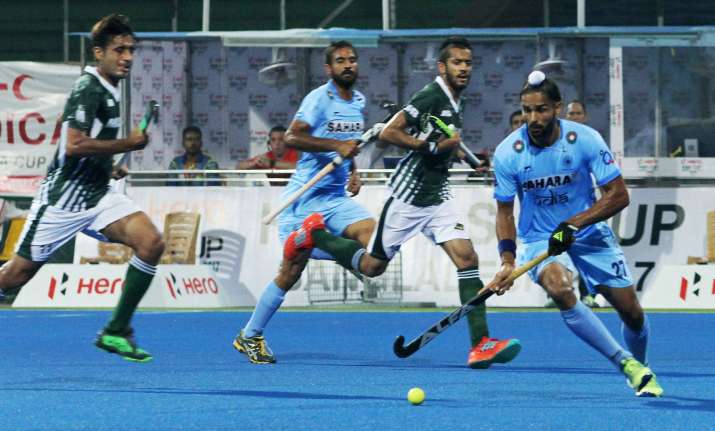 It was India that had the last laugh in this hotly contested encounter against Pakistan. It was the men in green that dominated the first half of the match with clever ball play, tactics and possession. Their counter attack stunned India and had many chances to score through penalty corners. The match changed after the first half when in the third quarter saw India take the lead as Satbir Singh started the scoring through a great pass by Akashdeep. Pakistan's keeper Amjad Ali made many crucial saves to keep a respectable scoreline on board. It was a matter of a minute where Harmanpreet and Lalit knocked in to make it three nil. Gurjant Singh added his name to the scoresheet with a late goal which eventually ended Pakistan's hope of making it to the final. 
HIGHLIGHTS, INDIA vs PAKISTAN, ASIA CUP HOCKEY 2017 AT DHAKA
20.15: FULL TIME!! India have made it into the finals by defeating Pakistan by four goals without a reply.
Q4 1'min: India's attack builds up as the counter-attack has taken Pakistan apart in the last quarter of the match.
Q4 4'min: GOAL!! 4-0, Akashdeep's pass finds Gurjant Singh to net in a powerfull shot.  
Q4 4'min: India play with all guns blazing as the Pakistan defence is taken for a ride.
Q4 8'min: GOAL!! Lalit makes it 3-0!! Superb shot to end Pakistan's hopes of making it into the final.
Q4 9'min: GOAL!! India take the lead as Harmanpreet's shot sails through. India lead 2-0 against Pakistan.
Q4 9' min: A Penalty corner awarded to India as the Pakistan defender fouls Chinglensana.
Q4 10 'min: Under ten minutes left and if the score stays this way, India claim an unassailable lead in the pool. 
Q4 11'min: Three shots saved by Amjad Ali. India nearly added a goal to their tally but the Pakistan goalkeeper stood up to the challenge.
Q4 12'min: Great save by Pakistan'sAmjad Ali but another Penalty Corner is awarded to India. 
Q4 12'min: Penalty Corner given to India.
Q4 14'min: Varun Kumar misses the shot to add another goal to their tally. India build up the tempo.
19.51 IST: The last quarter begins and the intensity grows. 
19.49 IST: India take the lead in the third quarter as Gurjant Singh manages to deflect the cross sent in by Sardar Singh. 15 minutes left as it's a do or die situation for Pakistan.
Q3 1'min: A great shot by Lalit and the Pakistan goalkeeper saves the shot. 
Q3 2'min: A penalty corner given to India but a poor pass by Manpreet allows Pakistan to start the counter-attack.
Q3 6'mim: GOAL!! India score!! A fine pass played to Sardar Singh and then Satbir sends it in. India lead.
Q3 8'min: Sunil wastes a through ball to create a chance for India.
Q3 9'min: Indian player press the Pakistan defence to cave in but ball possesion is lost underway.
Q3 10'min: Free hit given to India. A long corner given as the shot deflects the Pakistan defender.
Q3 14'min: Great save by Chikte again as Pakistan begin the second half with pace.
19.30 IST: The third quarter gets underway. Pakistan have 4 shots on target while India have 2. A draw would be enough for India to make it to the finals.
19.27 IST: 
HT! The hooter goes as both teams' defence hold fort to keep the deadlock intact.#INDvPAK #HeroAsiaCup pic.twitter.com/tn6VqRSodV

— Hockey India (@TheHockeyIndia) October 21, 2017
19.22 IST: Half Time!! India dominate the second quarter and came close but it's the crossbar that saved Pakistan.
Q2 1'min: A great ball in by Manpreet Singh but no one there to recieve.
Q2 2'min: Harmanpreet's shot hits the crossbar!! So close but Pakistan immediately remove the ball from their half. 
Q2 2'min: Green card given to a Pakistan player and a penalty corner is awarded to India. Can the men in blue make the most of the opportunity before half time?.
Q2 3'min: A superb deflection by the Indian defender to keep the game intact. Great save for India. 
Q2 3'min: A penalty corner awarded to Pakistan.
Q2 5'min: Akashdeep nearly crept the ball under the Pakistan goalkeeper but the defence intercept the ball. 
Q2 7'min: Chinglensana starts the build up for India, a great shot by Manpreet Singh but an equally good save by Amajd Ali of Pakistan.
Q2 11'min: India dictate terms as the defence start the counter-attack for the forwards to play a wider role.
Q2 12 'min: India display grit in the second quarter. A free hit is given to Pakistan. 
19.03 IST: The first quarter comes to an end. Pakistan dominate the proceedings so far as India are made to sit back and defend. 
Q1 2'min: Harmanpreet gets the ball and wastes the opportunity to score, Pakistan defenders star the counter-attack.
Q1 2'min: A penalty corner iven to India, Sardar Singh's shot hits the Pakistan's defender and an opportunity for the men in blue to make the most off.
Q1 3'min: Save!! Chikte dives to save a hard strike by the Pakistan attackers.
Q1 3'min: Another Penalty corner given to Pakistan, the men in green have dominated the first quarter so far.
Q1 4'min: Great save by Chikte again as the ball nearly crept in under the bar. 
Q1 4'min: Penalty corner awarded to Pakistan. Indian defenders make silly errors for the opposition to capitalise.
Q1 6'min: India seem nervous as the possession of the ball is being lost easily. 
Q1 7'min: Free hit given to India and Pakistan have lost their referral in the match. 
Q1 8'min: Great save and defending by the India keeper Akash Chikte, Pakistan attackers miss a great opportunity to take the lead.
Q1 8'min: Penalty corner given to Pakistan, a chance to capitalise. India have been defending so far. 
Q1 11'min: Pakistan apply pressure as India lay back to defend. 
Q1 13' min: India start with the counter-attack, Manpreet orchestrates the movement. 
Q1 14' min:  Pakistan get a free hit, India almost had hold of a penalty corner.  
18.40 IST: We start with the first quarter, India vs Pakistan, it does not get any bigger than this.
18.38 IST: Rain played a major role in the delay but we kickstart the match as the teams settle down on the pitch.
17.45 IST: 
Here's India's Starting XI for their Super 4s tie vs Pakistan on 21st Oct.#INDvPAK #HeroAsiaCup
📺: Star Sports First/2/HD2 & Hotstar pic.twitter.com/DuSkbHbuJj

— Hockey India (@TheHockeyIndia) October 21, 2017
17.00 IST: 
Update: #INDvPAK has been delayed until 6:30 PM IST due to rain. Stay tuned for further updates.

— Hockey India (@TheHockeyIndia) October 21, 2017
Brief Preview: 
High on confidence following their impressive string of performances, an in-form India would look to maintain their unbeaten run when they take on arch-rivals Pakistan in their third and final Super 4 match of the 10th men's Asia Cup.
Going by their recent form and domination, India, the top-ranked side in the tournament, will start as overwhelming favourites against the world ranked 13 Pakistan, a nation with a glorious hockey history but currently struggling to get themselves back on the world map. 
In the recent past, India have completely dominated over Pakistan, and the Manpreet Singh-led side would look to continue their stranglehold over the neighbouring country. 
Barring the 1-1 draw against Korea in their first Super 4 match, India have been in red-hot form in the tournament, having scored some beautiful field goals and displaying what they are best known for, one-touch attacking hockey. (Read full preview here).