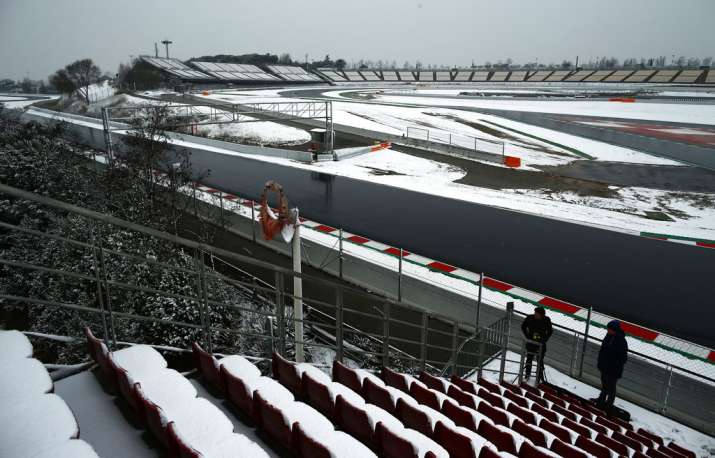 Formula One testing was delayed by snowfall at the Circuit de Catalunya-Barcelona on Wednesday, forcing drivers on to wet tires when the snow eventually melted. Parts of the track near Barcelona were covered in snow when teams arrived, forcing cars to stay in the garage during the morning. The track opened at noon local time (1100 GMT) after visibility improved and the medical helicopter was able to fly.
Two-time world champion Fernando Alonso was the first driver out on full-wet tires with McLaren, followed by Daniel Ricciardo of Red Bull. Sweden's Marcus Ericsson of Sauber was the only other driver to try his luck on the wet surface early on, with the rest of the teams waiting for better conditions.
"Thanks for making me feel at home, Barcelona," Ericsson said on Twitter after arriving at the track under a snowfall.
The cold and wet conditions significantly reduced track time for teams. The one-hour lunch break was cancelled for the second consecutive day, allowing cars to go out uninterruptedly if wanted, but few teams used the extra time.
Cold weather also affected the first two days of testing, keeping teams from learning much about the new 2018 cars as the track remained without enough grip for proper runs.
There were talks about adding extra days of testing in Barcelona, but the decision would need to be unanimously approved among the teams. Thursday is the last of the first four-day test session. The final four-day session in Barcelona starts next Tuesday. 
The season opens with the Australian GP in Melbourne on March 25.