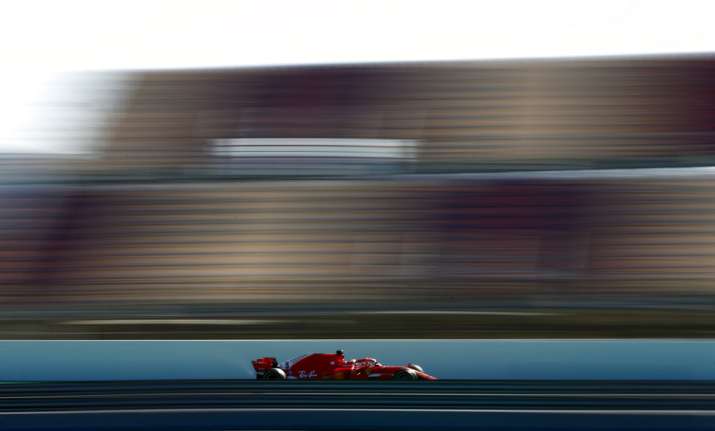 Ferrari driver Sebastian Vettel was fastest while McLaren struggled with reliability issues as the final week of Formula One preseason testing began Tuesday at the Circuit de Catalunya-Barcelona. Vettel had the fastest time in the morning session with a lap of 1 minute, 20.396 seconds, two tenths faster than Valtteri Bottas of Mercedes. Max Verstappen was close behind with his Red Bull. Vettel and Bottas ran the most laps among the 10 drivers who were on the track with 86 each, one more than Verstappen.
Stoffel Vandoorne stopped his Renault-powered McLaren on the front straight about an hour into the session, prompting the first red flag of the day at the track just outside Barcelona.
The car had to be pushed back into the garage for repairs. "We suffered a power shutdown during Stoff's last run, meaning we lost data," McLaren said. "The team are investigating, but we'll be back out as soon as we can."
He made it back just before the lunch break but managed only seven laps.
McLaren is debuting the Renault engine this season after three dismal seasons with Honda. The team got off to a good start in last week's tests, with Vandoorne finishing with the third-fastest time overall.
Vandoorne's teammate, two-time world champion Fernando Alonso, ran a few laps on Monday on a "filming day." Practice is restricted in F1 but teams are allowed to take their cars to the track for a few brief periods for marketing and commercial purposes.
McLaren also struggled in the first week of testing last week as Alonso lost a rear wheel and was forced off the track.
The other red flag in the morning session came after Sergio Perez spun his Force India.
The first four days of testing were hampered by bad weather and cold temperatures in Barcelona, keeping teams from making quality runs on a track that lacked enough grip and didn't reproduce the conditions expected during the season.
Defending champion Lewis Hamilton had the fastest time last week with Mercedes. Teams will test until Friday.
The season begins with the Australian Grand Prix in Melbourne on March 25.