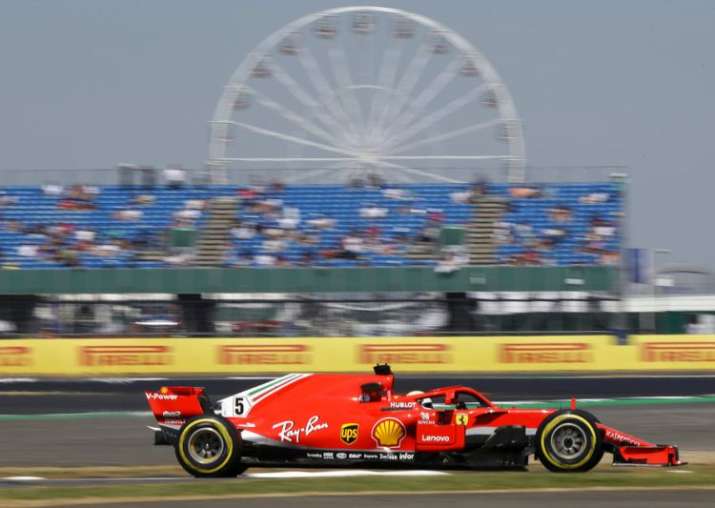 Formula One leader Sebastian Vettel was fastest ahead of Mercedes drivers Lewis Hamilton and Valtteri Bottas in the second practice for the British Grand Prix on Friday. The German driver, who leads by just one point going into the 10th of 21 F1 races this season, clocked the best lap time by 0.187 seconds faster than Hamilton and 0.357 quicker than Bottas.
The Mercedes drivers managed a 1-2 in Friday's first practice as they aim to bounce back after failing to finish the Austrian GP due to team errors last Sunday.
Austrian GP winner Max Verstappen endured a frustrating day, stopping with a gearbox problem in the first practice, then crashing early in the second.
The Dutch driver tried to correct course after losing control of the rear of his car coming out of a corner, only for the Red Bull to snap back the other way and crash into the barriers.
Pierre Gasly of Toro Rosso also had an apparent gearbox issue.
Hamilton is going for a fifth straight victory and a record sixth overall in his home race, but the four-time world champion complained early on, "This track is the bumpiest I've ever been on."
The new asphalt track at Silverstone took its toll on several drivers, particularly in the first practice, where Romain Grosjean spun off a turn and slid across the gravel before crashing into the barriers. The French driver did not take part in the second practice as his chassis was being replaced.
Grosjean blamed a bump for keeping his drag reduction system open as he turned.
Kimi Raikkonen was next to slide off going around a turn, though the Finn was fortunate to avoid major damage and was able to return with grass-covered tires.
Fernando Alonso also had a big wobble as his McLaren ran wide but he managed to recover. The Spaniard improved in the second practice.
Another practice is scheduled for Saturday before qualifying for Sunday's race.