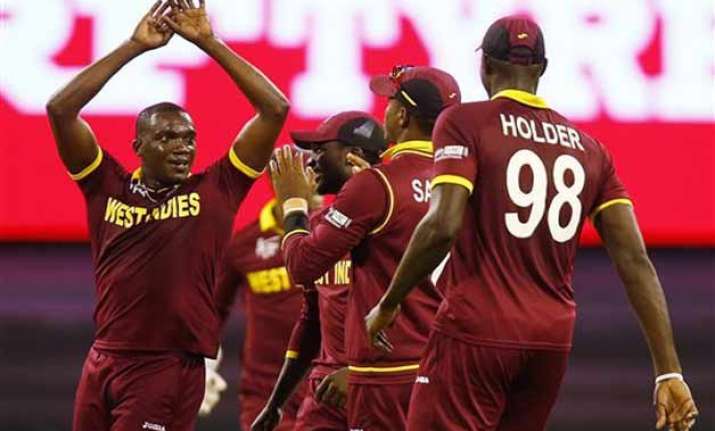 Wellington, New Zealand: After a turbulent passage through pool play and an anxious wait for qualification to be confirmed, two-time champions the West Indies can now relax and turn their attention to a Cricket World Cup quarterfinal against New Zealand.
The West Indies' campaign began with a shock loss to Ireland, picked up with wins over Pakistan and Zimbabwe, dipped with a heavy loss to South Africa, contained a low-scoring loss to India and then came to a head in a must-win match against the United Arab Emirates.
They won by six wickets, but their tournament of emotional highs and lows continued. They had to await the outcome of the match between Pakistan and Ireland before being sure of a place in the last eight.
"We're obviously looking forward to (playing New Zealand)," said captain Jason Holder, who took 4-27 in the victory over the UAE . "Obviously, New Zealand has been playing decent cricket — they haven't lost a game. So hopefully this quarterfinal, we'll beat them."
New Zealand is playing with confidence but Holder believes his team can unsettle the home side in Wellington.
"I think once we take our chances in terms of getting wickets with the new ball, as we've been doing in this tournament, I think we can put some pressure on them," Holder said.
"I think they've done reasonably well up top with guys like (Martin) Guptill, (Brendon) McCullum and also Kane Williamson. But I think if we get into the middle order as quickly as possible it will be better off for us."
A question mark hovers over the West Indies' batting lineup as Chris Gayle missed Sunday's match with a back problem and his fitness is still unclear.
Johnson Charles, who replaced him and made 55, is likely to hold his place which means another batsman, possibly Dwayne Smith, will have to make way for Gayle's return.
"Chris had the same back problem as (he's had) over the last year and he has good days and he has bad days," Holder said. "Obviously, he's a key player for us and his fitness is key going into the quarterfinal and I'm sure he'll be up for it.
"Even if he's not a 100 percent he'll push through it. It's an important game and he's a big player and you know what big players can do on big days."
Charles was called up to the squad as a replacement. As such, he has seen the campaign as an outsider, and as an insider. And he believes the West Indies can win the tournament.
"Originally, I wasn't part of this World Cup squad, but one thing I always used to say back home is that we always have the ability to take the trophy," he said. "And as I came to join the squad, it was something that was in the back of my mind.
"I believe that the team has a lot of self-belief — and I have no doubt that we could take the World Cup."