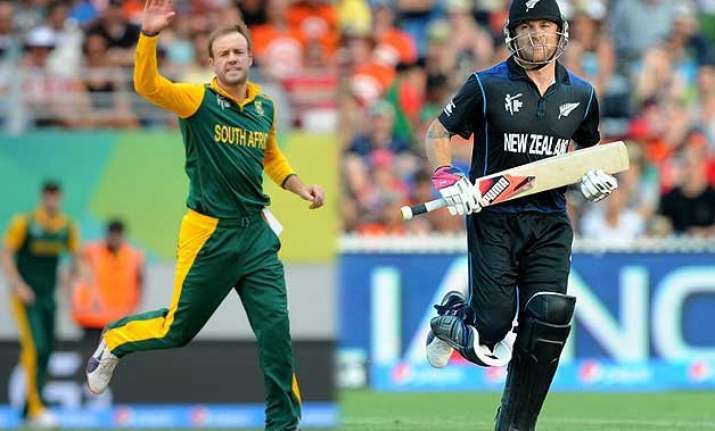 Auckland, New Zealand:  New Zealand and South Africa meet in the semifinals of the Cricket World Cup on Tuesday, with both teams bidding to reach the final for the first time. Here are some things to watch for:
CAPTAINS FANTASTIC
New Zealand's Brendon McCullum and South Africa's AB de Villiers are the captains and stars of their lineups, and their performances Tuesday will go a long way to deciding the game.
De Villiers has made 417 runs across six games at a strike-rate of 144 per 100 balls. While McCullum has scored fewer runs -- 269 from seven innings—he has done so at the extraordinary strike-rate of 185.51.
McCullum expects a close semifinal, which would come as a contrast to the lopsided quarterfinals and the general theme of all New Zealand's games thus far, with the exception of a nerve-fraying one-wicket win against Australia.
"Both teams are playing aggressively, playing an entertaining style of cricket and both teams are trying to win key moments rather than not lose them," McCullum said. "I expect the margin won't be far between both teams. We'll have one team that's never made it to the final celebrating and the others will take it in their stride."
Taking a loss in stride is hard to imagine for South Africa given its history of disappointing defeats at World Cups."We have been through a lot of hardship in the past with our World Cup game but we feel very fresh and are very excited for tomorrow," de Villiers said.
"We have been working toward a game like tomorrow for a few years. We are just going to play a good game of cricket. If we do that, we will come out on top."
SOUTH AFRICA'S WORLD CUP WOES
South Africa's history at World Cups is one of misfortune, miscalculation and form implosions.In 1992 it faced England in a rain-affected semifinal: South Africa needed 22 runs from 13 balls when it began to rain but when its target was recalculated to account for the overs lost, it faced the impossible task of 21 runs from one ball.
In 1996, as one of the favorites, it was eliminated in the quarterfinals. In the 1999 semifinal against Australia, South Africa needed only one run from the last four balls of the match to win but a mix-up and run-out ended the game as a tie and Australia advanced with a better record in the preceding stage.
As host in 2003, it failed to progress beyond the group stage when it bungled a run chase in a rain-affected match. In 2007 South Africa crashed out in the semifinals after being dismissed by Australia for 149 -- its lowest World Cup score.
And in 2011 the South Africans were beaten by New Zealand in an acrimonious quarterfinal. Asked Monday what he remembered of that game, de Villiers simply said "we lost." "There are no regrets about that game. I felt in great form," de Villiers said. "I don't have any grudges about what happened in the past."
FICKLE WEATHER
Auckland's weather is notoriously changeable and unpredictable and forecasts for Tuesday, and for the reserve day on Wednesday, have fluctuated in recent days. By Monday the chance of rain had grown to 60 percent and the official forecast was for scattered showers.
The forecast for the reserve day is more favorable with warm temperatures and no mention of rain.World Cup rules specify that every attempt must be made to complete at least a 20-overs contest if a match in the knockout rounds is affected by rain.
The regulations allow for a game that has begun on a scheduled match day to be completed on the reserve day. If no play is possible on either day, the team that was ranked highest after pool play will progress.
That means that New Zealand, unbeaten in Pool A, will advance if weather prevents the semifinal being completed.
NEW ZEALAND SELECTION DILEMMA
The loss of seamer Adam Milne to a heel injury has given New Zealand a selection dilemma that will be resolve after a look at the Eden Park pitch on the morning of the game.
Inexperienced fast bowler Matt Henry was called into the broader squad Monday as a potential like-for-like replacement. He has played only eight ODIs.
His pace and wicket-taking ability make him an attractive selection option due to the team's desire to stick with a winning formula. He has 21 wickets from his eight matches to date, with a best return of 5-30 against Pakistan.
Fast and bouncy Mitchell McClenaghan took Milne's place when he was ruled out of New Zealand's final pool match against Bangladesh with a shoulder injury, but his return of 0-68 from eight overs will count against his chances.
The 36-year-old Kyle Mills lacks a yard of pace but brings the experience of 170 ODIs. He offers controlled line and length but New Zealand does not often use him as a third seamer.
He usually opens the bowling and New Zealand might be reluctant to hand him that role if it means breaking the new ball partnership between Trent Boult and Tim Southee.
There is also the left-field possibility of choosing Nathan McCullum as a second spinner.