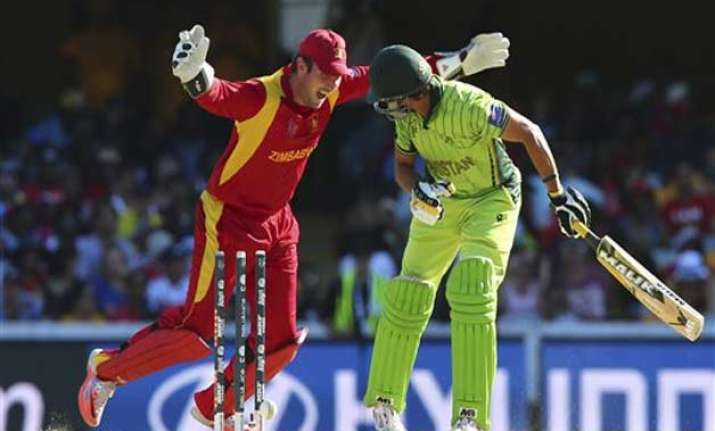 Brisbane: Scoreboard of Pakistan vs Zimbabwe Group B, 23rd Match of the ICC World Cup 2015 played at the Gabba here Sunday.
Mohammad Irfan used his height to full effect to take four wickets as Pakistan defended a low total against Zimbabwe to get its World Cup campaign back on track with a 20-run victory on Sunday.
   
The gamble to drop experienced batsman Younis Khan in favor of Rahat Ali to bolster the bowling attack paid off on the fast, bouncy wicket at the Gabba , after coming under question when Pakistan was restricted in 235-7 after winning the toss and batting. Skipper Misbah-ul-Haq (73) and Wahab Riaz (54 not out) ensured a 200-plus total. 
Pakistan innings: 235/7 in 50 overs
| | | |
| --- | --- | --- |
|  Nasir Jamshed |  c Raza b Chatara |  1 |
|  Ahmed Shehzad |  c Taylor b Chatara |  0 |
|  Haris Sohail |  c Williams b Raza |  27 |
|  Misbah-ul-Haq |  c Williams b Chatara |  73 |
|  Umar Akmal |  b Williams |  33 |
|  Shahid Afridi |  b Williams |  0 |
|  Sohaib Maqsood |  c & b Mupariwa |  21 |
|  Wahab Riaz |  not out |  54* |
|  Sohail Khan |  not out |  6* |
|  Extras |  (lb 2, wd 14) |  16 |
|  Total |  for 7 wickets |  235 |
|  Overs |  innings break |  50 |
|  Fall of wickets                              |  1-1 (Nasir Jamshed, 1.6 ov), 2-4 (Ahmed Shehzad, 3.5 ov), 3-58 (Haris Sohail, 20.1 ov), 4-127 (Umar Akmal, 33.3 ov), 5-127 (Shahid Afridi, 33.5 ov), 6-155 (Sohaib Maqsood, 38.2 ov), 7-202 (Misbah, 46.1 ov) |                      |
Did not bat: Rahat Ali, Mohammad Irfan
Bowling
| | | | | |
| --- | --- | --- | --- | --- |
|  Bowler |  Overs |  Maidens |  Runs |  Wickets |
|  Tinashe Panyangara |  10 |  1 |  49 |  0 |
|  Tendai Chatara |  10 |  2 |  35 |  3 |
|  Tawanda Mupariwa |  8 |  1 |  36 |  1 |
|  Sean Williams |  10 |  1 |  48 |  2 |
|  Hamilton Masakadza |  3 |  0 |  14 |  0 |
|  Elton Chigumbura |  1 |  0 |  7 |  0 |
|  Sikandar Raza |  7 |  0 |  34 |  1 |
|  Solomon Mire |  1 |  0 |  9 |  0 |
Zimbabwe innings: 215/10 in 49.4 overs
| | | |
| --- | --- | --- |
| CJ Chibhabha | c Haris Sohail b Mohammad Irfan | 9 |
| Sikandar Raza          | c Haris Sohail b Mohammad Irfan | 8 |
| H Masakadza  | c Misbah-ul-Haq b Mohammad Irfan | 29 |
| Brendan Taylor       | c Umar Akmal b Wahab Riaz | 50 |
| Sean Williams       | c Ahmed Shehzad b Rahat Ali | 33 |
| Craig Ervine | c Umar Akmal b Wahab Riaz | 14 |
| Solomon Mire           | c Umar Akmal b Mohammad Irfan | 8 |
| Elton Chigumbura   | c Umar Akmal b Wahab Riaz | 35 |
| T Mupariwa          | c Umar Akmal b Wahab Riaz | 0 |
| T Panyangara       | run out (Umar Akmal/Wahab Riaz) | 10 |
| T Chatara | not out | 0 |
|  Extras | (b 3, lb 2, w 13, nb 1) | 19 |
| Total | All Out | 215 |
|  Overs |   | 49.4 |
| Fall of wickets    | 1-14 (Chibhabha, 4.4 ov), 2-22 (Sikandar Raza, 6.4 ov), 3-74 (Masakadza, 21.2 ov), 4-128 (Taylor, 29.3 ov), 5-150 (Williams, 33.2 ov), 6-166 (Mire, 36.4 ov), 7-168 (Ervine, 39.2 ov), 8-168 (Mupariwa, 39.4 ov), 9-215 (Panyangara, 49.3 ov), 10-215 (Chigumbura, 49.4 ov)     |   |
Bowling:
| | | | | |
| --- | --- | --- | --- | --- |
|  Bowler | Overs  | Maidens | Runs | Wickets |
| Mohammad Irfan                        | 10 | 2 | 30 | 4 |
| Sohail Khan                         | 10 | 0 | 45 | 0 |
| Rahat Ali   | 10 | 0 | 37 | 1 |
| Wahab Riaz                       | 9.4 | 1 | 45 | 4 |
| Shahid Afridi                         | 10 | 1 | 53 | 0 |