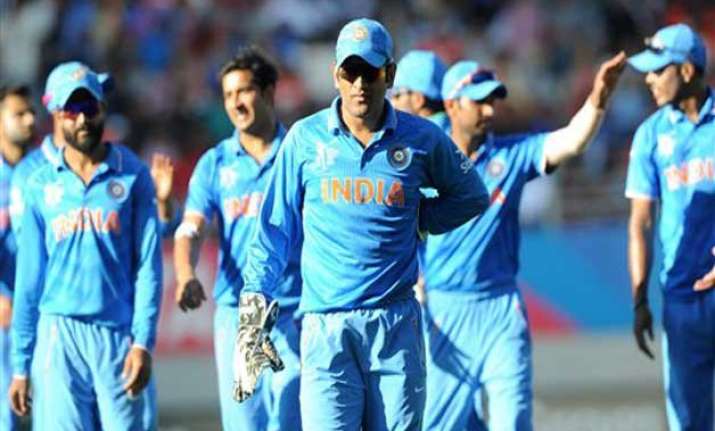 Melbourne: Having decimated six oppositions without much trouble, India's real title defence starts with a tricky quarter-final clash against a confident Bangladesh in the ICC Cricket World Cup, here Thursday.
India with their power-packed performance throughout the past one month have emerged as worthy contenders for retaining the Cup alongside former champions Australia and co-hosts New Zealand.
However the format of the tournament is such that the real test starts from the knock-out stages, which means that effectively three matches can ensure the Cup as qualification for the last eight was a foregone conclusion.
However to India's credit, the initial momentum that they seized after crushing Pakistan in the first game stayed with them throughout the league phase.
South Africa were blown away, UAE were no match, West Indies at best gave a scare, Ireland got pummeled and Zimbabwe never had the bowling to shake India up.
So convincing has been India's performance in the six matches so far that Bangladesh, at least on paper, do not even have the slightest of chance at the MCG.
But then 'Cricket is a game of Glorious Uncertainties'. The tiny nation has shown the gumption to fight it out having shown England the door and gave the 'Black Caps' a run for their money.
Call it irony but Bangladesh unwittingly made a contribution towards ICC trying out this current format in World Cup after they shocked India in the 2007 edition in a round robin match at Port of Spain.
With only skipper Mahendra Singh Dhoni being the surviving member of that 2007 team that was trampled under relentless pressure, the current team does not have anyone, who has scars of that defeat.
So Mashrafe Mortaza and his boys can prove to be the proverbial 'banana peel' on which Dhoni and his boys can slip.
As the tournament reaches its business end, the margin for error is now nil and that is what will demand double the intensity from Dhoni's side with the Cup now firmly in sight.
Qualitatively, Bangladesh are no match for India, who are certainly overwhelming favourites going into the match.
Player by player, India are quite a few notches above their opposition. Bangladesh will be hoping dearly that their formidable opposition have a bad day in office which they can cash in.
If one compares the batting, then India's top six batsmen are capable of competing with the best in the world while Bangladesh's willow wielders at best can be termed talented players with lack of consistency.
Rohit Sharma and Ajinkya Rahane have blown hot and cold in this tournament so far but on their day, they are equally dangerous like a Virat Kohli or a Suresh Raina.
Shikhar Dhawan with 337 runs to his credit is among the top run-getters in the competition. On his day, he can murder any opposition. He missed out against Zimbabwe, which has been a rarity in the competition and Mashrafe, Rubel Hossain and Taskin Ahmed can have a rough day if the Delhi lad gets going.
Kohli has 301 runs in the tournament so far but it has been more about good starts for him but post century against Pakistan, the Indian vice-captain has failed to convert into a big score getting into 30's and 40's.
Raina is certainly bubbling with confidence after his match-winning hundred against Zimbabwe in a tricky run-chase.
Dhoni has played two knocks of significance and both came under pressure against West Indies and Zimbabwe respectively.
So when one gets down to comparison, Tamim Iqbal, Imrul Kayes, Anamul Haq Bijoy, are no match even though they are good players in their own right.
The in-form Mahmudullah (344 runs) might pose some problems for India's bowlers after his back-to-back centuries against England at Adelaide and against New Zealand in Hamilton in their last league game.
Even Mushfiqur Rahim and Shakib Al Hasan can throw some challenges but that is not something that Dhoni and his boys would lose their sleep over it.
India's bowling attack did face a few troublesome questions in the shorter grounds in New Zealand but did enough to take all 60 wickets in the six group league matches so far.
The bowlers have done a commendable job in the tournament so far. Mohammed Shami is leading the pack with 15 wickets to his credit and will be again expected to give his team a good start.
Umesh Yadav's rate of consistency has been pretty high in the tournament so far and the speed he works up at the beginning will again be needed. On wickets front also, Yadav has not done badly grabbing 10 scalps to his credit.
Ravichandran Ashwin had an off-day in Auckland as Brendan Taylor was in full swing but with 12 wickets so far has been one of the better performers for India.
With the action switching from the small Eden Park ground to the sprawling MCG, Ashwin will feel that a lot of those sixes hit by Taylor on that ground might potentially turn out to be the catch.
India's only weak link in the tournament has been Ravindra Jadeja's performance. The only area where Bangladesh might just have had their nose ahead as Shakib without any doubt is a better cricketer than the Saurashtra boy.
Bangladesh's real problem could be their bowling.  Mashrafe and Rubel can be skiddy customers but it is not proved that they can keep up their consistency match after match. Also none among the Bangladeshi bowlers have had number of victims in double digits.
Taskin Ahmed, the third pacer is relatively inexperienced and has a penchant for leaking runs.
So even if their nation is boiling with excitement, Bangladeshi cricketers know that their job will be very tough.
Teams:
India: Mahendra Singh Dhoni (captain and wk), Rohit Sharma, Shikhar Dhawan, Virat Kohli, Ajinkya Rahane, Suresh Raina,  Ravichandran Ashwin, Ravindra Jadeja, Umesh Yadav, Mohit Sharma, Mohammed Shami, Bhuvneshwar Kumar, Stuart Binny, Ambati Rayudu, Axar Patel
Bangladesh: Mashrafe Mortaza, Anamul Haque, Arafat Sunny, Imrul Kayes, Mahmudullah, Mominul Haque, Mushfique Rahim, Nasir Hossain, Rubel Hossain, Shabbir Rahman, Shakib al Hasan, Soumya Sarkar, Taijul Islam, Tamim Iqbal, Taskin Ahmed.
Match Starts: 9 am IST.