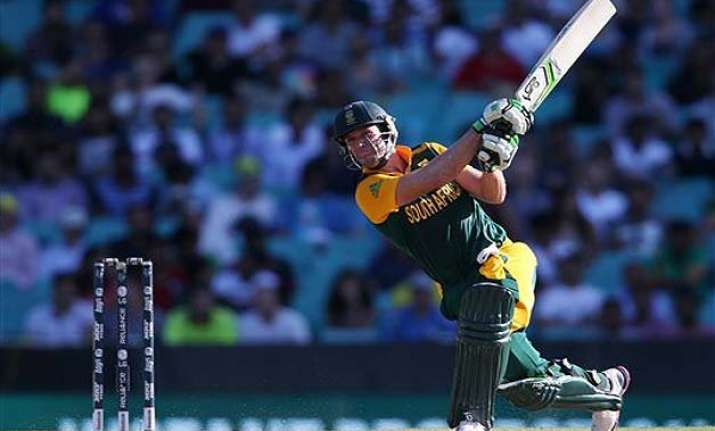 Sydney: AB de Villiers scored the second-fastest World Cup century in a display of brutal late hitting to set South Africa on course for a record-equaling 257-run win over West Indies in a Pool B match on Friday.
Only days after a resounding 73-run win against Zimbabwe in Canberra, including a World Cup record innings of 215 from opener Chris Gayle, the West Indies slumped dramatically with bat and ball to sink to the largest margin of defeat in the tournament's history—matching Bermuda's 257-run loss to India at Trinidad in 2007.
First, it allowed South Africa to post a mammoth total of 408-5, despite disciplined bowling restricting the Proteas to 50-1 in the 15th over.
Captain Jason Holder, who had figures of 1-9 off his first five overs, took the brunt of the late punishment as rival skipper AB de Villiers tore the bowling attack apart with an unbeaten 162 off 66 balls for the fastest 150 in ODIs. That included taking 64 runs off Holder's final two overs.
"He was obviously in full flow, and my main thing was just to get him off strike and just try to bowl a few more balls than I did when he just came to the crease," said Holder. "
The dropped chance off my bowling didn't help; the dropped chances off of (Andre) Russell's bowling didn't help, and I think if you take away my last two overs, which AB really took me apart, I think it would have been a different story."
The night session was just as miserable for the West Indies as the players who shone in Canberra—Gayle and Marlon Samuels—could only muster three runs between them.
Some poor batting options and attacking bowling further reduced the West Indies to 63-7 in the 18th over, before a rearguard action led by Holder (56) helped them to 150.
"Today was just the first off day with bat," the 23-year-old Holder said of the West Indies' first sub-300 total of the tournament. "It was a daunting task to try and chase 408 runs."
The West Indies next game is against India at Perth on Friday, which looms as its last chance to revive its World Cup campaign.
"We still have two games left," Holder said. "We have to deal with India next in Perth, and we're going to be aggressive. We're going to play our normal style of cricket.
"We obviously have periods to improve on in terms of our (late-overs) bowling. I think once we do that we're still a force in the competition."
In further bad news for the West Indies, all-rounder Darren Bravo is set to leave the squad after failing to recover from the hamstring injury he sustained against Pakistan earlier in the tournament.
"Darren Bravo will have to be replaced," the team said in a statement. He "has not recovered quickly enough so the decision has been taken by the selection panel that he needs to be replaced."