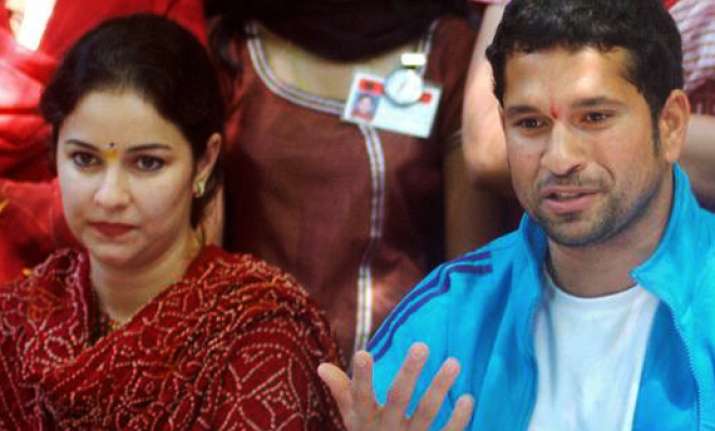 Mumbai, Oct 28: Sachin Tendulkar tendered his resignation as Team India captain in early 2000 in the middle of Test series against South Africa, and even as the BCCI chief Raj Singh Dungarpur and former captain Ravi Shastri tried to persuade him not to quit, he stood his ground. It was only after wife Anjali persuaded her husband that Sachin stayed as captain till the end of the two-match series, reveals former BCCI secretary Jaywant Lele in his autobiography.

According to The Indian Express, this incident is highlighted by Jaywant Lele in his book I Was There — Memoirs of a Cricket Administrator.

Lele has also revealed how Kapil Dev, the then India coach, overruled Tendulkar's decision to impose the follow-on against New Zealand in Ahmedabad in 1999-2000. This was a period when the spectre of match-fixing loomed large and Kapil's orders to Tendulkar were rather "ridiculous", Lele writes.

India had posted 583 in the first innings and New Zealand could only reply with 308.

"Sachin Tendulkar went to the opposition captain (Stephen) Fleming, and told him that they had to bat again. From there, he walked to the dressing room and instructed Javagal Srinath and Venkatesh Prasad to select the new ball. They nodded, and as they spoke, Kapil shouted to Sachin, 'Captain no follow-on! Our bowlers are tired. We will bat'."

Lele recalled how then chairman of the selection committee Chandu Borde was taken by surprise. Sachin's response was rather tame, perhaps keeping in mind the stature of Kapil. "Haan, theek hai, paaji. Lekin maine to unko bol diya hai ki hum follow-on de rehe hai (Okay, but I have already told them that we are enforcing a follow-on)," Sachin reportedly told Kapil. The latter, however, refused to change his decision.

When contacted, Lele said he was sticking to what he had written. Kapil refused to comment.

Tendulkar was reluctant to continue as captain following the criticism he faced after the Wankhede Test, according to the book. "In 1999-2000, there was a two-Test match series and an ODI series against South Africa in India. The first Test was in Mumbai, and South Africa won it comfortably in three days!

"There was all-round criticism of the Indian team, especially Sachin's captaincy. He was very upset and nervous. In the evening, Sachin handed over a letter to me. To my shock, it was his resignation letter as captain!...

" It was very embarrassing. Even if he felt humiliated or guilty, he should have waited till the conclusion of the Test series... I tried to convince him but he felt enough was enough. He appeared mentally tired and wanted to quit...

"As a last effort, Ravi and I spoke to Sachin's wife Dr Anjali separately... Thank God, I do not know exactly whose influence ultimately prevailed, but Sachin led India in the second Test, much against his will," writes Lele.

The former BCCI secretary recounts another episode, of Tendulkar listening to someone's recommendation about a player from Mumbai and pushing for his inclusion without realising that he wasn't even part of the Ranji Trophy squad.

"In the series against South Africa (at the beginning of his stint as captain)... the selection committee met to select the team for the match in Ahmedabad. At that meeting, Sachin said that Mumbai's Nilesh Kulkarni was a fine bowler and as he had taken 26 wickets the previous season, he should find a place in the team.

"Chairman Kishen Rungta asked him, 'Yeh wickets usane kaunsi tournament me liye? Have you seen him bowl?'. Sachin fumbled. 'No sir, but I know he has taken 26 wickets and is very good,' Sachin said tentatively."

"Rungta said, 'Dear skipper, I might have given thought to your recommendation if you had seen him bowl. Now, let me tell you for your kind information that in the current season, Mumbai has played two Ranji matches and Kulkarni has not played a single. He was dropped from the team. Tell me, how can a player find a place in the national team when he is not found worthy of selection in the local team?'."

Lele believes it was Tendulkar's habit of taking advice from too many people that was the reason for his not-so-impressive stint as captain.

"He formed the habit of respecting elders. He thought it was his duty to implement what they suggested. While doing so, he sometimes did not apply his mind," Lele writes.