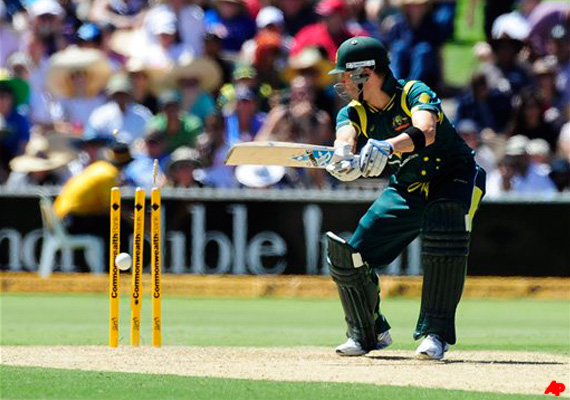 Adelaide, Feb 12: Australian skipper Michael Clarke on Sunday termed his side's fielding as "horrible" and said the bowlers failed to execute their skills at the death overs, after their four-wicket defeat to India in a tri-series cricket match. 

"We were probably 20 short with the bat. We were also horrible in the field. We were very sloppy. I don't think we executed our skills again at the death," Clarke said after India rode on Gautam Gambhir and Mahendra Singh Dhoni's knocks to emerge victorious.

Clarke said everyone in the dressing room was pretty down at the defeat.

"Everyone is pretty down and disappointed. We thought we had a great opportunity to win that game. But yeah, look you learn from it. We saw the other side of it the other night against Sri Lanka when we got over the line.

"Tonight we didn't do so. We have got some time to work on things. It just shows we need to continue to try and improve and work hard. So yeah look it's disappointing but it's a game, isn't it where you sometimes need a kick up the backside to keep working hard and try and improve the next game. As I have said we need to be at our best to beat both Sri Lanka and India."

Clarke put down his side's poor fielding display to lack of concentration.

"I think it's concentration more than anything else. If you look at myself, Ricky Ponting and also Dave Warner, we fumbled a few balls tonight and we are better than that. You can't blame anyone else when you are not performing as well as you like.

"We just got to make sure we are concentrating and we are ready for every ball. It's a beautiful outfield, very flat. We have no excuse for our performance tonight. We were just not good enough."

Clarke also appeared to have a hamstring problem while fielding later in the evening.

"I did it during fielding. It's the right (leg) one. I'm not sure how it is at the moment. I'll probably have a scan tomorrow and then we'll go from there. It's a little sore, I have just had some ice on it.

"Fingers crossed, hopefully everything comes out okay." It also surprised everyone that Matthew Wade, who looks good as an opener, was pushed down to number seven in the line-up.

"We don't bat him at 6 or 7 again. He is not batting there next game. I think Wade can play in both areas. He is good against fast bowling and he is good at the top of the order. He is good at the death and he has done that for Victoria.

"I thought we'd try something else tonight. We could have made more than 270 but that's the way it goes. It's certainly not Wade's fault that we lost the game tonight."

Debutant Peter Forrest understandably came up for huge praise from his captain.

"I thought Peter Forrest played really well tonight. He showed he has a good technique against both fast bowling and spin. He has made the most of his opportunity tonight.

"When you get the opportunities you try to grab them with both hands and make the selectors pick you. That's what he has done tonight."

Finally, the Australian captain was asked about Mahendra Singh Dhoni's knock and the absence of Sachin Tendulkar from the Indian line-up.

"Dhoni is a class player. His statistics show it. He is a very good striker of the ball and you saw that in the last over with that six he hit off McKay.

"I think they have a good squad, whatever XI they decide to go with. If you are picking your best team, you'd imagine the great Sachin Tendulkar would be part of that. Whatever XI they come up with they have got a very good squad, and we have to be at our best to beat them. That's for sure.