Follow us on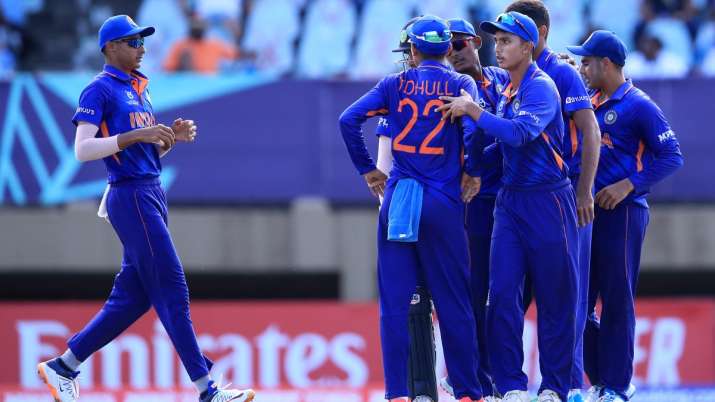 India vs South Africa Highlights, U19 World Cup 2022: India U19 win by 45 runs 
India clinched their opening game in the Under-19 World Cup 2022 as they piped South Africa by 45 runs at Providence Stadium, Guyana on Saturday. 


 
India's left-arm spinner- Vicky Ostwal was awarded the player of the match award for his fifer. Ostwal has become the seventh Indian to take a five-wicket haul in the Under 19 World Cup.
 
Interestingly, India have not lost a group match in their last five Under-19 World Cups. 


 
South Africa's innings revolved primarily around Dewald Brevis (65) who kept it all alive for the Proteas till the time he was on the crease. Walking to the crease right in the first over after Cunningham's duck, the right-handed batter jammed a 58-run stand with opener Valintine Kitime (25) before the latter departed. 
The Boys in Green jumped into the driver's seat when Brevis, alongside skipper George Van Heerden (36) collected 55 runs for his team before he was sent to the pavilion after Yash Dhull took an impressive catch at the mid-off. Thereafter, the Proteas kept losing wickets at quick successions and were staggered at 187. 
From India's line-up, Vicky Ostwal hogged the limelight with the ball for his five-wicket haul (5/28) while Raj Bawa returned with four scalps (4/47).
 
South Africa 187/10 after 45.4 overs WICKET! Raj Bawa wraps it up. SA batsman- Aphiwe Mnyanda hands a catch to Yash Dhull at long-off as he plays a pull shot on a length delivery. 
 
South Africa 164/8 after 42 overs 3 WICKETS in last 5 overs! Vicky Ostwal is breathing fire at the moment as the left-arm spinner scalped four wickets. Vicky removed Mickey Copeland and Kaden Solomons in a similar fashion where the duo was bowled. Besides, Raj Bawa sent GV Heerden back to the hut when the former bowled a good length delivery outside off. The Proteas skipper smashed it with a flat-bat and gave an easy catch to Yash Dhull at long-off. 
 
South Africa 142/4 after 37 overs HUGE WICKET! India get the danger man Dewald Brevis courtesy of Yash Dhull's fine fielding. Brevis played a shot towards mid-off but didn't get the required elevation. Yash Dhull ran in from mid-off, dived forward and pocketed a brilliant low catch. Yash's fingers were clearly under the ball which defined Brevis's way to the pavilion. 
 
South Africa 127/3 after 32 overs Fifty comes up for Dewald Brevis and it has been a patiently woven innings. This has come in handy for South Africa in their chase. The right-handed batter smashed his fifty with a six. Soon, he turned out lucky once again as his catch was at the backward point by Rasheed when the batter attempted a lofted shot. The game currently looks in South Africa's favour. 
India badly need a breakthrough to even start dreaming of a win. 
 
South Africa 98/3 after 27 overs South Africa near 100-run mark on the board and this may also accompany fifty from South Africa's number three batsman- Dewald Brevis. After long, Brevis found support from the other end which is being lived up to by the skipper George Van Heerden. It would be worth noting if the duo can South Africa over the line.  
 
South Africa 89/3 after 22 overs WICKET! Vicky Ostwal's second wicket as he dismisses GJ Maree. A back of length delivery from the Indian spinner tempts the Proteas batter to play who finds a faint edge in his attempt to punch off the back foot. South Africa badly looking for someone who could support Dewald Brevis in the middle. 
 
South Africa 74/2 after 17 overs  Dewald Brevis and GJ Maree consolidating South Africa and gradually keeping the scoreboard ticking. The duo is rotating the strike, gathering runs for SA and inching closer to the chase. 
 
South Africa 59/2 after 12 overs WICKET! Vicky Ostwal gets the breakthrough and he sends Valintine Kitime to the pavilion. Vicky bowls a delivery that spins away from Kitime and ends up giving an outside edge as he attempted to drive it. The spinner breaks the 50-run partnership between Brevis and Kitime. 
 
South Africa 55/1 after 11 overs 50 up for South Africa and also brings the fifty partnership between Brevis and Kitime. After two back to back maidens till the seventh over, the Proteas batters- Brevis, Kitime have now opened up with the bat. The duo is now reigning boundaries fearlessly as Kitime smashed two sixes. The two were off to a slow start but are now earning the dividends of their patience. 
Brevis has been slightly lucky as he has been blessed a life first in a run-out and later as he edged the ball in the absence of the first slip. 
 
South Africa 16/1 after 6 overs Dewald Brevis and Valintine Kitime steady SA after their early loss of wicket. The duo is spending the time on the pitch, adjusting to India's bowling attack and rotating the strike to keep the scoreboard ticking. While Rajvardhan Hangargekar has conceded a few runs, Ravi Kumar has been absolutely economical with the ball. 
 
South Africa 0/1 after 0.4 overs WICKET! Hangargekar strikes to send SA opener- EJ Cunningham for a golden duck. Cunningham neither opened the account for himself nor for the Proteas. Slightly fuller delivery than the good length, Cunningham misjudged it and shouldered arms. With the ball angling in, it struck the pads and it was an easy lbw call for the umpire. 
Overall, a WICKET-MAIDEN for India to start the proceedings with the ball. 
India's innings: After losing the toss, India were put to bat first but didn't get the kind of start that they were looking for as the Indian openers- Angkrish Raghuvanshi (5) and Harnoor Singh (1) departed early. The innings was then held by Shaik Rasheed (31) and Yash Dhull (82) as the two batters stabilized India with their 71-run partnership. Thereafter, wickets kept tumbling at regular intervals but the boys in blue found crucial contributions from Nishant Sindhu (27) and Kaushal Tambe (35) that enabled them to reach a decent total of 232 before the entire team was staggered. 
While the entire Proteas bowling unit was economical, Aphiwe Mnyanda did the early trick for South Africa by removing both the openers at the start. Matthew Boast scalped three wickets of which two came of successive deliveries. 

 
India 232/10 after 46.5 overs India are bundled for 232. Quick wickets from Matthew Boast and Dewald Brevis's handed South Africa a comparatively low total to chase on the board. 

 
India 221/7 after 44 overs WICKET! Matthew Boast removes Dinesh Bana and the Indian batter falls cheaply for just seven runs. Bana makes room to drive the shot as Boast pitched the ball up. But the ball struck the off stump and dislodges the bails. 
India looking to collect as many runs in the last overs but are losing wickets! 
 
India 195/6 after 39 overs BIG WICKET! Yash Dhull walks back to the pavilion after scoring 82 runs for India. It was a brilliant piece of fielding from South Africa's Andile Simelaneto get rid of Dhull who was inching towards a century. A full ball from Brevis, Dhull pushes it to the right of point and attempts and a non-existent single. Just when he was being sent back at the crease, a direct throw from Simelane towards the keeper eroded the stumps and got the Proteas the wicket they had long been waiting for! Well, run-out was the only way left out how Dhull could have been dismissed given the way he had adjusted himself to the turf. 
 
India 159/5 after 33 overs WICKET! Dewald Brevis strikes in his first over and sends Raj Bawa to the pavilion. A length of the delivery from Brevis skids off the turf and strikes him on the legs as he attempted a futile back-footed pull. Easy departure as it was a clear plumb. 
Kaushal Tambe will now accompany Yash Dhull on the pitch. Can they stem India's wicket flow and collect runs on the board?
 
India 155/4 after 32 overs Yash Dhull's FIFTY! A patiently and craftily built up fifty comes up for Indian skipper Yash Dhull! The right-handed batter exhibited fine innings, played with maturity and rotated the strike well. This is the third consecutive fifty from Dhull, the first two coming up from the U-19 World Cup 2022 warm-up matches. Can the skipper continue on the captain's knock to hit his 100 and get the thirsty runs for his team?

 
India 126/4 after 26.5 overs WICKET! Mickey Copeland removes Nishant Sindhu in a close stumping call. Sindhu stretched forward to drive the ball, beats him and is collected by the keeper Kaden Solomons. The Indian batter inadvertently drags his back foot outside the crease in an attempt to play the shot and the SA keeper- erodes the bails, defining Sindhu's way to the pavilion. A close call from the umpire but not so happy result for India. Quick cameos from Sindhu (27 off 25) come to an end. 
Raj Bawa joins Yash Dhull on the crease. 

India 107/3 after 24 overs India reach 100-run mark and it has come in all style with a four from Nishant Sindhu's willow. The new batter on the crease- Sindhu found a comparatively early groove. The left-handed batter looks strong on the offside. Looks like India is having a deep batting line-up. 
Let's see if Dhull, Sindhu can get it big for India! 

India 82/3 after 19.4 overs WICKET! Liam Alder's relentless spin bowling pays off as he sends set batter- Shaik Rasheed to the pavilion for 31 runs. The wicket also got Proteas the breakthrough as they broke the 71-run stand between Rasheed and Dhull. The vice-captain picked the wrong length to sweep, was hit on the pad and lost his wicket. SA would be happy with the crucial wicket. India need to stabilize and not lose wickets to put a decent total on the board. 
Nishant Sindhu, right-handed bat, joins Yash Dhull on the crease.

India 79/2 after 19 overs South Africa have deployed spinners- Liam Alder and Mickey Copeland after the drinks (post 14 overs). Indian batters- Shaik Rasheed and Yash Dhull look comfortable as they play against the spin and are well set. Dhull gets an extra life in the 18th over as his edge off Alder's spin finds no second slip fielder and races away for a four. 
 
India 61/2 after 14 overs 50-run partnership has come between Shaik Rasheed and Yash Dhull. The vice-captain and the captain have steadied India's ship after two early losses. The duo is going their merry way to get runs on the board for India. 
 
India 54/2 after 11 overs Indian batters- Shaik Rasheed and Yash Dhull are driving India after the team lost both the openers. Touted as the two best batters for India, Yash is a stroke player and is playing in a free-flowing manner while Rasheed is a little watchful of the deliveries. 
Meanwhile, Rasheed was edged and dropped in the ninth over off Simelane's delivery. Extra bounce from a length delivery, Rasheed plays with hard hands but the fielder at the first slip- Valintine Kitimeand fails to pocket it. 
 
India 38/2 after 8 overs India smashed 27 runs from the last 17 balls (after Raghuvanshi's wicket). The Proteas leaked a lot many runs from the extras that have cost them. Shaik Rasheed, however, is lending himself free and looks in good touch as he connecting well with the ball to hit the grounded fours.  
 
India 11/2 after 5.1 overs WICKET! Mnyanda is on the money as he gets the second scalp and removes Aphiwe Mnyanda. Mnyanda bowls an inswinger that beats Raghuvanshi onto the pads. India have lost both their openers. Some tight overs from South Africa. Pressure mounting up on the 'Boys in Blue.' 
Indian skipper- Yash Dhull, right-handed bat, comes to the crease. 
 
India 11/1 after 4 overs South African bowlers- Matthew Boast and Aphiwe Mnyanda look in fine form as they not only managed an early breakthrough but also are keeping it tight for Raghuvanshi and Rasheed. The Proteas are looking for early in-roads after they sent Harnoor Singh to the pavilion. SA bowlers aiming to exploit the conditions- and want to take advantage of the moisture that has soaked in after the rain at Providence Stadium.
And there's a collision between the batters- Raghuvanshi and Rasheed as they took a single in a haste. Rasheed gets a life as the run-out attempt missed the stump by a little margin. 
The physio is out to have a look at Shaik Rasheed. He's fine to resume.
 
India 6/1 after 1.4 overs WICKET! Aphiwe Mnyanda gets the first blood gets the prized scalp of Harnoor Singh. After bowling two outswingers in the start, Mnyanda bowled an angling-in length delivery that hit Singh on the pads. Trapped on the front pad adjacent to middle and leg. 
Shaik Rasheed (vice-captain), right-handed bat, comes to the crease.
 
Angkrish Raghuvanshi and Harnoor Singh are at the crease. Angkrish Raghuvanshi is on strike. Matthew Boast will open the attack.​ Two slips and a gully. 
Playing XI
India U19: Harnoor Singh, Angkrish Raghuvanshi, Shaik Rasheed, Yash Dhull(c), Nishant Sindhu, Raj Bawa, Kaushal Tambe, Dinesh Bana(w), Rajvardhan Hangargekar, Vicky Ostwal, Ravi Kumar


South Africa U19: Ethan John Cunningham, Valintine Kitime, Dewald Brevis, GJ Maree, George Van Heerden(c), Andile Simelane, Kaden Solomons(w), Mickey Copeland, Matthew Boast, Liam Alder, Aphiwe Mnyanda

6:57 PM: Yash Dhull's India won both their warm-up matches convincingly. The team displayed some high-class batting performances. 
South Africa's first practice game was washed out but they emerged victorious in the second match against West Indies. 
6:55 PM: India have won the Under-19 World Cup four times (2000, 2008, 2012 and 2018) while South Africa have clinched the title only once (2014). 
6:50 PM: The game will start at 07:05 PM IST. 
6:45 PM: TOSS UPDATE- South Africa U19 have won the toss and have opted to field.

6:30 PM: India won the title for the first time in this ICC tournament in the year 2000 under the leadership of Mohammad Kaif. India's latest/ fourth win in this tournament came in the year 2018 under the captaincy of Prithvi Shaw. 
6:20 PM: Know more about India Under-19 Team 
Indian skipper Yash Dhul has become the third captain from Delhi (national capital) to lead India in the Under-19 World Cup.
Before Dhul, Virat Kohli (2008) and Unmukt Chand (2012) were the captains from Delhi who led the team in the earlier editions of the tournament. 
Update: Good News for the Indian fans as it has stopped raining at Providence Stadium, Guyana. Groundsmen are removing the covers and it is a delightful sight for the cricketing fans and the players. 

6:05 PM: Update - Toss delayed due to rain
6:00 PM: We are moments away from the toss to happen... Did You Know: India have won the tournament in 2000, 2008, 2012 and 2018
5:45 PM: Toss in 15 minutes
5:15 PM: Former India pacer Munaf Patel wishes the Indian U19 team
5:00 PM: Junior Proteas captain George van Heerden opens up ahead of India game
"To be honest, I have never played games with so much rest time before in my life, so two to three days between games is quite a lot and the thing is for us, we are so keen to get out on the park now, having been here for such a long time with the tour against the West Indies before this. So, the minimal wait time is actually a good thing for us. We are extremely excited; last night a couple of us were chatting about all of the SA players that have gone before us, with the names like Aiden Markram, Rabada and all of those guys that been in our seat before us, it has been absolutely amazing." 
ICC U19 World Cup 2022 Trophy
Cricket in West Indies 
4:45 PM: Delhi Capitals backs India U19 team to win World Cup 2022
4:30 PM: Dinesh Karthik wishes the India U19 team ahead of their first game in ICC U19 World Cup 2022
"We don't want to look too far ahead at things like the IPL auction and the Ranji Trophy. What we need to do is to just focus on what we can do in this tournament. We, as a coaching unit, keep them focussed on what they can do in the short term," Kanitkar said.
ICC Under 19 World Cup 2022 India U19 vs South Africa U19 Dream 11, Probable Playing XI for IND U19 vs SA U19
Kaden Solomons, Yash Dhull, George van Heerden (VC), Harnoor Singh (C), SK Rasheed, Dewald Brevis, Kaushal Tambe, Matthew Boast, Rajvardhan Hangargekar, Ravi Kumar, Aphiwe Mnyanda
4:20 PM: Mithali Raj wishes India U19 team 
Today's matches
4:10 PM: India U19 vs South Africa U19 Watch Live Streaming Details: How to Watch ICC U19 World Cup 2022 Online, TV
In India, Star Sports will telecast the ICC U-19 World Cup. You can watch Live Streaming on Disney+ Hotstar.
Squads
India U19 Squad: Harnoor Singh, Angkrish Raghuvanshi, Shaik Rasheed, Yash Dhull(c), Aaradhya Yadav, Nishant Sindhu, Dinesh Bana(w), Kaushal Tambe, Ravi Kumar, Siddarth Yadav, Rajvardhan Hangargekar, Manav Parakh, Aneeshwar Gautam, Raj Bawa, Vasu Vats, Vicky Ostwal, Garv Sangwan
South Africa U19 Squad: Ethan John Cunningham, Valintine Kitime, Dewald Brevis, GJ Maree, George Van Heerden(w/c), Andile Simelane, Mickey Copeland, Matthew Boast, Liam Alder, Aphiwe Mnyanda, Kwena Maphaka, Asakhe Tshaka, Jade Smith, Kaden Solomons, Joshua Stephenson