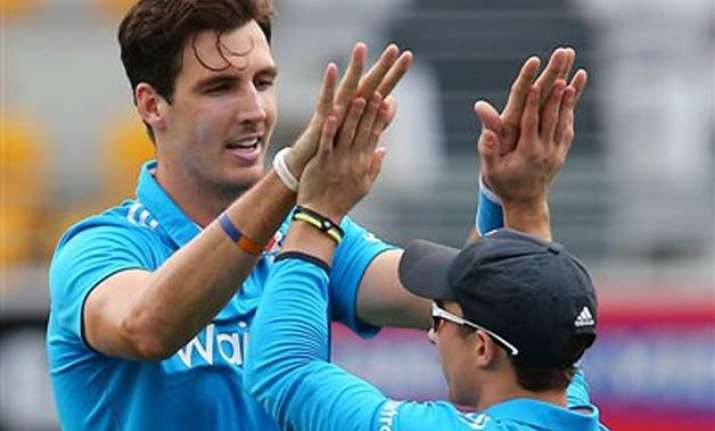 Brisbane: He scripted a memorable comeback today snapping five wickets to set up England's nine-wicket win over India in the cricket tri-series and pacer Steven Finn said he was happy to see that his hard work finally paid off.
"It's just nice to help England win a game of cricket. A lot has happened in the last 12 months. It was pretty much to a day where I went home from that tour of Australia. But that corner has been turned and I turned it a while ago," said Finn in the post-match press conference.
"All that stuff is in the past now and I am just looking forward. To take five wickets today was very pleasing after the work I have put in.
"I always thought in my mind that it was possible to return to Australia and perform. To come here and be in the same hotels and get over those hurdles has been good fun and I am enjoying it," added the lanky pacer.
The 25-year-old Englishman said he was happy with the Gabba pitch that assisted him in taking 5-33 as India were bowled out for just 153 runs with James Anderson also taking 4-18.
"The pitch bounced a lot especially from my end. And I could bowl a fullish (sic) length and it was coming at waist height which can be uncomfortable for anyone," he said.
"It was partly the way we bowled and partly the wicket. But we used that to our advantage and as a bowling unit we stuck to our guns really well and made the Indian batsmen come to us.
"It is always tough to go out and defend a 150-run target. We have a couple guys who are in good touch and you know it's always tough in that situation. Our seam bowlers bowled very well today and Moeen Ali also supported us well. He gave us a break today as well in the heat and it was very good as well," he added.
The Indian batsmen today played too many rash strokes and as such there was only one proper partnership between Stuart Binny and skipper Mahendra Singh Dhoni.
Interestingly, Virat Kohli, who had a terrific Test series, again failed today scoring only four.