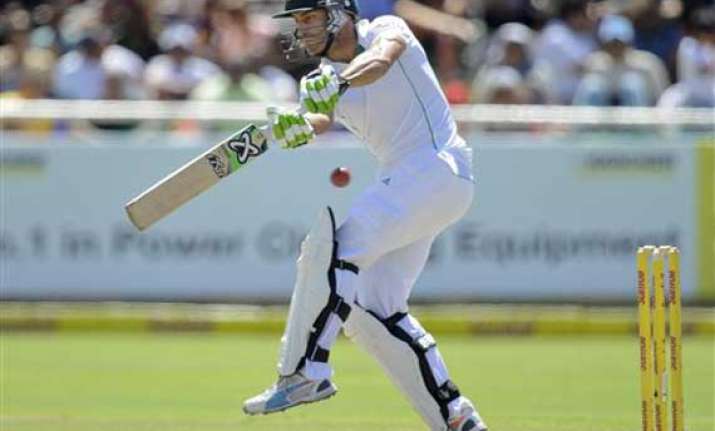 CAPE TOWN, South Africa: Scoreboard Tuesday at stumps on day four of the third cricket test between South Africa and Australia at Newlands:
Australia 1st Innings: 494-7 dec.

South Africa 1st Innings: 287

Australia 2nd Innings
Overnight: 27-0
   Chris Rogers run out (Steyn) 39
   David Warner c de Villiers b Abbott 145
   Alex Doolan c Abbott b Morkel 37
   Shane Watson c Duminy b Abbott 25
   Michael Clarke c sub (de Kock) b Abbott 0
   Steve Smith not out 36
   Brad Haddin not out 3
   Extras: (3b, 12lb, 3nb) 18
   TOTAL: (for 5 wickets declared) 303
   Overs: 58.
   Fall of wickets: 1-123, 2-188, 3-245, 4-257, 5-290.   
Did not bat: Mitchell Johnson, Ryan Harris, James Pattinson, Nathan Lyon.   
Bowling: Morne Morkel 13-1-67-1, Kyle Abbott 14-2-61-3, Vernon Philander 6-0-42-0, JP Duminy 19-3-76-0, Dale Steyn 3-1-24-0, Dean Elgar 3-0-18-0.

South Africa 2nd Iinnings
   Alviro Petersen lbw b Harris 9
   Graeme Smith c Doolan b Johnson 3
   Dean Elgar b Johnson 0
   Hashim Amla lbw b Pattinson 41
   AB de Villiers not out 16
   Kyle Abbott not out 1
   Extras: (1nb) 1
   TOTAL: (for 4 wickets) 71
   Overs: 41.   
Fall of wickets: 1-12, 2-12, 3-15, 4-68.   
Still to bat: Faf du Plessis, JP Duminy, Vernon Philander, Dale Steyn, Morne Morkel.   
Bowling: Ryan Harris 8-5-10-1, Mitchell Johnson 13-3-31-2, James Pattinson 9-6-13-1, Nathan Lyon 5-3-3-0, Shane Watson 3-2-1-0, Steve Smith 3-0-13-0.   
Toss: Australia.