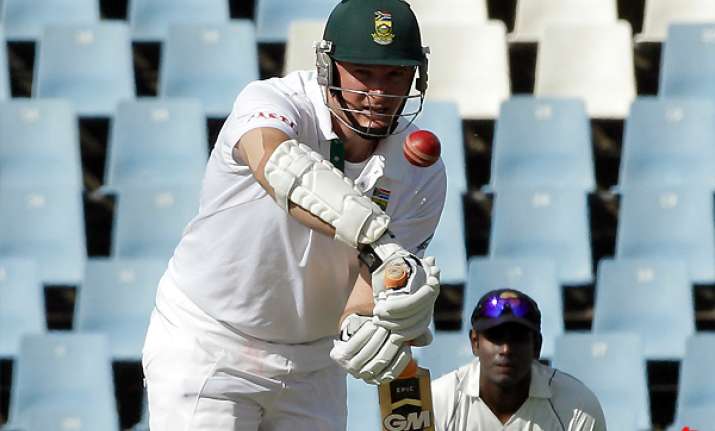 Durban, Dec 25: Playing Sri Lanka at Kingsmead conjures up memories for South Africa of one of its worst cricket moments.

Plenty has happened in the eight years since the teams last met here and Mark Boucher's block off the last ball of a rain-affected match — and South Africa's infamous run rate miscalculation — sent the host crashing out of the 2003 World Cup.

While the Durban ground doesn't haunt the Proteas like it did in the months following that gut-wrenching failure, there is a sense of unease when South Africa plays in the balmy east coast city. Kingsmead has often been a sticking point for the home team, most recently in the five-day format.

Ahead of Monday's second test against Sri Lanka, South Africa has fallen to surprise heavy defeats to India, England and Australia in its last three tests here to go three years without a series win at home.

"For us to go into this test match knowing that South Africa doesn't have a good record here is good," said Sri Lanka batsman Kumar Sangakkara, who played in that dramatic World Cup game. "It's something for us to work with."

When Sangakkara and Sri Lanka were at Kingsmead last, the dramatic tie forced out Shaun Pollock as captain in a major reorganization of South African cricket and ushered in Graeme Smith as the country's youngest leader.

Now, Smith is a veteran and Sri Lanka is the team in desperate times having gone 15 tests without a win following a heavy innings defeat in Centurion to open this contest.

Yet South Africa appears more wary.

"It's been extremely disappointing the way we've played here at Kingsmead," Smith said. "All of us in the squad know that."

Vice captain AB de Villiers said this week's team meetings had been all about ending a poor run at a ground where a hard, bouncy wicket should always favor South Africa's pace-bowling attack. It hasn't happened that way as South Africa has possibly lost focus here over the holiday period and let leads slip.

"It's something that we've been talking about," De Villiers said. "It's one of those things that you can't explain."

An 87-run loss to India last year after South Africa had started that series in familiar fashion, dominating the tourists to win the opening match by an innings at Centurion, provided food for thought for Smith and his team during this week's buildup in Durban.

South Africa also fell to England by an innings and 98 runs at Kingsmead in 2009 and slumped to a 175-run loss to Australia the same year.

"There's motivation, you know, to try and put that right," Smith said. "We're here with a fresh five days that lie ahead of us and I want to turn that around and perform well here. I think everybody in the team feels the same way."

Sri Lanka's problems have been easier to explain.

A lack of runs from an experienced top order has sent the 2011 World Cup finalist on a downward spiral in test cricket. Sri Lanka last won a five-day match in July 2010 against India, in offspinner Muttiah Muralitharan's last test.

"We've got to accept that as batsmen we've got to get totals of 300-plus on the board to try and get results going our way," Sangakkara said.

The absence of the great Muralitharan, and more recently wicket-taking fast bowler Lasith Malinga, was a "reality" for Sri Lanka, Sangakkara said, and the test team had to quickly get over being without the two retired stars.

"As long as we keep making excuses and say we don't have this or we don't have that, it's not going to really work for us," he said. "It's time to forget about it. That's the way cricket goes. Bradmans come and go, so do the Muralis. There are people that will take their place. They might not be as great as them but they will win matches in their own way."

Kingsmead provided another drama for South Africa on Saturday when highly rated newcomer Vernon Philander strained a ligament in his left knee while bowling in the nets.

South African team management said the injury was a "mild" strain and Philander was still expected to play in the second test. But it is another nagging doubt for the home team.

At Centurion, South Africa was completely dominant over Sri Lanka's batsmen because of new-ball bowlers Philander and Dale Steyn.

If Philander is ruled out, South Africa would likely have to go with uncapped quick Marchant de Lange in a forced move that could unsettle a potent attack.

Sri Lanka is set to give a test debut to 22-year-old wicketkeeper batsman Dinesh Chandimal in place of Kaushal Silva, while seamer Dhammika Prasad is an option after he joined the tour following the first test. Prasad could replace spinner Rangana Herath to give Sri Lanka an all-pace attack on a quick wicket.

If Philander is passed fit, South Africa's team is almost certain to be unchanged.