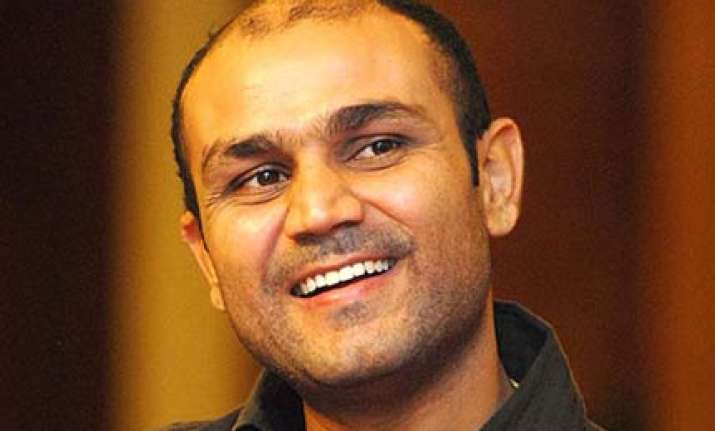 Mumbai, Oct 31 (PTI) The BCCI is opposed to it but Indian opener Virender Sehwag today gave a big thumbs up to the controversial Umpires Decision Review System which has not been favoured even by his idol Sachin Tendulkar.
"I am a big fan of UDRS. I want it to be there for the India-New Zealand series, India-South Africa series and in the World Cup. But this is my personal opinion," said the star India opener at a media conference here today.
 Sehwag, who has been signed up by cricket legend Sunil Gavaskar's company Professional Management Group in a five-year deal for handling his endorsements, said that he favoured the UDRS as he had got the rough end of the umpiring stick on a few occasions in the past.
"I was given out two times when I was not out and in such a situation could have gone in for a referral that would have helped me continue to bat," said the opener, who often makes attack his first form of defence.
Tendulkar, whom Sehwag described as his idol, has consistently been opposed to UDRS as he is not certain the technology has become fool-proof to depend on it for the TV umpire to take a referral call on appeals involving more than close run-outs, stumpings and bump ball "catches".
India captain Mahendra Singh Dhoni has also been not in favour of the UDRS but another senior cricketer Rahul Dravid had recently expressed his support for the referrals.
Currently a tug-of-war is on between the BCCI and Cricket South Africa over the use of UDRS during India's visit to the Rainbow nation in December-January with the visiting team's board not in favour and the hosts wanting it.
India's tour of South Africa begins with the first of the three Tests at Centurion on December 16.
The International Cricket Council has left it to the two boards to decide with the onus left on the home board, CSA, to do so in consultation with BCCI.
"The BCCI is still not convinced about the reliability of the technology in the Umpires Decision Review System. We would leave it to the BCCI and Cricket South Africa to come to an understanding (whether to use it or not)," said ICC CEO Haroon Lorgat at a media conference in Mumbai on October 27.
Lorgat was optimistic that India would finally get around to accepting the UDRS in every series they play.
"A lot of players are happy with the system. I am confident in due course the BCCI would give consent (to use the system)," said Lorgat.
Sehwag also said that his idol Tendulkar was the lone batsman capable of completing a century of centuries in international cricket.
"Only (cricketing) god can do it and that's why I'm certain he will do it. He's been my role model and I am very lucky to be playing with him. If anyone can do it, it's Sachin Tendulkar," he gushed.