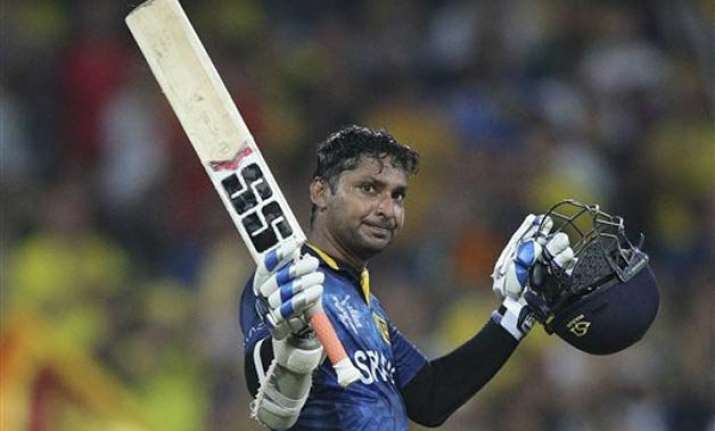 Sydney: Kumar Sangakkara joined Sachin Tendulkar in an exclusive club Sunday, becoming only the second batsman to pass 14,000 career runs in one-day international cricket.
The 37-year-old Sangakkara was playing against four-time champion Australia in a World Cup match at the Sydney Cricket Ground when he passed the milestone in his 402nd ODI.
He turned a ball from Glenn Maxwell for two runs down the leg side to reach 39 to level the mark, and continued to post his third century in as many matches and share a 130-run partnership with Tillakaratne Dilshan (62) that gave Sri Lanka real hope of chasing an improbable 377 to win.
Both eventually fell to allrounder James Faulkner (3-48), with Dilshan trapped lbw to end the partnership and Sangakkara caught in the deep for 104 off 107 balls.
He was hit on the inside of the right heel by a full yorker from Mitchell Starc on 99 and hobbled for the rest of his innings. His dismissal in the 34th over was a setback for Sri Lanka, which slipped to 201-4 and never really recovered in pursuit of Australia's 376-9. It was the highest total ever posted against Sri Lanka at the World Cup.
"Sangakkara is in the form of his life. Three hundreds in three games is absolutely amazing," Sri Lanka captain Angelo Mathews said. "Seems to be getting better with age."
Sangakkara was unbeaten on 105 and not out 117 in the wins over Bangladesh and England, which helped lift Sri Lanka to six points in the group and all but secured a spot in the quarterfinals.
Sri Lanka spinner Sachithra Senanayake said the team was determined to send Sangakkara and former skipper Mahela Jayawardene into retirement with a World Cup win.
The Sri Lankans have been runners-up in the last two World Cups, losing to Australia in the final in 2007 and to India in the 2011 decider.
"After this World Cup we'll miss them badly," Senanayake said. "We have to do something for them — this World Cup will be the most important for us."
Sangakkara now has 14,065 ODI runs, second only to Indian great Tendulkar, who retired with 18,426 runs from 463 ODIs.