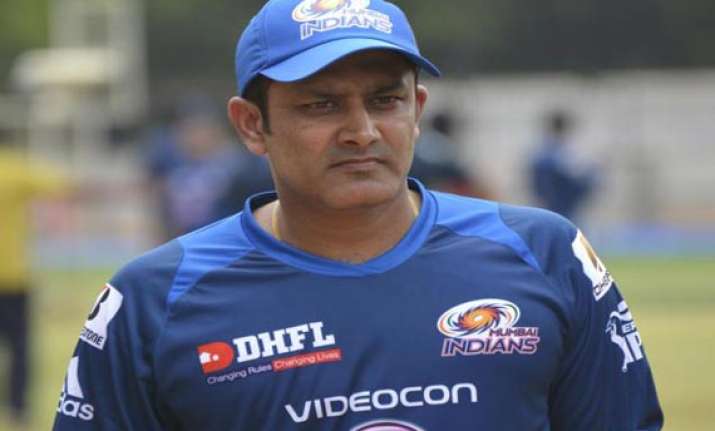 Dubai, June 2: Former captain Anil Kumble on Sunday said India will miss the services of Sachin Tendulkar when it enters the field for the first time without the batting great in a world-level tournament but insisted the team has enough young talent to do the job in the Champions Trophy.
"It is never easy but the Indian team has a good set-up. It will be the first time it will be in a world championship without the great man, but I strongly believe the India team has a good record and a good team to go out there and do really well," Kumble was quoted as saying in an ICC release.
Describing Sachin Tendulkar's impact on world cricket, Kumble said it won't be easy to replace someone like Tendulkar in the ODI format.
"It is never easy to replace someone like Sachin Tendulkar. Not just because of his on-field credentials but what he brings outside of it in terms of the respect that India gets.
"The atmosphere changes when he walks onto the field whether it is in India, Pakistan, Australia or England. Wherever he has toured, people have come to watch him play. This is something the people of UK will probably miss during the ICC Champions Trophy," he added.
Kumble, one of the legends of the game, said the Champions Trophy in England will be a challenging and closely fought tournament in which the momentum of the sides will be crucial.
"Momentum will be the key to success in this short and sharp tournament, and the teams will need to get the momentum right from the very start and carry it on throughout the tournament. You cannot afford a hiccup. It's a great format where every match counts and every match is like a final. That's the criticality of every game in the ICC Champions Trophy," said Kumble.
"The event is in the early part of the English summer, so the other big challenge would be to adapt to the conditions, which could potentially change even during the course of a match. That's the beauty about playing in the United Kingdom," he added.