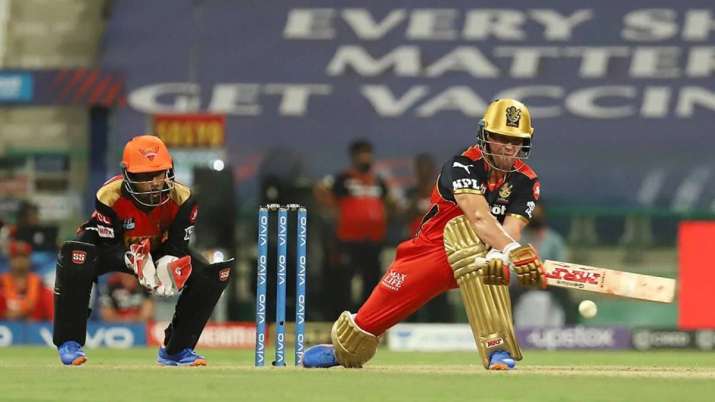 RCB vs SRH IPL 2021 Live Cricket Score: Live Updates from Abu Dhabi
IPL 2021, RCB vs SRH Live: 
Hello and welcome to the live coverage of 2021 Indian Premier League (IPL 2021) Match 52, Royal Challengers Bangalore (RCB) vs Sunrisers Hyderabad (SRH) on indiatvnews.com. 
Royal Challengers Bangalore (RCB) will eye a top-two finish as they take on beleaguered SunRisers Hyderabad (SRH) at the Sheikh Zayed Stadium in Abu Dhabi. The Virat Kohli-led side is currently third on the points table with eight wins from 12 matches. [RCB vs SRH IPL 2021 Dream11 Prediction, Today Match playing XI, Fantasy XI, Match Streaming details]
LIVE UPDATES
23.17 IST: Hyderabad beat Bangalore by 4 runs in Abu Dhabi
Bhuvneshwar held his nerves in the last over to help Hyderabad clinch a low-scoring thriller by four runs. With six needed off the last delivery, De Villiers failed to clear the cover boundary against a high full-toss bowled by Bhuvneshwar. Maxwell upped the ante with a quick-fire ante but Bangalore's batting unit faltered towards the end as Hyderabad grabbed their third win of the season. 
23.12 IST: Fantastic over from Holder. He concedes just five runs in the penultimate over and also picks up Shahbaz's wicket. 13 needed off the last over, with De Villiers and Garton at the crease.
23.08 IST: WICKET! 11 runs came from the 18th over bowled by Umran Malik but Holder drives Hyderabad back into the contest by picking up Shahbaz in the next over. Shahab tries to pull a short delivery but finds Williamson.
23.00 IST:  OUT! Padikkal slogs it to the left of deep mid-wicket but picks out Samad. Bangalore 113/5 after 17 overs.
22.45 IST: OUT! Maxwell nudges it towards cover region and tries to steal a quick single. Williamson, however, hits the bulls eye and Maxwell is well short of the crease. Bangalore 98/4 after 15 overs.
22.25 IST: Malik has bowled the fastest delivery so far in the IPL 2021. He has clocked 150 kmph four times in the ninth over of the innings. Some serious heat from the 21-year-old. Bangalore 52/3 after 9 overs. 
22.05 IST: OUT! First IPL wicket for Umran Malik. Bharat gloves a short delivery down the leg and Saha grabs it with ease. The young pacer from Jammu & Kashmir has left his mark, ticking the 150 kmph mark in both the matches he has played so far. 
21.59 IST: Hyderabad have keep a tight rein on Bangalore in the first six overs. The plan to promote Christian up the order has failed for Bangalore. Kohli has also been ineffective today. Padikkal (17*) and Bharat (12*) are at the crease with 105 runs needed off 84 deliveries. Bangalore 37/2 after 6 overs. 
21.50 IST: WICKET! Second blow for Bangalore in the Powerplay. Kaul strikes in his first over to remove Christian. Leading edge and Williamson makes no mistake. Bangalore 18/2 after 4 overs. 
21.45 IST: OUT! Bhuvneshwar traps Kolhi with an in-swinger in the very first over. Perfect length and the Bangalore skipper misses the line and walks back for 5. Bangalore 6/1 after 1 over.
21.15 IST: A clinical bowling display from Bangalore has restricted Hyderabad to a modest 141-run total in Sharjah. Put in to bat first, Hyderabad lost opener Abhishek (13) early in the Powerplay before skipper Williamson and Roy put up a 70-run stand for the second wicket. Hyderabad, towards the end, lost a flurry of wickets which saw them lose five wickets in 36 runs. 
On the bowling front, Harshal consolidated his position at the top of the Purple Cap race, picking three in his four overs. Christian also grabbed two while Garton and Chahal added one each under their belt. Harshal now has 29 wickets from 13 matches this season. 
If Bangalore win both their remaining two games, they will move to 20 points and have a chance of finishing in the top two.
21.00 IST: OUT! Slower delivery does the trick again for Harshal. Saha balloons it to long-off where De Villiers pouches it safely. 28 wickets for Harshal now. Bravo holds the record for the most wickets taken in a single season of the IPL, when he won the Purple Cap in IPL 2013. He had taken 32 wickets in the edition.
20.52 IST: Chahal finishes with 1/26 in his four overs. He hasn't gone wicketless in the UAE leg so far. Hyderabad in last five overs -- 32 runs and four wickets
20.47 IST: OUT! Hyderabad tumbling towards the end. Samad is trapped by Chahal. A good review from Kohli. HawkEye shows that the ball has straightened to hit the leg stump. Holder joins Saha at the crease. 
20.45 IST: Christian strikes again! End of Roy as he hits one down but Christian reacts quickly successfully grabs it after a juggle. Just two runs off this over. Hyderabad 107/4 after 15 overs.
20.41 IST: OUT! Garg goes for a boundary against Christian but picks out De Villiers at deep mid-wicket. He departs after scoring 11-ball 15.
20.25 IST: WICKET! Harshal strikes! He removes a set Williamson (31) just when Bangalore was in dire need of a wicket. The Purple Cap holder castles Williamson with an off-cutter and breaks the partnership. 27 wickets from 13 matches for Harshal now. Hyderabad 96/2 after 13 overs.
20.19 IST: Kohli has continued with Shahbaz and Chahal on a surface that will only get slower. Williamson and Roy have been solid so far, punishing bowlers on loose deliveries. Bangalore desperately need a wicket here. Hyderabad 76/1 after 10 overs. 
20.11 IST: Chahal into the attack and he concedes just three to halt Hyderabad's run-flow. The leg-spinner has picked 10 wickets so far in the UAE leg and is 10th among most wickets list with 13 scalps. 
19.59 IST: Shahbaz into the attack and Roy whacks a short delivery to deep square leg. Roy and Williamson have resurrected the innings after Abhishek's early departure. Hyderabad 50/1 after the first six overs. 
19.53 IST: Another half-volley, another boundary for Williamson. The skipper pulls off another picture-perfect cover drive. He follows it up with a boundary to backward square leg. Fourth boundary for Williamson. Hyderabad 43/1 after 5 overs. 
19.44 IST: Nine runs of Siraj's over. Williamson creams one through covers and then pulls one towards square leg. Hyderabad 23/1 after 3 overs. 
19.38 IST: WICKET! Early blow for Hyderabad as Garton removes Abhishek for 13. Leading edge and the ball balloons up in the air, making it an easy catch for Maxwell at mid-on. Skipper Williamson joins Roy in the middle. Hyderabad 14/1 after 2 overs.
19.29 IST: Five different opening pairs for Hyderabad this season. Jason Roy and Abhishek Sharma walk into the middle. Siraj opens the attack for Bangalore.
19.15 IST: Virat Kohli - Every team wants to qualify with a few games to spare. Having qualified, we would want to back ourselves to deliver when under pressure.
Kane Williamson - Exciting opportunity for us. I think as an environment, we would try to evolve. There is still some focus. There is a lot of enthusiasm thanks to the youth in the team.
19.08 IST: All eyes on Umran Malik, who had bowled a delivery clocking 151.03 kmph against KKR. It was, so far, the fastest delivery by an Indian bowler in this season.
19.00 IST: Bangalore win toss, opt to bowl against Hyderabad
Bangalore have won the toss and elected to bowl against Hyderabad in Abu Dhabi. Skipper Kohli confirmed that there are no changes in the Playing XI. Williamson also said that Hyderabad have not made any changes. 
Royal Challengers Bangalore (Playing XI): Virat Kohli(c), Devdutt Padikkal(w), Daniel Christian, Glenn Maxwell, AB de Villiers, Shahbaz Ahmed, Srikar Bharat, George Garton, Harshal Patel, Mohammed Siraj, Yuzvendra Chahal
Sunrisers Hyderabad (Playing XI): Jason Roy, Wriddhiman Saha(w), Kane Williamson(c), Priyam Garg, Abhishek Sharma, Abdul Samad, Jason Holder, Rashid Khan, Bhuvneshwar Kumar, Siddarth Kaul, Umran Malik
18.46 IST: PITCH UPDATE - "We have had hot weather and dry winds, so this might help cutters and spinners a bit more. Variations are the key, you'll get more grip off the surface," says Nick Knight on the surface. 
18.15 IST: If Bangalore win both their remaining two games, they will move to 20 points and have a chance of finishing in the top two. Hyderabad, on the other hand, are already out of the competition, having just two wins out of 12 games. They would be looking to finish their campaign on a positive note by registering two consecutive wins.
18.10 IST: Head To Head: RCB 8 - 10 SRH. Bangalore were the winner when the two sides last met in Chennai. Kohli's men are also just one win away from 100 IPL wins. 
Preview RCB vs SRH: Assured of a play-off berth, Royal Challengers Bangalore would look to inch closer to a top-two finish in the league stage when they play Sunrisers Hyderabad in the IPL on Wednesday. A win on Wednesday will definitely boost RCB's confidence ahead of their final group game against DC on Friday. If RCB win both their remaining two games, they will move to 20 points and have a chance of finishing in the top two.
SRH, on the other hand, had a poor outing this season and are already out of the competition, languishing at the bottom of the eight-team standings with just two wins out of 12 games. SRH have registered just one win -- over Rajasthan Royals -- out of five games so far in the second leg. They would be looking to finish their campaign on a positive note by registering two consecutive wins. [FULL PREVIEW]