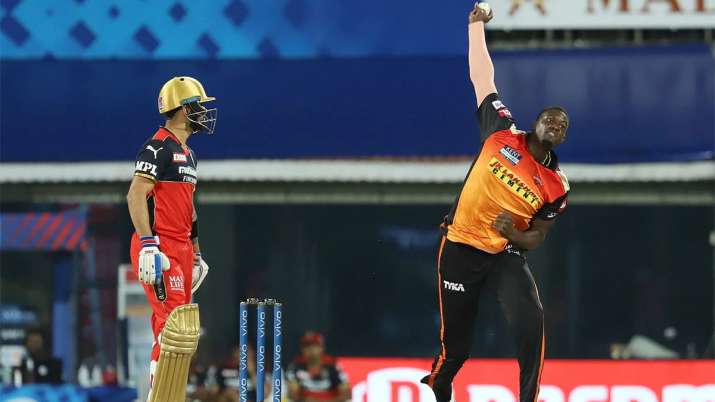 With playoffs berth confirmed, Virat Kohli-led Royal Challengers Bangalore (RCB) will now aim to assure themselves a top-two finish, which will give the side an extra opportunity to make the finals, when they take on a depleted Sunrisers Hyderabad (SRH) at the Sheikh Zayed Stadium in Abu Dhabi. RCB presently stand third in the points table with 16 points in 12 games, two points behind second-placed Chennai Super Kings (CSK) who have 18 points to their name in 13 games, and four behind top-placed Delhi Capitals. 
TOSS UPDATE: Royal Challengers Bangalore won the toss and opted to bowl against Sunrisers Hyderabad in Abu Dhabi
Here are the playing XI for the two teams...
Royal Challengers Bangalore (Playing XI): Virat Kohli(c), Devdutt Padikkal(w), Daniel Christian, Glenn Maxwell, AB de Villiers, Shahbaz Ahmed, Srikar Bharat, George Garton, Harshal Patel, Mohammed Siraj, Yuzvendra Chahal
Sunrisers Hyderabad (Playing XI): Jason Roy, Wriddhiman Saha(w), Kane Williamson(c), Priyam Garg, Abhishek Sharma, Abdul Samad, Jason Holder, Rashid Khan, Bhuvneshwar Kumar, Siddarth Kaul, Umran Malik
Pitch Report by Nick Knight: The overhead conditions are superb - this is the driest pitch we have had so far, there are some cracks developing, we have had hot weather and dry winds, so this might help cutters and spinners a bit more. Variations are the key, you'll get more grip off the surface
SUNRISERS HYDERABAD - Toss and Match Results in IPL 2021 so far
Sunrisers Hyderabad (SRH) full schedule, squad, venue and timings in IST
Total Matches Played - 12
Tosses won: 7
Tosses lost: 5
Match Result after Tosses won: 0/7 wins
Match Result after Tosses lost: 2/5 wins
SRH vs KKR - SRH won the toss, opted to bowl - KKR won by 10 runs
SRH vs RCB - SRH won the toss, opted to bowl - RCB won by 6 runs
MI vs SRH - MI won the toss, opted to bat - MI won by 13 runs
PBKS vs SRH - PBKS won the toss, opted to bat - SRH won by 9 wickets
SRH vs DC - DC won the toss, opted to bat - DC won via Super Over
CSK vs SRH - SRH won the toss, opted to bat - CSK won by 7 wickets
RR vs SRH - SRH won the toss, opted to bowl - RR won by 55 runs
DC vs SRH - SRH won the toss, opted to bowl - DC won by 8 wickets 
SRH vs PBKS - SRH won the toss, opted to bowl - PBKS won by 5 runs
SRH vs RR - RR won the toss, opted to bat - SRH won by 7 wickets
SRH vs CSK - CSK won the toss, opted to bowl - CSK won by 6 wickets
KKR vs SRH - SRH won the toss, opted to bat - KKR won by 6 wickets
ROYAL CHALLENGERS BANGALORE: Toss and Match Results in IPL 2021 so far
Royal Challengers Bangalore (RCB) full schedule, squad, venue and timings in IST
Total Matches Played - 12
Tosses won: 8
Tosses lost: 4
Match Result after Tosses won: 5/8 wins
Match Result after Tosses lost: 2/4 wins
MATCH RESULT
MI vs RCB: RCB won the toss, opted to bowl: RCB won by 2 wickets
SRH vs RCB: SRH won the toss, opted to bowl: RCB won by 6 runs
RCB vs KKR: RCB won the toss, opted to bat: RCB won by 38 runs
RCB vs RR: RCB won the toss, opted to bowl: RCB won by 10 wickets
CSK vs RCB: CSK won the toss, opted to bat: CSK won by 69 runs
DC vs RCB: DC won the toss, opted to bowl: RCB won by 1 run
PBKS vs RCB: RCB won the toss, opted to bowl: PBKS won by 34 runs
RCB vs KKR: RCB won the toss, opted to bowl: KKR won by 9 wickets
RCB vs CSK: CSK won the toss, opted to bowl - CSK won by 6 wickets
RCB vs MI: MI won the toss, opted to bowl - RCB won by 54 runs
RR:vs RCB: RCB won the toss, opted to bowl - RCB won by 7 wickets
RCB vs PBKS - RCB won the toss, opted to bat - RCB won by 6 runs