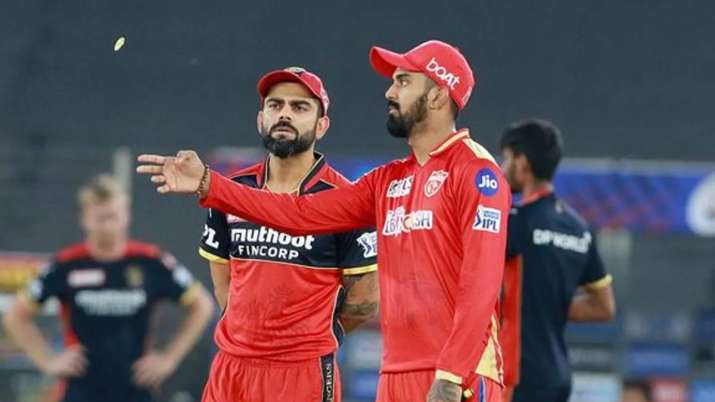 Royal Challengers Bangalore captain Virat Kohli has won the toss and have opted to bat first against Punjab Kings in Match 48 of IPL 2021 in Sharjah on Sunday. The RCB captain makes no changes to playing XI.
PBKS KL Rahul, on the other hand, made three changes to their playing XI as Harpreet Brar, Sarfaraz Khan and Moises Henriques came in for Fabian Allen, Deepak Hooda and Nathan Ellis.
Royal Challengers Bangalore (Playing XI) Virat Kohli(c), Devdutt Padikkal, Srikar Bharat(w), Glenn Maxwell, AB de Villiers, Daniel Christian, George Garton, Shahbaz Ahmed, Harshal Patel, Mohammed Siraj, Yuzvendra Chahal
Punjab Kings (Playing XI) KL Rahul(w/c), Mayank Agarwal, Aiden Markram, Nicholas Pooran, Sarfaraz Khan, Shahrukh Khan, Moises Henriques, Harpreet Brar, Mohammed Shami, Ravi Bishnoi, Arshdeep Singh
Follow all Live updates from the RCB vs PBKS match from Sharjah
After winning the toss, RCB captain Kohli felt the wickets are slowing down in the second innings and that's why they prefer batting first.
"We'll bat. Looks like a really nice and hard wicket. We understand that the pitches tend to slow down here, precisely why we want to bat first and put pressure," Kohli said after winning the toss. "We are playing the same side. We feel we have enough depth in all departments in our lineup. We got Harshal into our side on a trade and that is a signal to the players. He has understood his role.
"Maxwell has been moving around a lot and we gave him the freedom, and he is enjoying his time here with us as well. To be honest, this pitch looks much better than the last game we played here. If we play well, we could get those 20-25 extra runs which could be the difference. You need to make sure you get those runs and not leave them on the field. You need that momentum."
PBKS captain KL Rahul, meanwhile said it was a good toss to lose as he would have opted to bowl first on this pitch.
"I would have wanted to bowl, so not that disappointed at losing the toss. Our domestic performances are something that we are very proud of," Rahul said. "That is what the IPL is about. Hopefully they can continue and they can grow ahead as well, which would be good for the Indian team as well. Three changes: Fabian is injured, so Harpreet comes in for him. Sarfaraz Khan comes in for Hooda and so does Moises Henriques for Ellis."
Pitch report: The ground at Sharjah has been neutral to both bowlers and batters with something on the offer for both. However, with every match, the pitches are getting slower, allowing spinners to contain runs in the middle overs.
ROYAL CHALLENGERS BANGALORE: Toss and Match Results in IPL 2021 so far
Royal Challengers Bangalore (RCB) full schedule, squad, venue and timings in IST
Total Matches Played - 11
Tosses won: 7
Tosses lost: 4
Match Result after Tosses won: 4/7 wins
Match Result after Tosses lost: 2/4 wins
MATCH RESULT
MI vs RCB: RCB won the toss, opted to bowl: RCB won by 2 wickets
SRH vs RCB: SRH won the toss, opted to bowl: RCB won by 6 runs
RCB vs KKR: RCB won the toss, opted to bat: RCB won by 38 runs
RCB vs RR: RCB won the toss, opted to bowl: RCB won by 10 wickets
CSK vs RCB: CSK won the toss, opted to bat: CSK won by 69 runs
DC vs RCB: DC won the toss, opted to bowl: RCB won by 1 run
PBKS vs RCB: RCB won the toss, opted to bowl: PBKS won by 34 runs
RCB vs KKR: RCB won the toss, opted to bowl: KKR won by 9 wickets
RCB vs CSK: CSK won the toss, opted to bowl - CSK won by 6 wickets
RCB vs MI: MI won the toss, opted to bowl - RCB won by 54 runs
RR:vs RCB: RCB won the toss, opted to bowl - RCB won by 7 wickets
PUNJAB KINGS: Toss and Match Results in IPL 2021 so far
Punjab Kings (PBKS) full schedule, squad, venue and timings in IST
Total Matches Played - 12
Tosses won: 5
Tosses lost: 7
Match Result after Tosses won: 2/5 wins
Match Result after Tosses lost: 3/7 wins
MATCH RESULT:
RR vs PBKS - RR won the toss, opted to bowl - PBKS won by 4 runs
PBKS vs CSK - CSK won the toss, opted to bowl - CSK won by 6 wickets
DC vs PBKS - DC won the toss, opted to bowl - DC won by 6 wickets
PBKS vs SRH: PBKS won the toss, opted to bat - SRH won by 9 wickets
PBKS vs MI: PBKS won the toss, opted to bowl - PBKS won by 9 wickets
PBKS vs KKR: KKR won the toss, opted to bowl - KKR won by 5 wickets
PBKS vs RCB: RCB won the toss, opted to bowl - PBKS won by 34 runs
PBKS vs DC: DC won the toss, opted to bowl - DC won by 7 wickets
PBKS vs RR: PBKS won the toss, opted to bowl - RR won by 2 runs
SRH vs PBKS: SRH won the toss, opted to bowl - PBKS won by 5 runs
MI vs PBKS: MI won the toss and opted to bowl - MI won by 6 wickets
KKR vs PBKS: PBKS won the toss and opted to bowl - PBKS won by 5 wickets