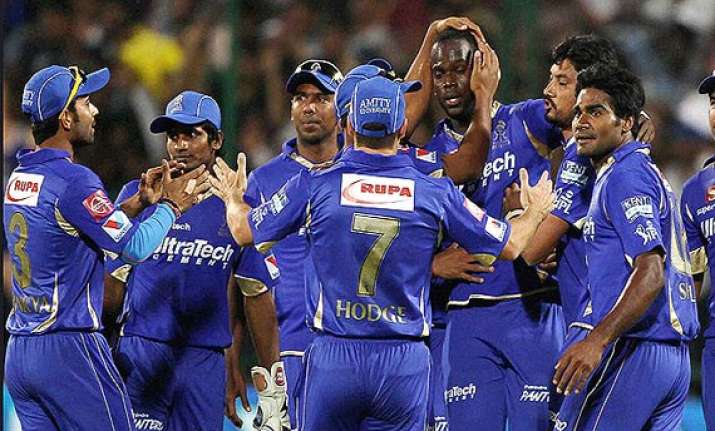 Mumbai: The Rajasthan Cricket Association (RCA) and the Indian cricket board were Friday locked in a bitter battle after four home matches of the Rajasthan Royals in the Indian Premier League (IPL) were shifted to Ahmedabad.
This comes a day after the Board of Control for Cricket in India (BCCI) announced the fixtures for 36 matches for the IPL home-leg from May 2.
While RCA claimed that they were not consulted, BCCI said the Rajasthan Royals had indicated to the board that they would be happy to play their home matches in Ahmedabad to avoid any uncertainty due to the general elections.
RCA shot-off a letter to Sunil Gavaskar, interim BCCI president for IPL, saying they had the no-objection certificate from the state government to host the matches.
"We have done all the necessary preparation to conduct these matches and sought permission from the Government of Rajasthan for the same. The Government of Rajasthan has no objection for conduction of these matches in May 2014 as Elections are to be held on 17th and 24th April ... We are surprised how governing council of IPL has shifted our home matches to Ahmadabad without even asking us," said RCA officiating secretary K.K. Sharma.
"We shall suffer losses for the perpetration made as well as people of Rajasthan shall lose their right to see the home team perform in front of them. We would request you to kindly reschedule the itinerary and give us the due home matches as earlier. Thanking you in anticipation," the letter added.
BCCI secretary Sanjay Patel said the board has worked with various franchises and stakeholders to get confirmations to host matches in the cities.
"The Rajasthan Royals have indicated to the BCCI that they are happy to play their four home matches of the India leg of the 2014 season, at Ahmedabad, to avoid any uncertainty to their home matches. KXIP (Kings XI Punjab) and CSK (Chennai Super Kings) will be playing some of their home matches outside Mohali and Chennai, respectively, due to the non-availability of their home venue, for a large portion of May 2014. IPL will continue to look at as many venues as possible to play the tournament in the forthcoming seasons," Patel said in a statement.
Former IPL chairman Lalit Modi, who this year was suspended for life by the BCCI, is likely to win the RCA election for the post of president but the Supreme Court has delayed the announcement of the poll results.